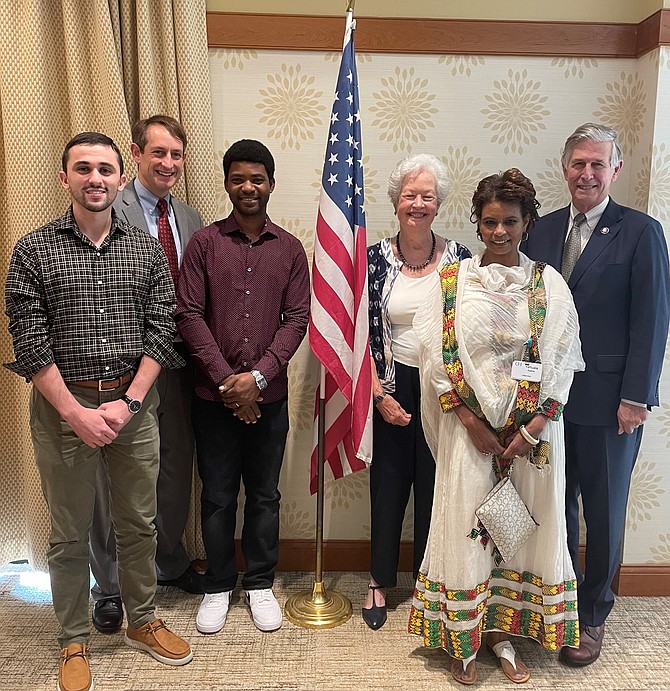 U.S. Congressman Don Beyer was on hand Sept. 16 as Goodwin House Alexandria recognized three employees who recently became U.S. citizens through the Goodwin Living Foundation's citizenship grant program.
"Our program began in 2018 when one of our residents, Rita Siebenaler, had the idea that our staff could benefit from a program for a clearer path to citizenship," said Goodwin Living president and CEO Rob Liebreich. "Twenty-five percent of our staff are not U.S. citizens. They want to become citizens but just don't have the funds to make it happen."
In 2018, Goodwin Living and the Goodwin Living Foundation created a citizenship application fee program that provides employees with grants to cover the cost of citizenship application fees. Nearly 1,000 Goodwin House employees from more than 60 countries are non-U.S. citizens.
Celebrating as new citizens were Ali Cherchar, Emmanuel Nkiruka and Yehula Azene.
"Becoming a citizen is about representing the U.S. values of equity, inclusion and opportunity for all," said Cherchar. "That is why I wanted to become a U.S. citizen and today I am proud to be an American."
Goodwin House residents volunteer to tutor the employees to prepare for their citizenship exams.
"Today was so fulfilling, so joyous," said Judy Hansen, a Goodwin House resident and coordinator of the tutoring program. "The ceremony is so important to me and reminds all of us what it means to be an American, because I think we forget."
The program has been so successful that Goodwin Living has extended the citizenship program to the spouses and children of employees and created a Citizenship Playbook to help other institutions implement similar programs.
"Four years after creating this program, we have impacted 115 lives in creating new U.S. citizens," Liebreich said.
Said Azene on attaining her citizenship, "I now feel fully complete and part of the American family."