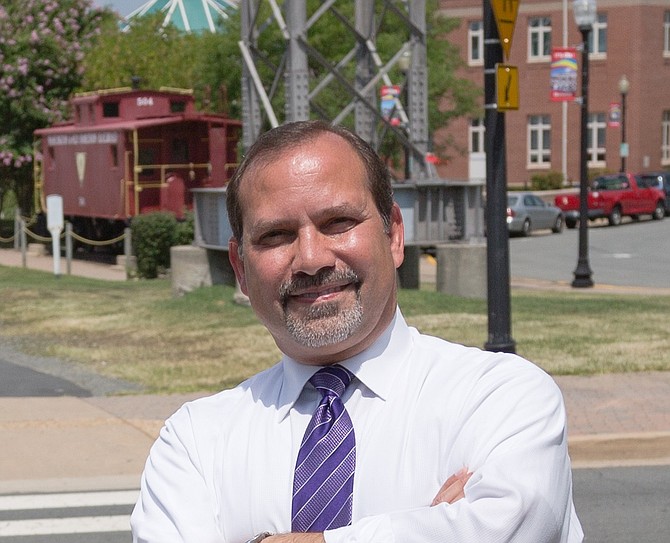 Businessman, local leader and media commentator Raul "Danny" Vargas of Herndon has been named the 2022 Northwest Fairfax Distinguished Citizen for his long record of contributions to the broad community. Vargas will be honored by the Powhatan District of the National Capital Area Council, Boy Scouts of America, at a community event Oct. 19 at the River Bend Golf and Country Club in Great Falls, Va.
Vargas founded Fairfax-based VARCom Solutions, a marketing and public relations firm, in 2004 and currently serves as its president. He has also had executive roles at AOL, France Telecom and Global One.
An Air Force intelligence veteran, Vargas is the founder and chairman of the American Latino Veterans Association, which aims to enhance the welfare of Latino veterans and to promote understanding of their historical contributions to America's defense. Vargas is also Chairman Emeritus of the Friends of the National Museum of the American Latino, a group whose advocacy to establish a national museum celebrating American Latinos saw success in late 2020 with congressional passage and presidential approval of the authorizing legislation.
Locally, Vargas currently chairs the Virginia Advisory Committee to the U.S. Commission on Civil Rights. He has previously chaired the Dulles Regional Chamber of Commerce, the Virginia Board of Workforce Development, and Leadership Fairfax. 
Vargas has appeared as a commentator on CNN, Fox News, MSNBC, Univision, and Telemundo.
Since 2018, the Powhatan District of the National Capital Area Council has recognized a local resident with the Distinguished Citizen Award, saluting a local volunteer who shares Scouting's values and serves as a role model for youth in the community. Previous honorees include: Lisa Lombardozzi, President of the LINK Food Pantry and Administrator of the Northern Virginia Baseball League; Bob Korzeniewski, a retired business executive with SAIC, Verisign and Network Solutions; Fred Baerenz, President and CEO of AOG Wealth Management; and James Clapper, former Director of National Intelligence.
THIS YEAR, for the first time, the Powhatan District is also presenting a Northwest Fairfax Distinguished Organization Award, to the Rotary Club of Herndon-Reston for their ongoing commitment to fostering the ideal of service to the local community. The club works to improve communities through efforts such as food drives, environmental clean-ups, literacy programs and youth leadership training.
The Club will also be recognized at a community event Oct. 19 at the River Bend Golf and Country Club in Great Falls.
The Club – which merged the former Rotary Clubs of Herndon and Reston effective June 30 – has undertaken recent projects that include monthly food collections, and a Kids Helping Kids Fun Bike-A-Thon with proceeds benefiting the Kids R First school supply drive which supports 800 local children. The Club continues to be an affiliate of the Dolly Parton Imagination Library, providing free books monthly to 1,500 children up to age 5. To date, the Club has distributed over 160,000 books. 
The club organized a Candyland Holiday Gift project, donating hundreds of gifts to local children in need, and held a Walk to End Polio, raising funds for Rotary's continued efforts to eradicate polio. This month, the club is collecting children's books for the Aldrin Reads Literacy Program at Aldrin Elementary and collecting used eyeglasses as they partner with the Reston Lions Club for Celebrate Community Week from Sept. 11-17. International projects include providing water wells and improving hygiene and clean water for a village in South Africa, teacher training and educational projects, and repairing Haitian schools damaged by hurricanes.
Through local Interact Clubs at Herndon High School and South Lakes High School, the Club promotes youth leadership development and inspires young people to become responsible global citizens through service to others. The Club also serves local youth through literacy projects and college scholarships. 
Globally, Rotary has more than 46,000 clubs supported by 1.4 million members united to effect meaningful change in our communities. Founded in 1905, the organization invests $200M and 16 million service hours annually to fulfill its motto, "Service Above Self."
The Oct. 19 awards ceremony will bring together civic-minded individuals and business leaders from throughout the region in an event that recognizes and celebrates the importance of Scouting in guiding and developing today's youth. This year's event will be the fifth annual event recognizing distinguished leaders in the Western Fairfax community.
Individual tickets and a limited number of sponsorship opportunities remain available. For information contact Powhatan District Director Todd Bolick at Todd.Bolick@Scouting.org.