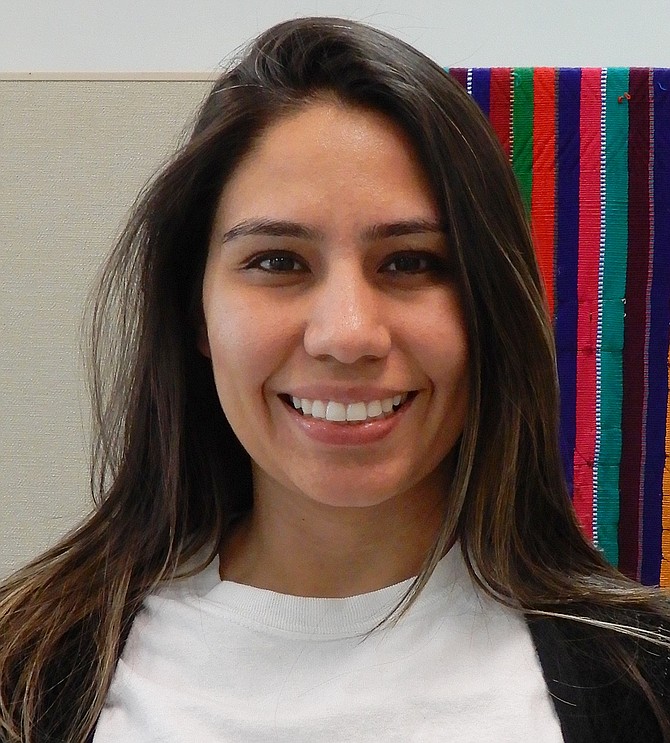 Run by the Centreville Immigration Forum (CIF), the Centreville Labor Resource Center (CLRC) is a place where local day laborers seek employment in a safe, welcoming environment. And CIF Executive Director Pamela Urquieta's sincere desire to help the workers succeed is fueled by her own background.
"When my parents first came here in 1990 as immigrants from Bolivia, my dad mowed lawns and my mom cleaned houses for 10 years," she said. "So I really wanted to work with minorities and immigrants and help them have better lives."
It's no wonder then that her mission at the CLRC hits close to home. "My vision is for people to come here and get the skills and resources they need to be sustainable," explained Urquieta. "That way, they can get on their own two feet so they can get better jobs and have a brighter future."
For example, the English classes offered by the CLRC can help the laborers negotiate for higher wages and better working conditions. Improving their English-language skills leads to greater diversity in the jobs they can do and aids them in their daily tasks. 
CLRC classes in drywalling, painting, carpentry and electrical work also enable the workers to expand their skills, so they have more to offer to potential employers. (They're open to community members, too). Workers also learn how to use public transportation, get their contractor's licenses and even start businesses of their own.
And men aren't the only ones to take advantage of these opportunities. "Our last electrical-training class was attended 80 percent by women because we also provided a nanny," said Urquieta. "More women are going out on jobs these days, especially landscaping and moving jobs." 
She's looking into connecting with financial institutions so the workers can learn how to manage their money, build credit and open a bank account. And, she added, "We also teach them computer literacy, including how to start an email account, research things and learn about I.T. security measures."
Since most of the immigrant laborers came from a particular section of Guatemala, their first language is Ixil, one of the Mayan languages spoken there. Others speak Spanish, so the center provides interpreters fluent in both languages during meetings between the CIF board members and the workers. 
The center also has a close connection with the Sully District police officers. "The police tell the workers how to build great relationships with them, so they're not scared," said Urquieta. "They're also told what to do and what I.D. to show if a police officer stops them. And they learn how to keep their neighborhoods safe, as well."
The CLRC was closed during the pandemic, so it instead focused heavily on providing direct, financial assistance and food to the workers, via food drives. And in 2021, it also vaccinated more than 660 members of the community. "We hosted clinics here because residents felt safe coming to the center, and we wanted to help people get back to health," said Urquieta.
During that time, employers contacted the CLRC online to hire workers – and had to do it a day in advance. But since it fully reopened in May, people may just walk inside 5944 Centreville Crest Lane, in the Centreville Square Shopping Center, and hire someone without waiting. Hours are 6-11 a.m., every day but Sunday.
"Now that things are getting back to normal, we have a few hundred active CLRC members," said Urquieta. "And we're finally going in an upward trajectory, with even more jobs going out than since before the pandemic began."
Also during the pandemic, ESOL classes and meetings were held virtually; but now, all classes have resumed in person. "We tell the workers they also need good English skills to build relationships with their employers," said Urquieta. "Doing so lets them exchange pleasantries and get to know each other as people."
She also stressed how capable the CLRC members are. "I believe in them more than anyone else," she said. "For them to get up and move to a country where they don't know anyone or the language – and there are more barriers than they could have imagined – is a testament to how intelligent and driven they are."
"And that's really why I'm here," continued Urquieta. "The CIF's goal is to give them the tools to succeed and empower them to do things for themselves. I want them to be able to build something better for them and their children. I tell them, 'Your kids are someday going to college – and if you want, you can apply for scholarships and go to college, too.'"
Sometimes, she said, they don't think they're able to do something, but she tells them, "You can do it; I believe in you. For example, I encouraged our workers wanting to negotiate for better pay to do it themselves. One guy did and eventually became a manager at a landscaping company. I really care about them, and I want them to believe in themselves, too."
To hire a CLRC member for landscaping, painting, carpentry, drywalling, house cleaning or moving jobs, call 703-543-6272 or email 
contact@thecifva.org
.