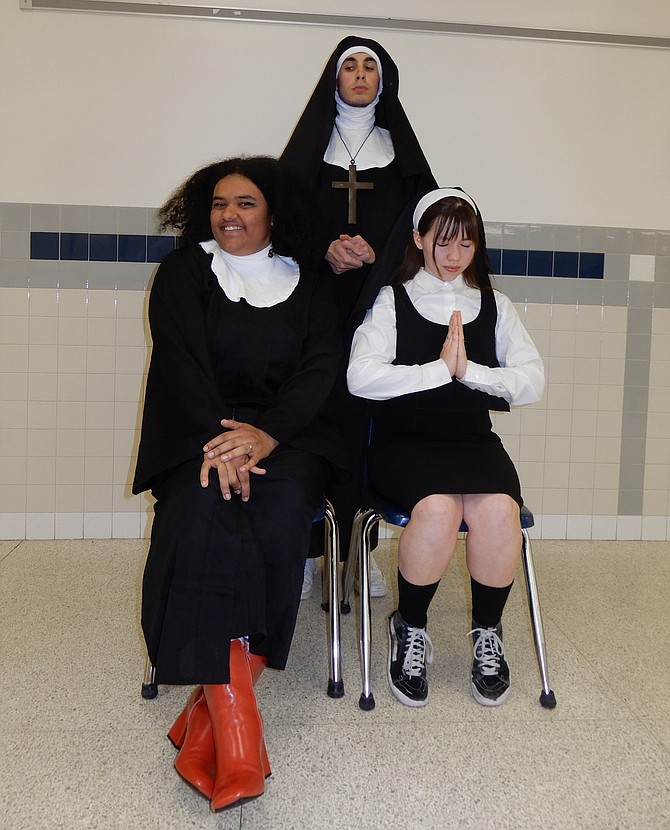 An engaging story with tons of laughs and catchy songs – that's "Sister Act, the Musical." And it's Fairfax High's upcoming Cappies show, featuring a cast and crew of 60, plus a 25-piece band.
Show times are Thursday-Saturday, April 20, 21, 22, at 7 p.m.; Thursday-Friday, April 27-28, at 7 p.m., and Saturday, April 29, at 2 and 7 p.m. Tickets are $12, adults; $10, students via www.fxplayers.org or $15 for everyone at the door.
In 1979, after singer Deloris Van Cartier auditions for her boyfriend/gang lord at his club, she sees him shoot someone. She tells the police, and they put her in witness protection at Queen of Angels Catholic Church in Philadelphia. There, she becomes the choir leader, while the gang tries to find her.
"It's a musical comedy with a lot of heart," said Director Chris Whitney. "It's also about the bonds of friendship and family among Deloris and the sisters – and there's even a little love story between the police detective and Deloris."
Proud of his actors, Whitney said, "They have a strong work ethic and have really gelled as a cast. We have lots of freshmen stepping up and doing things beyond their age, and our lead actress is a powerhouse force. The costumes are outstanding, too. As the nuns become more successful as singers, they add '70s glam accessories – such as sparkles, beads and sequins – to their traditional outfits."
Scenes take place in the church, police station, club, a bar and on the streets of Philadelphia. "The story is hilarious, and the characters are laugh-out-loud funny," said Whitney. "It's truly about someone who helps others find their voice – and in doing so, finds her own."
Portraying Deloris is senior Isabella Jackson. "She's spunky, ambitious, driven in her career and life, and doesn't fit into a mold," said Jackson. "She's strong and accomplishes her goals, no matter how. Deloris doesn't let anyone get in her way. She defies expectations, is really funny and can be a good friend."
Thrilled to have her first leading role, Jackson has enjoyed exploring her character's life and journey and "translating that to the audience. It's such a fun show, I've had a great time doing it. And in this part, I like being a leader, inspiring others and being a good role model. Every line Deloris says has so much substance; even her jokes have compassion and honesty, because that's how she connects with people."
Jackson's favorite song is the "Fabulous Baby" reprise, which she sings. "Deloris is finally seeing her dreams actualized," she said. "But she also realizes the nuns are where her heart is, and that love is more important than fame." 
Jackson said the audience will appreciate this show's heart. "Every character, whether good or bad, has a moment where they're putting their hearts on their sleeves and showing that you should always be yourself," she explained. "People should also get ready to groove – the music will make them want to dance in their seats."
Senior Logan Baker plays Mother Superior. "She's a traditional nun who values uniformity and how everything in the church stays the same," he said. "She's devoted to the church and thinks she knows what's best for it. So she has to journey from close-mindedness to finding the beauty in self-expression."
As a male with a sense of humor, Baker called portraying a straightlaced nun "the biggest stretch of my life. She never smiles because she doesn't want to show what she's thinking, so that's a challenge. But at the same time, it's the most fun I've ever had, getting to discover how this character sees the world. She's blind to change and to accepting people – which is opposite to my own personality."
Baker especially likes the "Sunday Morning Fever" number when all the nuns sing together to start act two. "It's loud, has the most heartwarming lyrics and makes you so happy to hear it," he said. "The insane amount of positivity that flows out of that song represents what the show is all about – and I even got to choreograph it." He said audiences will love all the jokes in this musical and "they'll be thinking about them as they leave."
Playing the crime boss, Curtis, is junior Donovan McMillan. "He's a gang leader who doesn't take no for an answer and instills fear in others," said McMillan. "But he also looks out for his own people, and his girlfriend Deloris, until they cross him – and then he becomes a killer. I love playing him because it's a new type of role for me. It's exhilarating getting into his headspace to see what makes him tick. And the people I get to act with also make him fun to play."
McMillan's favorite song is "When I Find My Baby," which he sings. "It's sweet and lovey-dovey in the beginning," he said. "But then it does a complete 360 [degrees] as Curtis says, 'She's not getting away from me, and I'm gonna make sure of it.'"
As for the audience, he said people will like all the actors' energy. "We're giving it 200 percent for everything and want this show to be something people will remember for the rest of their lives," said McMillan. "They'll also like my gangsters, and my relationship with them, because we're hilarious. And they'll definitely love the nuns because they're so innocent, but eventually let loose and have fun."
Junior Kaylee Williams portrays Sister Mary Robert. "She's shy and sweet and hasn't known much of life outside the convent, so she's very sheltered from the world," explained Williams. "So when Deloris comes, she realizes there's more she wants to explore in the world outside. They become close friends, and she eventually comes out of her shell in a big way."
Enjoying her role, Williams said, besides her character's solos, she's in all the big musical numbers, singing and dancing with the other nuns. And, added Williams, "She has lots of character development and ends in a different place from where she starts."
She particularly likes the group number, "Take Me to Heaven" reprise, because "The dance is high energy with fun movements. And I love singing Mary Robert's solo in it. The whole concept of the nuns dancing is funny, and the audience will like this show's over-the-top humor. It's something you go to, to have a good time."