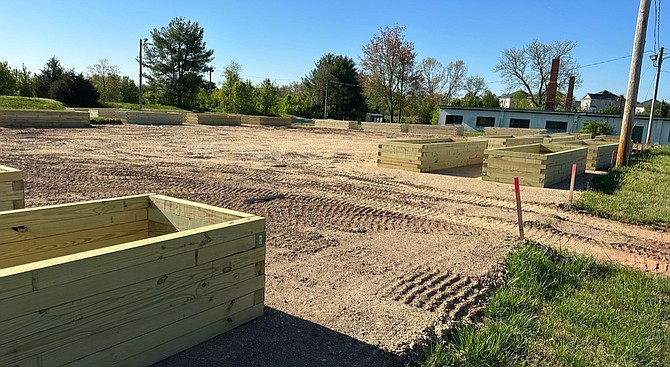 Have you ever watched a planted strawberry pot daily as fruit grew, awaiting the perfect moment of red ripeness — only to have a big bite of it disappear, taken by a bird or turtle, or have it snatched away entirely by a chipmunk or squirrel? Would you like to grow a vegetable garden but are land challenged? Have you tried a backyard garden, but wild critters enjoyed the bounty as their own smorgasbord and you got little or nothing? If you answered 'yes,' then you might like to take advantage of Fairfax County's offering to rent a fenced garden plot. In these little Edens, there is sufficient garden space to nurture a bountiful crop within an area fenced against most hungry garden visitors.
The Fairfax County's Community Garden Plot Rental Program gives residents an opportunity to garden. The Park Authority rents more than 700 garden plots in ten county parks on an annual, next-plot, next-person basis. Most sites have wait lists of hopeful new renters. Gardeners who keep their plots in compliance are offered renewal leases for subsequent years. And while there's no guarantee of security against all feathered, winged, or furred buffet guests, the fencing does deter a significant number.
Soon new garden plots are expected to open, by mid-summer 2023, in the newly developed Laurel Hill Community Garden. The site, located on the old Nike base at Hooes and Lorton Roads, will offer 19 plots which include three 4 foot by 12 foot raised beds inside an individually fenced area of 20 feet by 30 feet. Water will be available on site from two hydrants. At present, workers are constructing the remaining raised beds. Then stone dust surfacing, the fencing, and water lines will complete the site installation.
An early community garden advocate and Lorton resident, Wes Speer, says of the site: "It's rifles to plow shares; surface-to-air to ground-based growing". He adds that while other area sites were considered, the former base, where Cold War Nike missiles once guarded, was underutilized. Gone too, are the prison guards, who patrolled there when the area was part of Lorton Prison's minimum security area. Notable fliers and guards there these days are bees and osprey. Laurel Hill's plots have the advantage of co-location with a colony of honey bees managed by George Mason University and a pair of ospreys who nest nearby.
Speer hopes to bring another new twist to the term "community garden". He is talking with others about reserving two of the plots as a community volunteer gardening effort. Interested volunteers would work together to learn and apply good gardening techniques, growing vegetables to support local food banks. He sees engaging people to work in nature to produce food for others as beneficial to all involved. 
County residents interested in renting an individual plot may submit their registration online at www.fairfaxcounty.gov/parks/green-spring/plots. 
Select "Laurel Hill", or any other garden plot location on the form. Note that there is a waiting list and the county encourages all interested gardeners to register to secure a place on the list. Plots are issued on a first-come, first-served basis.
County use guidelines state that once rented, your plot must be "active" throughout the regular season, at least May 31 through Nov. 1. This means the plot is at least two-thirds under cultivation; weeds are kept under control; dead and spent plants are removed; and crops are harvested when ready. Active winter gardening is encouraged for crops such as greens and root vegetables, or a cover crop of rye grass may be planted. Gardens are inspected before annual renewals, beginning Nov. 15. Gardeners are expected to remove dead plants and weeds, any damaged or unused items, and store plant supports, hoses, and other equipment neatly.