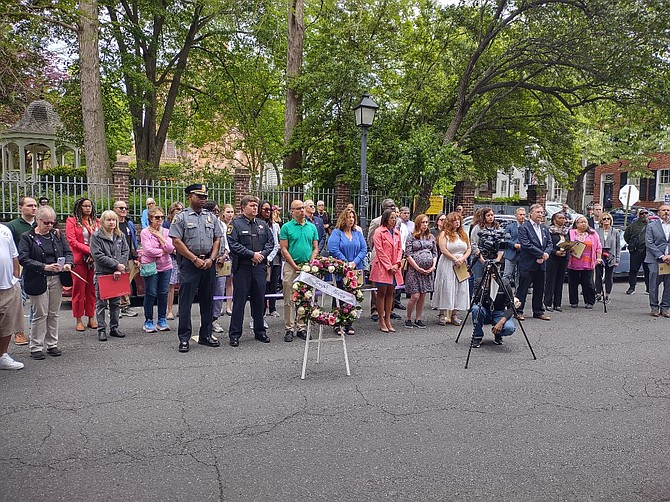 The Alexandria Community Remembrance Project held commemorative events over the weekend to mark the 126th year since Joseph McCoy was lynched by a mob near City Hall.
It was April 23, 1897, and the front page of newspapers across the region carried the news of the latest lynching in the area -- the slaying of 18-year-old Joseph McCoy, who had been accused of assaulting the 9-year-old daughter of his employer.
An angry crowd had breached the police station jail, located at the site of today's City Hall, and dragged McCoy out of the station house to the intersection of Cameron and Lee streets. It was there that they put a rope around his neck.
"Hanged by a mob," read the headline in the Alexandria Gazette. "The righteous indignation of old Alexandria was aroused last night .. and as a result Joseph McCoy, a negro ravisher, was strung up to a lamp post, bullets sent into his body, his head split open with an axe and other indignities heaped upon his quivering remains."
McCoy's death was one of two documented lynchings in Alexandria, out of 11 that occurred in Northern Virginia, and among the 100 documented lynchings that occurred in the Commonwealth between 1882 and 1968.
Though hundreds of Alexandria residents witnessed the event, no one was ever charged in McCoy's murder.
On April 22, a community meeting on Transformational Justice was held at the Charles Houston Recreation Center. Bilqis Wilkerson, Managing Director at the Thurgood Marshall Civil Rights Center at Howard University, was the featured speaker and spoke on the meaning of restorative and transformational justice.
Wilkerson discussed how communities can address the historic wrongs of enslavement, lynching, segregation and mass incarceration in a way that brings justice, healing and transformation.
The following day a Remembrance Wreath Laying took place on the Fairfax Street Side of Market Square near the original site of McCoy's murder. Descendants of the McCoy family participated in the weekend's events, which included a tour of the Alexandria Black History Museum.
As part of the weekend of remembrance, City Hall and the George Washington Masonic Memorial were illuminated in purple, the color of mourning, in honor of McCoy.
To learn more about Joseph McCoy and the events of April 23, 1897, visit the In Memoriam page at Alexandriava.gov/Historic.