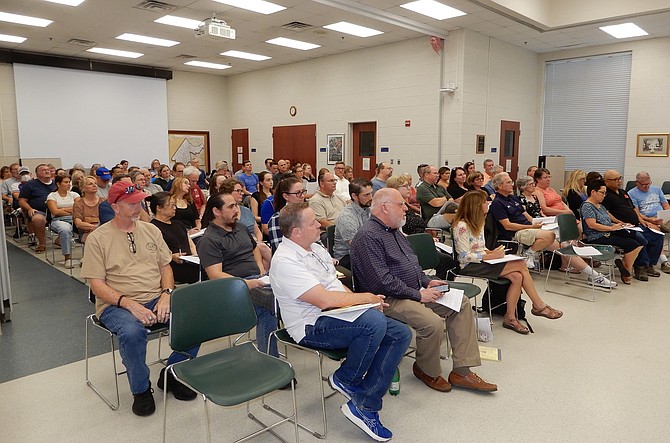 According to an NBC news story, residents in Germantown, Tenn., couldn't use or drink their tap water recently, after diesel fuel from a backup generator contaminated an underground reservoir. And even after a week, when city officials declared it safe again, residents remained wary and untrusting – since many of them could still smell fuel coming from their taps.
The fuel had spilled from a backup generator that powered a water-treatment plant and was placed into service after heavy storms caused power outages. Since diesel fuel contains the carcinogen benzene, the local health department warned residents that drinking the tainted water could cause kidney or liver damage.
So it's no wonder, then, that – despite the best efforts of Penzance reps to convince people that something similar won't happen here – residents are worried. They're concerned that the diesel generators on a proposed mega data center in Chantilly could leak, too, and contaminate Fairfax County's water supply in the Occoquan Reservoir. 
"The data center requires 135,000 gallons of flammable diesel fuel and 13,500 gallons of toxic, diesel-exhaust fluid onsite," said Cynthia Shang of Chantilly's Pleasant Valley community, 4/10 of a mile from the proposed location. "And spills, leaks, fires or other accidents can shut down the area and poison the adjacent Resource Protection Area (RPA) and Cub Run Stream, which flows to the Occoquan Reservoir."
She was speaking last Thursday night, July 27, to a packed room of about 80 people in the Sully District Governmental Center during a meeting between Pleasant Valley and other residents, plus the developer, Supervisor Kathy Smith (D-Sully) and county staff. And the residents – who were also angry about the noise, truck traffic and other environmental impacts the data center could have – clearly weren't buying what the panel members were selling.
Off Route 50, Stonecroft Boulevard and Auto Park Circle, the land is partly zoned commercial and partly industrial, so Penzance wants it all rezoned industrial so it may build there. The facility would go on 12.1 acres of a 79-acre parcel, with the remaining 67 acres preserved as a Resource Protection Area. Penzance also seeks a special exception so the data center could soar as high as 110 feet.
Penzance's sound engineer, Sam Williams, said the noise at full capacity would be 40-42 decibels in Pleasant Valley and 55 decibels during backup-generator maintenance. Traffic engineer Les Adkins said there'd be 400 vehicle trips/day, with right turns into and out of the site from Route 50 east. From Route 50 west, trucks would turn left on Pleasant Valley Road and take the loop road in the Lafayette Business Park to access the site.
Civil engineer Jamie Cox said Penzance flew a drone at 110 feet high and determined that Pleasant Valley residents won't be able to see the building from their neighborhood. He also said they have to follow federal, state and county regulations regarding fuel storage, collection and disposal. And, he added, "If there's a fuel spill or leak, it'll go to an area graded away from stormwater areas and into a separator preventing it from entering onsite stormwater pipes."
Then the residents had their say. "Data center HVAC systems and generators create a constant, 24/7 hum that you can't ignore," said Shang. "It also drives out wildlife, leading to deforestation. And acres of land will be cleared for their electric substation.
"They can run the generators until 9 p.m., and if they violate the noise ordinance, it's a $1,000 fine – which is a tax write-off for them. These 27 diesel generators will release particulates which are carcinogens to humans and also damage trees, vegetation, soil and water. And MWAA [Metropolitan Washington Airports Authority] said the data center's height 'comes very close to a critical, air-navigation surface. If it's penetrated, there will be adverse impacts to airport operations.'"
Furthermore, said Shang, "That truck route through Lafayette Business Park has a bike path on it. With so many trucks per day, there'd be one every three minutes, over 12 hours. And that brings loud, noisy trucks – and Route 50 – to our doorstep." She also stressed that the facility would be 3-1/2 times taller than the 40-foot-high buildings in the nearby auto park and wondered how the county could consider the data center "harmonious" with its surroundings. Basically, she added, "The only benefit is to the developer's and owner's pocketbooks."
Smith, though, said the state would give them a tax exemption, but the county would reap significant tax revenue. "The data center's estimated real-estate value is $360 million, so the county would get close to $4 million in real-estate taxes, plus $2 million in BPOL [business] taxes," she said. "So on a yearly basis, the data center would bring in about $6 million to the county."
Still, said resident John Hemsworth, "This country is facing climate change, and you're taking down all the trees and green space. With development comes a human cost to our families and our way of life. This is for the developer's own self-interest."
Tom Henry asked if the applicant included the noise from the substation and Route 50 in its decibel estimate but didn't receive a direct answer. Instead, Penzance's land-use attorney, Evan Pritchard, said they'd be shut down if they exceeded their proffered noise levels. And when Henry asked if there'd be more noise with 27, vs. 20, generators and Williams said no, the audience muttered its disbelief. 
Henry then asked what the decibel impact on Pleasant Valley would be in an emergency situation. "It would be 56-63 decibels – which is 3 decibels higher than is allowed in our neighborhood," replied Shang, and Williams confirmed. 
Added Cox: "In an emergency, the noise limits don't apply." 
And although Williams tried to convince residents that fluctuating noise, such as from an overhead airplane, could be louder than the constant sound produced by a data center, resident Trevor Brierly said, "That sound is disruptive and intrusive. It gets in your head and doesn't go away."
To county staff, Matt Maisal said, "The information you've gotten, so far, has been selective and advantageous to the developer's cause. Have you gotten information from other points of view?"
"That's why community feedback is important," said Smith. "People who live in a place can provide information we don't have."
In addition, Billy O'Donnell, with the Department of Planning and Development, said Penzance is "relying on state-certified engineers and technicians for their information, so their certifications are on the line."
Scott Gorvett said Pleasant Valley homes would lose 10 percent of their value "because of the adverse effects of the data center's noise, plus air, soil and water pollution. Home values near a data center in Gainesville have already decreased some 18-22 percent; people are bailing because they can't sleep at night." 
He then asked Smith why she thinks his neighborhood won't be affected by the proposed data center, and she said she couldn't predict that would happen. Another resident asked how close she lives to a data center, and Smith said she doesn't live near one.
In a nod to the upcoming election for Sully supervisor, Pleasant Valley's Dave Meeusen asked Smith, "Do you see how many people are here tonight against changing the zoning to industrial?" And the entire audience raised their hands. "And how many of you vote?" he asked, receiving the same result. 
Virginia Run's Jim Hart asked county staff, "Has Fairfax County ever approved a nonresidential use with this many diesel generators, and this much diesel fuel, stored onsite in this proximity to an environmentally sensitive stream that drains into the Occoquan Reservoir?"
O'Donnell, who's been with the county for more than two decades, replied, "I can't recall a site I've reviewed that has as many sensitive uses next to an RPA."