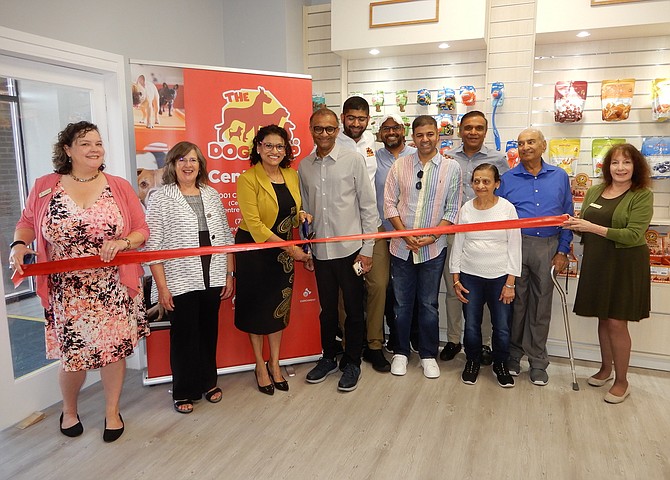 The Dog Stop held its grand opening, Saturday, Sept. 9, in the Centreville Square Shopping Center in Centreville. But the owners, employees, plus local and company dignitaries gathered there, the day before, for its ribbon cutting.
Situated on a curve in the upper, left-hand corner of the shopping center – between Shilla Bakery and Sweet Rolled Tacos – the new business is at 6001 Centreville Crest Lane. And it offers boarding, daycare, grooming, training and nutrition for all types of dogs.  
Owned by husband-and-wife Bhavesh and Hiral Mehta of Centreville's Manorgate community, it's the second Dog Stop in Virginia (the first is in Richmond) and the 29th nationwide. There are 15-20 employees, and the dogs are always supervised.
"We love Bhavesh and Hiral because they're passionate about dogs and know how to safely care for them," said Patrick Morris, a business consultant for the franchise management. "And this is the perfect building – there's even a stop sign outside. And since this used to be a children's daycare, we didn't have to do a lot of construction."
Pleased that The Dog Stop is in such an inviting neighborhood, he added, "Everyone's been so nice. There are lots of people with dogs here, and the community's been extremely supportive. We're also happy to give tours of the facility. We put the dogs first – we want people to feel safe leaving their dogs here with us."
Indeed, the business prides itself on promoting healthy and happy dogs through socialization, physical exercise and mental stimulation. Dogs are able to enjoy everything from professional grooming and relaxing spa treatments to romping in the outdoor play yard with similar-sized canines. There's even a retail shop selling dog toys, treats, food and supplies. 
Hours are Monday-Friday, 6:30 a.m.-7 p.m.; and Saturday-Sunday, 8 a.m.-5 p.m. Phone: 703-719-8670; Website: www.TheDogStop.com. Krista Poland is the general manager. 
"This is such a beautiful and wonderful space," said Jennifer Rose, executive director of the Central Fairfax Chamber of Commerce, during the ribbon-cutting ceremony. "And we're happy to be here to celebrate this business's opening."
Echoing her sentiments, Supervisor Kathy Smith (D-Sully) told the owners, "I'm excited to have you here. And my office will do everything it can to support you." Likewise, Supervisor James Walkinshaw (D-Braddock) also congratulated The Dog Stop team, and Hiral Mehta thanked everyone for welcoming them to the community.
"It's been my mother's dream forever to open a dog-care facility," said son Sahil Mehta. "It means so much to see you all here to support us. From the floors to the ceilings, we've done everything we can to ensure the dogs' safety, health and happiness."
After the ceremony, he explained that there are epoxy floors so the dogs don't slip and slide, plus UV lights in the ceilings to absorb and kill bacteria in the air. And the exhaust system constantly pumps fresh air into the building. 
There are 75 kennels, with a maximum capacity of 150 dogs. People with two dogs may have them boarded together. "My mother truly cares about doing everything right for the dogs," said Sahil. "And she'll make sure every dog is treated well."
Although it's not apparent from the outside, the building is more than 9,000 square feet with a variety of rooms – each with a particular purpose. And an outdoor play area behind the building is surrounded by an 8-foot-high fence. Following the ribbon-cutting, both Hiral and Cami Boye, also a Dog Stop business consultant, led attendees on a tour.
In the indoor play areas, Hiral pointed out the windows enabling dog parents to peek at their pups at play. "And while they're away on vacation, we'll email them about how their dogs are doing," she said.
"There's even a flex space for dogs not wanting to be with other dogs," said Boye. "We can also use this room for cuddle time and puzzle time, and we'll read to the dogs, too." Noting that solving puzzles provides brain stimulation while a dog moves wooden or plastic pieces to get to some treats, she explained that "15 minutes of puzzle time is the equivalent of a one-hour walk for a dog's brain."
In addition, there's a room with several TVs where relaxing nature programs or soothing music can be played for dogs wanting to chill for a while. 
Seeing her dream finally become reality, Hiral was delighted to have the business ready for customers, at last. "It feels amazing," she said. "And I thank Artistik Construction for building this whole place according to what we needed, and in a timely fashion. I grew up in India and, as a child, I had a dog and always loved them. But when we came to the U.S., we couldn't find a place where we felt comfortable leaving our dogs without worrying. Here, though, they'll feel like they're having a staycation."