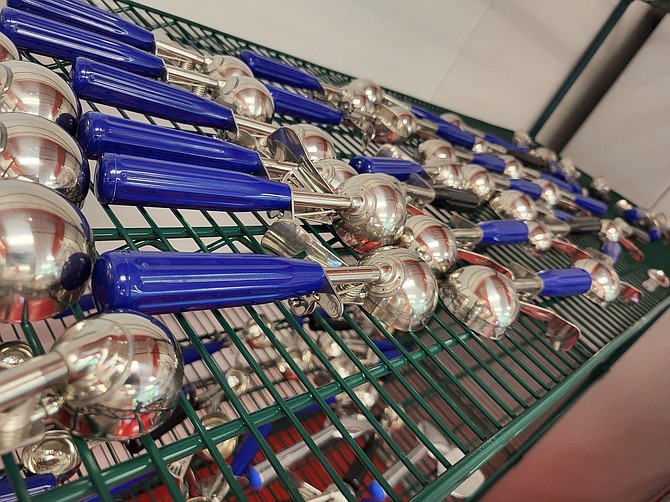 Getting "brain freeze," from drinking an icy beverage in the summertime is a right of passage for many, whether it be a Slurpee from 7-11, Pina Colada or a frappuccino coffee drink. 
When Bruster's Real Ice Cream opens next month in Hilltop Shopping Center there will be another option they call the "Brain Freeze," that's made with sherbert.
That will just be one of the options this newcomer in the local ice cream world has to offer. Bruster's is a newcomer to the Hilltop area of Alexandria, but they've been around up in Pennsylvania for a while.
A passerby was fully versed in Bruster's dishes from her experience in Pennsylvania. "I love it," she said, "the chocolate peanut butter something, that's my go-to," she said. In fact, there are lot's of concoctions they make including shakes, sundaes and waffle cones.
Franchise owners Jim and Jessica Winland are racing against the summer to get their store open before fall comes. While looking at a franchise to open, they noticed there weren't many places to get good ice cream around the south county near Fort Belvoir. "It was hard to find good old ice cream," Jim Winland said. Their ice cream is a premium, hand-dipped variety.
Jim was in the Army and liked the fact that the Hilltop location is just outside Fort Belvoir. During the week, lots of workers from Belvoir and offices nearby flock to the Hilltop center to eat at the Wegmans, The Green Turtle or the Mission Barbecue restaurant so the ice cream will be an option too. "This is a lunch destination," he said.
At Bruster's they offer 24 flavors of premium ice cream that has a certain level of butterfat in it, and they have three walk-up windows that will cater to the mobile diners.
Bruster's
Hilltop Village Center in Kingstowne
6463 Old Beulah St, Alexandria, VA 22315
571-223-6822
Will Be Open daily 11am-10pm