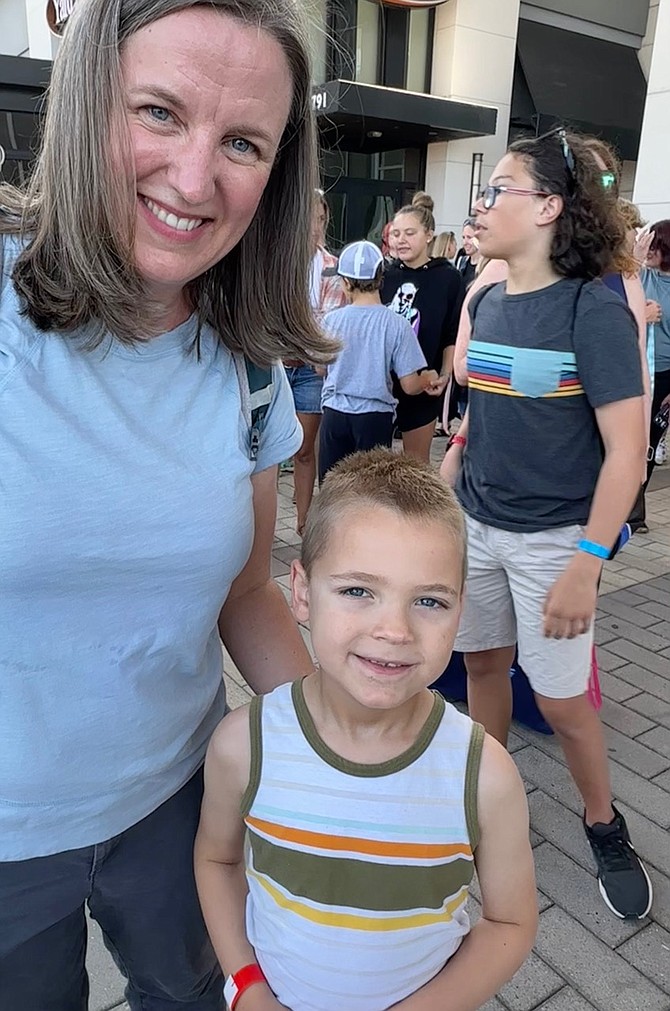 A very tall LEGO Giraffe clues the first BIG sign of reaching a new destination for fun in Springfield. On Wednesday, kids by age, and at heart, found their way, by special invitation, to a new place of exploration. The LEGO Discovery Center Washington D.C. officially opened for all in Springfield Town Center on Aug. 14. 
The 32,000 square foot family entertainment attraction and store on the mall's lower level boasts several sections. Twelve zones include multiple activities: LEGO block building areas, spaceship build, train ride with space pirates, Washington D.C. as a mini-world, 4D cinema, laser maze, and hero zone sure to help wear out even those with the most energy to burn. All this provided without the hazards of home carpet pedestrian danger.
The grand opening ribbon cutting event festivities included performances by the Herndon High School drum band and dance troupe, a participant parade and welcomes from general manager Theresa Alvich of the LEGO Discovery team and PREIT, the shopping center's owners, who recruited LEGO to the area. 
Master Builder Andrew Litterst later spoke of the opening, saying "It's just a relief, to summarize it in one word." Litterest won his position in February, in a brick building competition in the same spot where the podium stands for the opening event. He shared, "Ever since it's been pedal to the metal. I've been building stuff pretty much all day for the past couple of weeks." 
In his opening remarks, District Supervisor, Rodney Lusk, commented on the importance of skills our children can learn through play in activities the Center provides including collaboration, problem solving, and sense of accomplishment, all skills that are needed in the workforce. However, all thoughts of past and future work were forgotten as the confetti popped, the ribbon dropped, and the crowd plunged into the new adventures.
Advance tickets, for sale now with military discounts available, are encouraged for visits to the Center, open from 10 am to 6pm.