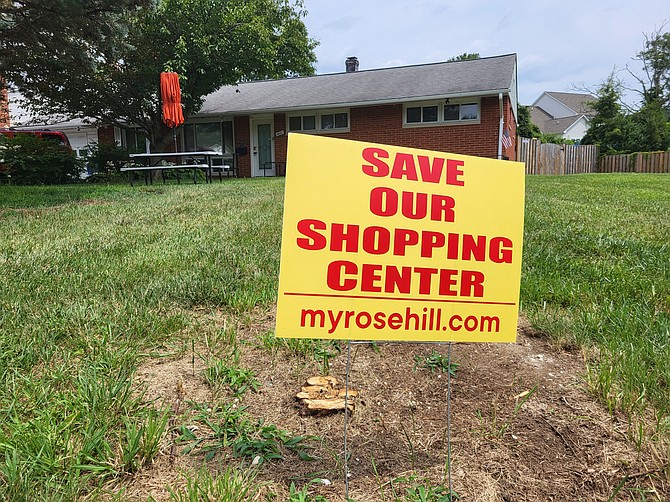 Last spring a proposal by Combined Properties to convert Rose Hill Plaza to a mixed-use residential/retail center with 400+ rental units and 70% less retail caused an uproar in the community. Residents brought this up with Supervisor Rodney Lusk (D-Franconia) who recently put out a letter regarding the matter.
"I have received some recent requests for the latest on the Rose Hill Plaza proposal. I have prepared the attached statement with the most recent information I have including a plan for the upcoming months," Lusk wrote on social media.
The proposal "remains in Tier 3 of the 2023 Fairfax County Comprehensive Plan Amendment Work Program," Lusk's letter said, noting that it will remain deferred until the Board of Supervisors moves the proposal along in the process. Lusk is in talks with Combined Properties and noted that the community feedback he's received wants less residential, but the fate of the shopping center "as is" is not addressed in the letter.
There is steady foot traffic at the shopping center every day and many nearby residents like the convenience and the small business aspect of it. "The shopping center is needed for this area, I don't want the mom and pops going away," said Virginia Vaillancourt. 
"We walk up here all the time," said Geo, who lives a few blocks away. He's seen the proposal. "Mixed residential is a big concern," he said.
Lusk is expecting a new proposal from Combined Properties this fall that will "lower the number of proposed residential units," and the proposal will go in front of the county board of supervisors once again. Public meetings will be scheduled after that, the letter states.
"I have heard loud and clear that the shopping center. and especially the local businesses located there, are important to the surrounding community," Lusk wrote. "My goal is for all of us to continue working together until we come to a consensus on a plan that the community and the property owner can agree sustains the Rose Hill Shopping Center for decades to come."
The dated store fronts did bring out a few ideas. "This could be improved, don't get me wrong," said Geo, and referred to an urban renewal plan known as "CPTED," he'd like to see. This acronym stands for Crime Prevention Through Environmental Design which is a multi-disciplinary approach that uses urban and architectural design and the management of built and natural environments, the CPTED association said. The proposed parking garage could attract some crime, some said. 
"The open lot is nicer," Geo said.
The next Fairfax County Board of Supervisors meeting is September 12 at 9:30 in the Government Center. 12000 Government Center Parkway, Fairfax.