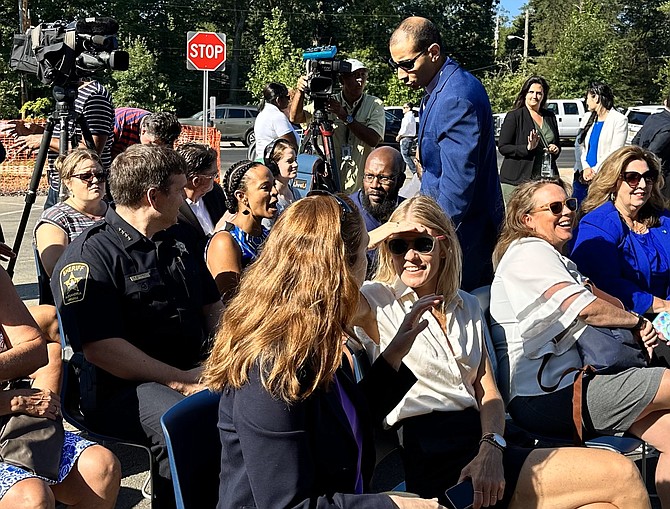 It was years in the making but the new Douglas MacArthur Elementary finally opened its doors Aug. 18 in time for the start of the new school year.
Alexandria City Public Schools and elected officials were joined by student ambassadors in cutting the ribbon at the new 154,000 square-foot facility on Janneys Lane.
"Our dreams are now a reality," said Douglas MacArthur principal Penny Hairston. "A building such as this is an investment in our children and in our community. The sense of community and caring throughout this project has been strong and will continue to be felt as our students are welcomed into their new classrooms."
Construction on the facility took two years to complete following several years of planning. The $75 million project was funded through the FY2021 and FY 2022 Capital Improvement Program budgets.
"That is a testament to the community that supported this project," said Mayor Justin Wilson. "The taxpayers of our city made significant sacrifices to make this building exist here today. That's what we're celebrating – the incredible amount of sacrifice that led to an incredible investment in the next generation.
The new facility sits on the same site as the original building, which first opened in 1943 with only eight classrooms. The new building for pre-K through 5th grade is three stories and can accommodate up to 840 students in 30 classrooms. Approximately 600 students are attending the new school this year.
"This is a beautifully designed school and will truly be a beacon in the community," said ACPS Superintendent Melanie Kay-Wyatt. "This building with its modern design and welcoming and innovative space will allow our students to learn and grow and our teachers and staff to thrive in this new environment."
The new school features state-of-the-art technology, music rooms and a new space for physical education. Construction on turf fields and a play area for students is expected to be completed by November.
A 30,000 square foot underground parking garage includes 80 parking spaces for staff.
The facility was originally scheduled to open in 2025, but in 2019 the School Board voted to use swing space at the former Patrick Henry Elementary School for Douglas MacArthur students beginning in 2020. The decision allowed ACPS to accelerate the construction timeline for Douglas MacArthur.
"When we work together as a community and stay focused on our goals our community can accomplish great things," said School Board chair Michelle Rief. "This new building represents our city's commitment to educating and empowering all of our students to thrive in this diverse and ever-changing world that we live in."
Added Wilson, "Amazing things are going to happen in this building. Students are going to come out prepared to take on the world. That is the investment we all made as a community -- to make sure our kids have the best learning environments possible."