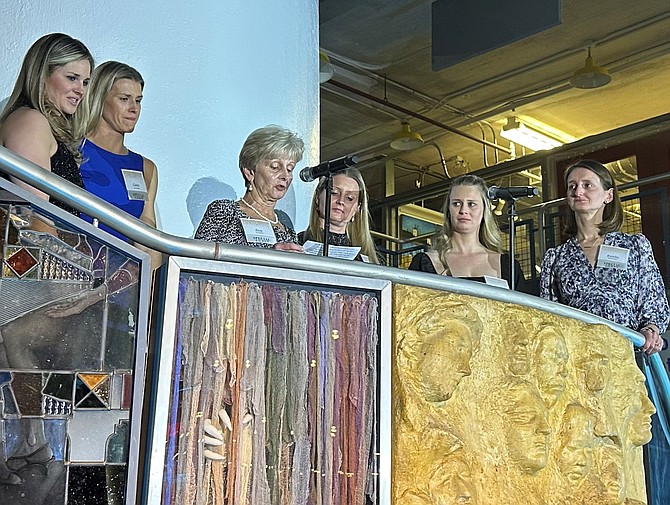 Kerry Donley was known for his commitment to service, both as a politician and as a member of the community he called home for most of his life. On Jan. 28, Donley was posthumously honored with the 2023 Champion for Children award by the Center for Alexandria's Children, an organization he supported for several years as board chair up until his sudden death last July at the age of 66.
"I am overwhelmed by the community's support for the event," said CAC board chair Melissa Poretz Riddy. "So many friends, neighbors, partners and community members showed up to celebrate Kerry Donley's impact on the City of Alexandria."
Held at the Torpedo Factory Art Center, more than 250 people attended the gala. It was the first in-person event for the organization in three years and raised $117,000 for the CAC, which is Alexandria's primary resource for the prevention, investigation and treatment of child abuse.
"Kerry was a fierce advocate for our Learn & PlayGroup Programs," said CAC Executive Director Giselle Pelaez of the program that serves more than 1,000 children and families each year. "He knew that when we provide parents with the social support, knowledge of parenting and child development, and concrete resources they need to cope with stress and nurture their children, we ensure a community of strong families and safe children where each Alexandria child is able to grow to their full potential."
Donely's widow Eva and their five daughters — Kaitlen, Kristin, Colleen, Cara and Kelsey — were on hand to accept the award recognizing Donley's contributions to the organization. Kristin Donley recently joined the CAC board to follow in her father's footsteps.
Presenting sponsors of the event included the Bruhn-Morris Family Foundation and Alexandria Toyota.
"Kerry was a friend and a fierce advocate for children in the community," said Andrew Mitchell, Director of Operations at Alexandria Toyota. "We hope to continue Kerry's legacy by supporting the organizations that he supported."
Eva Donley and the Donley family received one of two framed Champion for Children tributes. The second will hang in the Center's new office within the Redella S. "Del" Pepper Community Center.
"The connection between Kerry and the work of the Center was a profound one," added Riddy. "Kerry was an amazing board chair, friend, mentor and human. He was a tremendous presence within our schools, city council, nonprofits and a champion for children in particular."
For more information or to make a donation in honor of Donley, visit www.centerforalexandriaschildren.org.