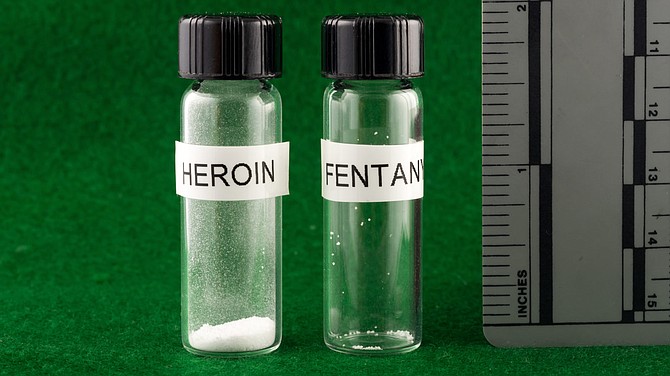 The nationwide opioid epidemic continues to rage – and Fairfax County is not exempt. The problems here are real and deadly, with the main driver being fentanyl – usually mixed into other drugs such as heroin, cocaine and methamphetamine to increase their potency.
So to educate the public about what's happening, the county Police Department and the Centreville Immigration Forum (CIF) held an Opioid Awareness meeting, Feb. 1 at the CIF office in Centreville. Speaking in both English and Spanish was Det. John Farrell, who's been with FCPD more than 20 years, including a stint at the Sully District Police Station.
"Fentanyl, a synthetic opioid, is factory-made," he said. "It's 50 times stronger than heroin and 100 times stronger than morphine. Most of it comes from China to Mexico and then to American communities. It gives users a small moment of happiness, but its effects include lethargy, nausea, confusion, depressed breathing and addiction."
Fentanyl use can also lead to overdoses and death. In fact, during a community meeting on Feb. 8, Capt. Rachel Levy, Sully District Station commander, said, "Last year, we had five fatal opioid overdoses here and nine nonfatal. This year, so far, we've had two confirmed overdoses." And 2023 has just begun.
Countywide, said Farrell, "We had almost 80 fentanyl deaths in the last year. It's all over the county, in every district. And it's not uncommon for us to see someone have several nonfatal overdoses before they have a fatal one. In 2018, we had 68 deaths, with 82 in 2021 and 76 in 2022. And there's a person behind every statistic – a brother, sister, father, mother."
He said fentanyl is either taken orally in pill form, crushed into a powder to be snorted or smoked, or changed into a liquid and injected via a needle. Often, said Farrell, "Youths put it on aluminum foil, light it underneath and inhale the vapors."
He said fentanyl compressed into light blue pills bearing an M30 logo are what police here are seeing most frequently. "They come into the U.S. as powder," said Farrell. "And as they're pressed into pills, we don't know how much fentanyl is in them." 
Making matters worse is that they've recently become less expensive. "In the past two years, the cost of fentanyl has gone from $30/pill to $5/pill, so it's easy to get," said the detective. He then told parents how to tell if their son or daughter is using drugs.
Farrell said they should be alert for any changes in their children's behavior or personality – including mood swings, lack of interest in their usual activities, poor hygiene, digestive problems, trouble sleeping, and strained relationships with friends and family. Other physical signs are red eyes, dilated pupils, unexpected weight loss, red cheeks, shaking and unexplained injuries. 
Another indication, he said, is a "constant need for money. When we see clusters of these behaviors, we need to ask ourselves if our child is using." He also advised parents to look for drug paraphernalia such as pipes, lighters, bongs, aluminum foil and needles in their children's rooms. For example, he said straws are used to snort the powder from pills that have been pulverized.
Signs of overdoses, said Farrell, are a slow or irregular heartbeat, blue lips, snoring or labored breathing, convulsions and loss of consciousness. "Snoring and difficulty breathing are major signs because fentanyl depresses the respiratory system and can lead to death," he said.
"When you suspect someone has overdosed, call 911 immediately," said Farrell. He also reassured the predominantly Hispanic audience that Spanish speakers are available to talk with them. Furthermore, he added, "The laws protect the person calling in about the overdose. People in the house won't be charged criminally, nor will the overdose victim."
If help reaches the victim in time, said Farrell, Narcan spray will quickly reverse the effects of an opioid overdose. "That's why we want to get them help as soon as possible," he said. "And we'll still call 911 because we won't know the amount of fentanyl in the person's system."
Farrell said police are constantly seeing "stronger and more potent versions of drugs" being made. For example, he said, "A version of fentanyl called carfentanil is the most lethal drug, followed by fentanyl and then heroin," because it takes so much less carfentanil to kill someone than the other two narcotics. 
Compounding the ever-increasing drug problem, he stressed, is that "You can't tell fake and real fentanyl pills apart. They're made to resemble OxyContin, Xanax, Adderall and other pharmaceuticals and contain no real medicine. Worse yet, said Farrell, is that they're deliberately produced in rainbow colors to look like candy, so they'll attract children.
And according to the DEA (Drug Enforcement Administration), "It only takes 2 milligrams – the amount on the tip of a pencil – to be lethal. And four out of every 10 fake pills with fentanyl contain a potentially lethal dose."
Farrell showed a slide depicting the slang terms dealers use when marketing their wares to customers via texts and other messaging. For instance, the word "plug" stands for dealer, and "jam" means to get high. "Erks" stands for Percocet, and terms for OxyContin and Xanax include: "blues, 30s, M box, bars, school buses and football."
But that's not all. There's also a whole, emoji drug code by which dealers target and communicate with their teenage customers. Dealers can also tell them via emoji what they have to sell, how much of it they have and how strong it is. (See chart). For example, a maple leaf is the universal symbol for drugs, and a cookie means the dealer has a large batch to sell.
"With the parents' consent, I'll look for these words and emojis in the phone messages of an overdose victim to see who's the dealer," said Farrell. "Most likely, anything blue or with the letter 'P' [means narcotics]. Parents should also often look in their children's phones to see what they're looking at."
Speaking next was Anis Saccoh, a behavioral health specialist with the Fairfax-Falls Church Community Services Board (CSB). This entity works to both treat and prevent drug and alcohol misuse and to promote wellness, and Saccoh deals with the prevention side.
He said sometimes people use drugs because of mental-health issues so "We give them resources to deal with them. We also offer in-depth classes, in both English and Spanish, on how to respond to a person who's overdosed. And we deal with why drugs are so attractive to people."
Nonfatal drug overdoses in Fairfax County nearly doubled between 2018 and 2021, skyrocketing from 142 to 271 – with another 246 in 2022. "These aren't just numbers," said Saccoh. "They're your kids, your friends, your neighbors in the community; that's who we're trying to reach."
He then passed out information telling various county resources available to people, numbers to call in a mental-health emergency, the services offered by CSB and how to access them, plus locations where CSB classes are held. For more information, call 703-383-8451 or email csbprevention@fairfaxcounty.gov.
In response to audience questions about how prevalent drugs are in the county, and what police are doing to combat them, Farrell said, "There are many drug dealers in Fairfax County. The bigger dealers are outside the county, but drugs come here to middle-level dealers and then to teens – who carry around some pills and distribute them to their friends."
He said police SROs (school resource officers) are trained in drug identification, and "We use social media and undercover officers to try to identify the dealers." Saccoh noted the CSB is also working with school nurses and others to help them deal with drug problems in their schools.
A woman then asked what would happen if an undocumented person reported a drug overdose. "They won't get into trouble with the police or immigration," replied Farrell. "Fairfax County police don't work with immigration."