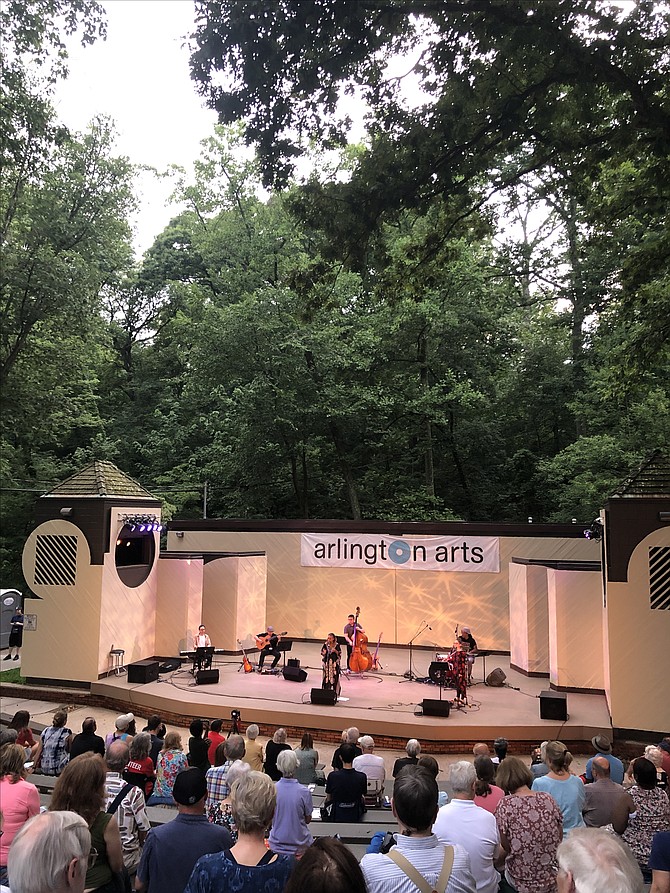 If you didn't even know the Lubber Run Amphitheater existed, you wouldn't be the only 20 year resident of Arlington who was unaware of this little gem. Tucked away in the woods, lonely in the winter, it comes alive on summer nights when couples sit leaning on one another, friends gather on the amphitheater's benches, or on chairs they brought along, children dance close to the stage, and music fills the forest. 
On Friday night, the artist filling that performance space was Munit Mesfin, and she filled it very well. Mesfin is an Ethiopian-American singer, songwriter, teaching artist, and producer. She is an original of the Ethio-Soul movement, combining jazz improvisation, reggae, soul, folk, Fado-like outpourings of emotion and love songs with her own individual (Ethiopian) style. Mesfin was born in Ethiopia, raised in India, Namibia, South Africa, and the US, thanks to her mother's job at UNICEF. Her global upbringing is reflected in her music, which incorporates Girma Beyene, Miriam Makeba, Roberta Flack, Zap Mama, Bob Marley, Leonard Cohen, and Chaka Khan. She sings and writes about social issues, Pan-Africanism, inward and outward struggles, and often tells a story to go along with her songs. 
A local woman, she is Project Director at Carpe Diem Arts in Silver Spring and teaches in a number of venues. She occasionally performs with her three children, when she goes by "Munit and Z Lovebugs." 
On Friday night, she sang mostly Roberta Flack, paying tribute to Flack who is suffering from ALS (Lou Gehrig's disease) and can no longer perform. From "Killing Me Softly" to lesser known Flack hits, Mesfin gave a short introduction to each song. She was filming the event to show to Flack, whom she visited in New York recently, when she performed Flack's songs for the singer. Mesfin said it was an honor she had never dreamed of, to be able to sing Flack for Flack. The crowd gave a huge round of applause to thank Flack, a fellow Arlingtonian, for her music. 
Mesfin's band, with jazzy flutist Yana Nikol, Aleks Izotov on keyboard, Cristian Perez on guitar, Grant Le on bass, and Keithe Butler Jr. on drums each had a chance to show off their impressive instrumentals as Mesfin sang, danced, and story-told her way through about ten songs, engaging the audience several times with clapping, singing, and "La la la ing." This lady knows how to get the crowd in the mood.
Lubber Run Amphitheater is a 501-c3 organization. For complete information on its summer concert series check Lubber Run Amphitheater on Facebook or see: https://www.arlingtonva.us/Government/Programs/Arts/Programs/Lubber-Run