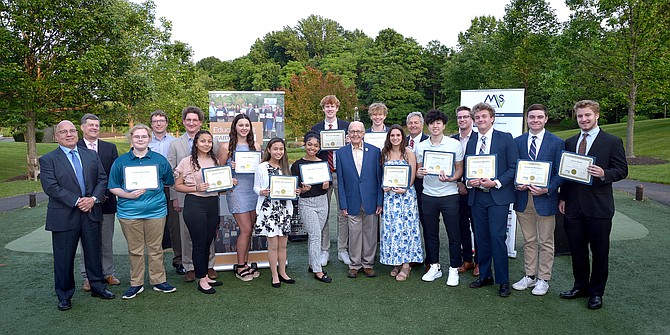 Thirteen scholarships were awarded to local high school students by Mount Vernon Springfield Chamber of Commerce to recognize outstanding achievement of 2023 graduating seniors planning to continue their study in a business-related field.
The 2023 Distinguished Business Scholars are Bianca Blancaflor, Lake Braddock High School; Jackson Brown, Edison High School; Lauren Cremer, Bishop Ireton High School; Julia Hopper, West Potomac High School; John Hood, Mount Vernon High School; Jada-Ane Larkin, Hayfield Secondary School; William Michael Meares, Mount Vernon High School; Adam Peverill, Mount Vernon High School; John Shaffer, South County High School; Laura Ridgeway, Thomas Jefferson High School; Maxwell Riggs, Hayfield Secondary School; Steven Liu, Annandale High School; and Nicole Trejo, Lewis High School.
Scott Stroh, a past Chairman of the Mount Vernon Springfield Chamber and chairman of the Chamber's 501(c)3 foundation, opened the evening by welcoming the award recipients, their families and introducing members of the Education Partnership Board of Directors. These directors raise the money for the scholarships and select the scholarship recipients: Scott Stroh III, Gunston Hall; Michael Bennett, Ourisman Automotive Group; Travis Clarke, Burke & Herbert Bank; Don Cammarata, Covanta Fairfax; Holly Dougherty, Mount Vernon Springfield Chamber; George Ksenics, Andrews Federal Credit Union; Mike Murphy, Mount Vernon Knights of Columbus; Alex Thalacker, Fairfax County EDA; Eric Christensen, Springfield Town Center; Genie Wilford, Edison High School Academy.
The event was sponsored by two hosts: The Fairfax Retirement Community, and the Army Retirement Residence Foundation - Potomac. The latter's president, Brigadier General Retired Robert Jorgensen, spoke about how wonderful it was that our youth in the area are developing their talents, abilities and preparing themselves to make a difference in the community before announcing the award recipients.
"The Chamber is committed to providing scholarships for local high school students," said Holly Dougherty, president of the Mount Vernon Springfield Chamber of Commerce. "We think this is the right thing to do and we consider the scholarships an investment in the future of the community."
Scholarships are made possible by the generous donations of local businesses and by funds raised at the annual Chamber Golf Classic. Businesses that provided complete scholarships are Covanta Fairfax Inc., Ourisman Automotive dealerships, CDI Inc. Rubrik, and Cisco.
This continues the Chamber's annual tradition of providing scholarships to students planning to study business. The Chamber has awarded scholarships for more than 20 years and these scholarships totaling $26,000 brings the Chamber's cumulative scholarship giving to more than $294,000.