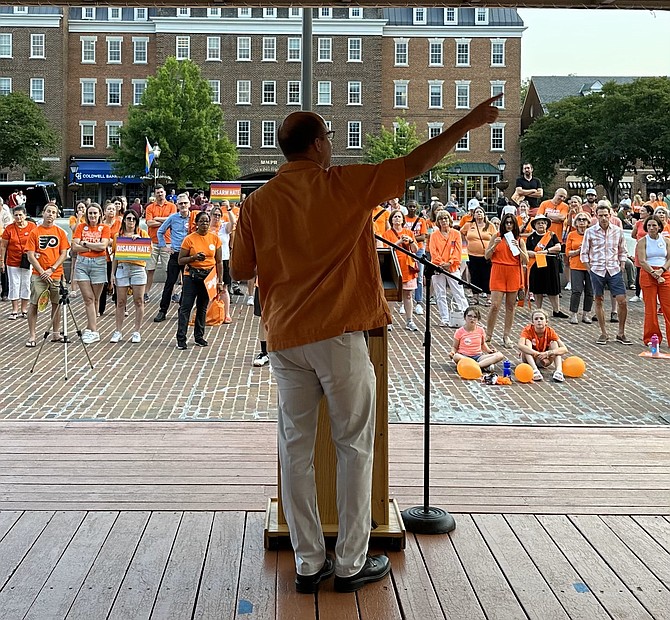 Hundreds of attendees, including survivors of gun violence and family members of those lost to gun violence, gathered in Market Square June 2 to kick off Wear Orange Weekend and National Gun Violence Awareness Day.
The Wear Orange Campaign rally was organized by Alexandria members of the Virginia chapter of Moms Demand Action and held in partnership with the Everytown for Gun Safety Support Fund as a way to honor the lives of those affected by gun violence.
"I will never forget the moment I received the call that my daughter had been shot," said Asia Paynes of her daughter Brianna Paynes, a student at Alexandria City High School. "So many emotions went through me at the time. I was no longer a minister, I did not feel like anything else but a mother in that moment and wondered how I could get to my daughter."
Brianna Paynes, who survived her injuries, attended the rally with her mother. She is now finishing her ACHS studies online.
"We can end the violence if we go and fight like hell to get stricter gun laws in the state of Virginia."
— Ryane Nickens, who lost a brother and sister to gun violence
Mayor Justin Wilson kicked off the rally, which was attended by Fairfax County Board of Supervisors Chair Jeff McKay, Fairfax County Commonwealth's Attorney Steve Descano, and Del. Alphonso Lopez. Ryane Nickens, who has lost several family members to gun violence, also addressed the crowd.
"Yes, it's the guns but also the systems that have been in place that concentrate poverty and starve the people of what they really need that causes communal gun violence," said Nickens, who founded the TraRon Center in D.C. in memory of her sister Tracy who was nine months pregnant when she was killed in 1993 by a neighbor, and brother Ronnie, who was murdered in 1996. "Yes, it's the guns, but it is also a lack of programs and resources for children in poverty."
National Gun Violence Awareness Day takes place the first Friday of each June and signals the beginning of Wear Orange Weekend. Wear Orange originated on June 2, 2015, in Chicago, by the friends of Hadiya Pendleton. The date would have been the 18th birthday of Pendleton, who was shot and killed on a playground at 15 years old.
"I am grateful to be here today," said Paynes. "But I want to charge mothers to get back to mothering. Even if our children are angry or not talking to us, it is a right and privilege as a parent to always protect and watch over our kids. We can't leave it up to the school system. We can't leave it up to law enforcement. As much as we want gun controls to go into effect, we still have a responsibility to talk to them. We need to remind them of their responsibility to humankind."
Added Nickens, who also lost an uncle to gun violence in 1990, "We all have a hand in changing that narrative," Nickens said. "We can end the violence if we go and fight like hell to get stricter gun laws in the state of Virginia."