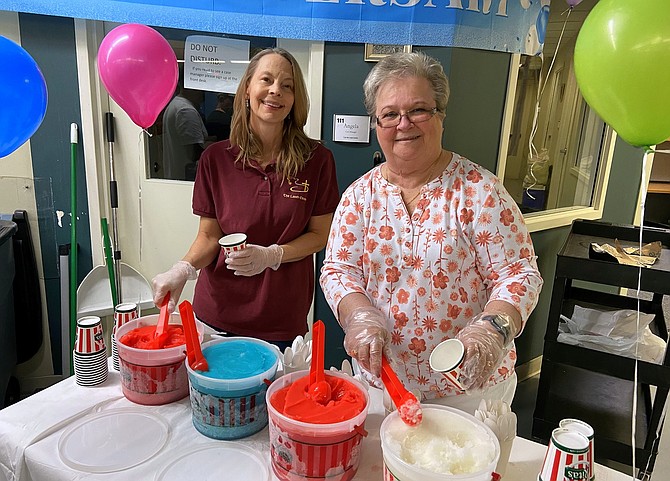 Celebrating the building's seventh anniversary are (from left) Workforce Development 
On the Wednesday before Memorial Day, every table at The Lamb Center was filled with men and women relishing their lunch. And because it was a special occasion, they were treated to Italian ice for dessert.
"We're celebrating the seventh anniversary of this building," Pastoral Director Dave Larrabee told the guests. "It seemed like a long journey that would never happen, but we moved into it on Memorial Day weekend."
Serving poor people and people experiencing homelessness, The Lamb Center in Fairfax City is a daytime, drop-in shelter offering hot meals, showers, clothing, Bible study, recovery and employment counseling, and many other services. The guests come from all walks of life. Some have mental illness, some are veterans and others have simply fallen on hard times.
During the celebration, Executive Director Tara Ruszkowski marveled at how far the center has come since 2016. "We didn't have a workforce-development program then, a clothes closet, or the case-management program we have today," she said. "And we didn't have all of you, and we're blessed – we appreciate you being here. You give us a reason to get up in the morning."
"I remember coming here, watching the old building being demolished, seeing the new one being built – and the excitement we had," added Larrabee. "This was a $4.5 million project, and we moved in mortgage-free. We needed the last half- million dollars, and a man gave us what we needed. Even a girl named Amanda brought us four quarters from her lemonade stand, so it was a community effort."
He then pointed out a long, wooden table with a cross atop it and noted that both were handmade and brought here from the old building the center had rented. "This is God's place, and this was built for you," he said. "You're all welcome here and are all part of the family."
Yet because the number of guests is growing every day, TLC staff is scrambling to serve them all. After the celebration. Ruszkowski said they're in serious need of more volunteers, donations and supplies to meet all the demands for their services. 
The two-story building is nearly 10,000 square feet. "When we moved in, we had so much space, we marveled at it and wondered how we'd fill it, since it was three times the size of our previous location," said Ruszkowski. "We could never then have imagined the growth in people and programs we'd have, such as a dental office and our Jobs Program."
Through that program, some Lamb Center guests work part time for Fairfax City's Public Works and Parks and Recreation departments, receiving income for doing jobs such as picking up litter and removing invasive species from the City's parks, as well as planting trees. Seeing its success, Fairfax County now hires the center's guests for similar work.
Ruszkowski also praised Case Management Director Deb Haynes for creating an "exemplary, case-management program with a team of six, highly qualified people who are really top notch."
"We've always fed and nourished our guests, both with food and spiritually, but they also need additional supports," explained Haynes. "So we first help them obtain photo IDs and let them use our building's mailing address so they can apply for benefits, employment and housing."
"We're so grateful to have this programming because we've seen a real surge in the number of guests – including first-time homeless and the elderly," said Ruszkowski. "When we opened, we'd see 50-70 people a day in summer and 90-100 a day in winter. Pre-pandemic, these numbers were consistent; but post-pandemic, there's been an increase."
"In May 2019, we were averaging 96 guests/day," said Haynes. "This May, we averaged 112 guests/day – which is a 12-percent increase."
And, said Ruszkowski, "It starts with 100 people coming in the door for breakfast, which is unusual for May. Typically, after the [local churches'] winter hypothermia program ends, people scatter, and our numbers typically decline. But this year, they started rising in April." Indeed, Haynes said TLC averaged 107 guests per day, this April.
Among the factors responsible for this rise, said Ruszkowski, is the general, economic situation. "During the pandemic, the [federal] CARES Act poured a tremendous amount of money into emergency homeless services, and it was used for hotel rooms and rental assistance," she said. "But all that money came to an end last fall when that program expired."
"Then came the hypothermia program, and evictions were still delayed," she continued. "But then those safety nets came down and evictions began." So that meant even more people became homeless.
In FY 2019, said Haynes, "We served 1,532 individual guests – not counting how many times they returned. This fiscal year, to date, we've already served 1,713 – for an 11-percent increase over our pre-pandemic total. And of special concern is the rise in the number of 65-year-olds – so far, it's an 8-percent increase over 2019."
She contacted other similar, homeless-service providers to see if they were experiencing the same thing, and they were. "The domestic-violence shelters and family shelters have also seen a rise," said Haynes. "And FACETS is seeing the same thing, too – so we're all very concerned."
The U.S. Department of Housing and Urban Development (HUD) classifies people age 55 as senior citizens, said Haynes, because "Homelessness shortens people's life spans dramatically."
And, said Ruszkowski, "We've had some heartbreaking cases here involving the elderly."
For example, said Haynes, "Two unsheltered 76-year-olds are here today. The man is a Vietnam veteran, and the woman came here looking for a sleeping bag. They're on the waiting list for Fairfax County shelters, but the list is long, and they might have to wait 90 days. And it's brutal having to tell a 76-year-old woman to make sure she camps in a place that's safe and well-lit."
Another elderly woman has a walker and is supposed to use an oxygen tank for her health issues. But she can't currently, because she's unable to drag it around and use her walker, too. "All the major metropolitan areas are experiencing an increase in elderly homeless people and aren't equipped for it," said Haynes. "Luckily, our building is ADA-accessible."
As a result, said Ruszkowski, "Our volunteers and staff are stretched thin. We have about 100 volunteers/week, working at the front desk and in our kitchen, laundry and clothing closet. Overall, we have a dedicated army of 500 volunteers total who really give us their all, and we're so blessed to have them."
"But with the increase in guests, we're now asking the people who donate breakfast – a mix of private individuals and service groups – to bring more," said Haynes. "We're so busy and the needs are so great."
"They were bringing food for 80-90 people, and now we're asking them to bring it for 125 – and that's a hard ask," said Ruszkowski. "For lunch, different partnering churches each provide it once a month. 
Ruszkowski said they're grateful their building has the space to offer so many important services to their guests and "a community that cares so much about them. We have such a good team here, and we all pull together. Seeing the care my colleagues take with everyone, and their heart for people, it's a wonderful place to be. It's a privilege and a rewarding and humbling experience."
"We really need help from the community, due to this increased demand. We're looking for more volunteers, supplies and donations." To learn how to help and what's needed, go to www.thelambcenter.org.
Donate now at https://www.thelambcenter.org/ways-to-give/give-online/ 
To learn how to help the Lamb Center and what's needed, go to www.thelambcenter.org.