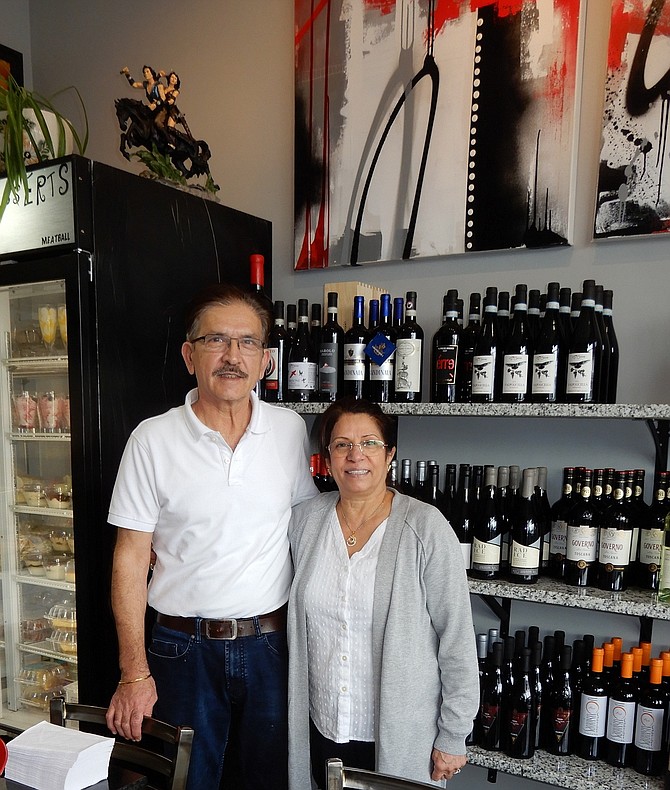 After nearly four decades in the delicatessen business, the Kapoor family recently opened a new location in Fairfax City at 10955 Fairfax Blvd. But husband-and-wife owners Kawal and Surila Kapoor, along with their daughter, Shania Pride, are no strangers to the area.
"I grew up in Fairfax City, my first house was in Fairfax and, most recently, we had a restaurant in Fairfax Circle for three years," said Surila Kapoor. "This is the sixth one we've owned."
The Kapoor family's previous delis were in Manassas and Arlington. But, said Pride, "They've been part of this community for so long, and they chose this location because it felt like home again."  
A Deli is in the same shopping center as Trek Bicycle and Dunkin Donuts, near the intersection of Routes 50 and 29. Hours are Monday-Friday, 10 a.m.-8 p.m., and Saturday-Sunday, 11 a.m.-7 p.m. Phone: 571-407-5060. It opened in February but didn't have its official ribbon cutting until recently.  
"I'm delighted to welcome the Kapoors to this location," said Fairfax Mayor Catherine Read, noting that since she lives nearby, she'll be a frequent customer. "Thank you so much for choosing the City of Fairfax. We love to support small businesses, and we look forward to forging a long relationship with you here in the City."
Pleased with Fairfax City's ongoing commercial growth, City Councilmember Tom Ross called A Deli "another example of the City welcoming another new business. And it's a collaborative effort of this City, the Central Fairfax Chamber of Commerce, our economic team and the community."
After her husband thanked everyone for coming to the ribbon-cutting ceremony, Surila Kapoor said, "Because we've been in this business for 38 years, a lot of people were waiting for us to open here." 
Then, once the official festivities were done, attendees feasted on the mini sub sandwiches, meat-and-cheese kabobs and Italian cannoli that the Kapoors had made for the event. Smiling, Pride said, "My parents love to feed people. They love to do that in our family, too. And they like getting to know their customers."
Surila said they sell lots of Italian specialties every day. "We also have imported meats, wines and cheese from Italy," added Pride. "My parents have been working with the same distributor for decades now, and this high quality of products makes A Deli different from other delis."
The restaurant has an extensive menu, offering a wide variety of hot and cold main dishes, plus sides and desserts. Under "Italian Specialties," said Surila, the most popular hoagie sandwiches are the Italian, featuring mortadella, salami and provolone cheese; the hot meatball-and-cheese; and the Crazy Italian, made with mortadella, Sicilian salami, capicola ham and provolone. And they all come in 8- or 12-inch sizes. She said the lasagna, served with salad and garlic bread, is also a customer favorite. 
Some of the hoagies come in double portions, and there are also hot Reuben sandwiches, plus tuna melts and BLTs, as well as meals of manicotti and spaghetti and meatballs. And the specialty salads include Caesar, chef's, Greek and caprese.
There are sides such as French fries, onion rings and potato salad, plus an assortment of cheesesteaks, including Classic Philly; steak, egg and cheese; and bacon double cheddar. For dessert, customers may choose from cannoli, cheesecake, carrot cake, tiramisu, brownies and blondies.
"We also do a lot of catering, including our lunch boxes and party platters," said Surila. "For 100-200 people, we need two days' notice; for smaller groups, just a day is fine." A Deli even has happy hours, from 3-7 p.m., when customers may enjoy beer, wine and snacks. 
Proud that it's a family business, Surila explained that the "A" in A Deli stands for her older son, Arun, and the "Big A" sandwich honors her younger son, Aman. And, she added, "Someday, we'll name another menu item after Arun's son – my grandson, Ayden."