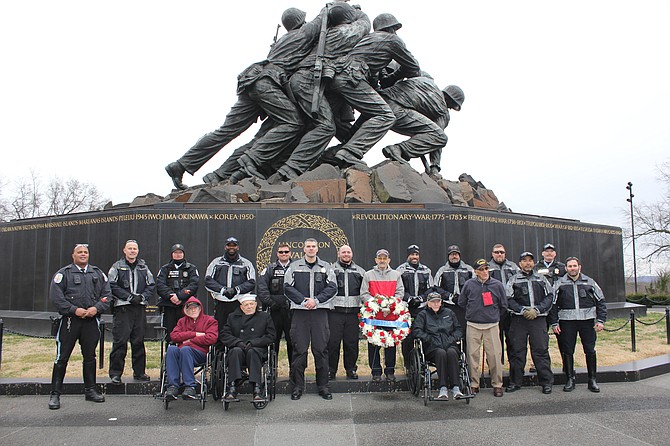 Feb. 19 marked a solemn and historic day. Seventy-eight years ago, nearly 80,000 brave American souls began a 36-day saga to capture the island of Iwo Jima. The anniversary was marked with a reunion which eight survivors were able to attend. Five Marines. Three sailors. All in their mid- or late-90s, they gathered to share memories of that life-changing event. They recollect with each other, and with the younger generations in whose hands is placed the task of honoring their legacy.
I am 26 years old. At minimum, I am 6-8 years older than the average Marine infantryman at Iwo Jima. Many, if not most, were in their late teens, with a 23-year-old considered an old man. They faced a tenacious enemy in the entrenched Japanese defenders, but they conquered Iwo's volcanic sands with a perseverance that comes from within.
My great-uncle was a Colonel in the 5th Amphibious Corps, which was comprised of the 3rd, 4th, and 5th Marine Divisions. He died at age 100, three years before I was born. In 2016, I found myself attending this reunion in his memory. Because of someone I never met, I was blessed beyond measure to be befriended by kind, witty, tremendously enjoyable men who have shaped me during the most formative time in my life. Without knowing it, they filled a void which came when my grandfather passed away when I was 13. By their convictions, conduct, and their forthright strength of character, they have passed on wisdom only they can impart.
I have made and lost many dear friends since that first reunion. With tears in my eyes I remember the memories I have made with members of "The Old Breed." E. B. Sledge's prolific nickname rings true. The accounts of a combat few can fathom still boggles my mind. We are in their debt for the life we live today, with all its modern conveniences and the air of freedom. My life has been forever changed because of them, for having shared their company.
Nearly 7,000 Americans gave their lives to conquer Iwo. Let us bow our heads and give thanks. To the Marines and Corpsmen especially, Semper Fidelis.
Dean Laubach is a 26-year-old graduate student now serving as web developer for the 5th Marine Division Association. He traveled five hours from his home in Pennsylvania to attend the reunion of Iwo Jima veterans.