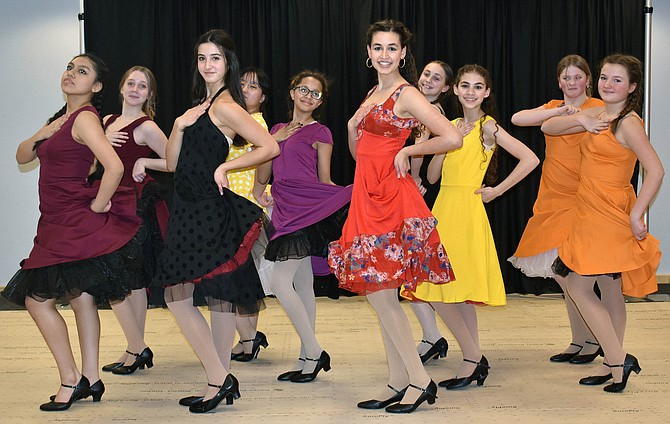 Featuring students from Chantilly, Westfield and Oakton high schools, plus Rocky Run, Stone and Rachel Carson middle schools, Not Just Dance presents the musical, "West Side Story." Performances are at Not Just Dance's studio at 14225 Sullyfield Circle, Suite D, in Chantilly. 
Show times are Thursday, Friday and Saturday, March 23, 24 and 25, at 7 p.m., and Sunday, March 26, at 2 p.m. Ticket information is at https://ci.ovationtix.com/35534/production/1143988, The cast and crew of 25 have been rehearsing since September.
"I'm so proud of them; people will be astonished by the actors' incredible talent," said Director Jennifer Farmer. "And our choreographer, Candace Turitto, is wonderful. Between the colorful costumes, dancing and sets, it's a visually appealing show. For example, at the dance, the boys' suits and girls' fancy dresses are color-coordinated with their partners. And the two gangs are distinguished by their costume colors, as well."
"West Side Story" transports Shakespeare's classic, "Romeo and Juliet," to 1950s New York City, where two young, idealistic lovers, Tony and Maria, are caught between warring street gangs, the "American" Jets and the Puerto Rican Sharks. And, said Producer Dawne LeKang, "Their struggles to survive in a world of hate, violence and prejudice create one of the most heart-wrenching and relevant musical dramas of our time." 
Farmer said the scenes take place at a bridal shop, drugstore, "the iconic fire escape and on the streets of New York, where the Sharks and Jets fight. Our technical-theater students made all the sets and props."
Portraying Maria is Westfield sophomore Kathryn Whitis. "She's friendly, adventurous and rebellious," said Whitis. "She knows she's not supposed to like the Jets, because her brother's in the Sharks. But she falls in love with [former Jets leader] Tony, anyway."
Since Whitis usually plays comedic characters, she said it's "nice to branch out and try a dramatic role. I relate to Maria's personality, and her fun songs let me show off my voice." But her favorite song in the show is "Something's Coming," sung by the actor playing Tony. "I like the meaning behind it," she explained. "It's saying, 'I feel like something's going to happen – and I don't know what – but I think it'll be soon.'"
She said the audience will like "West Side Story" because "It's fun, bright and colorful. It's a tragedy, but it's really cool to see all the singing and dancing. And everyone's amazing, so it'll be a great show."
Chantilly High junior Tyler Ellison plays Tony. "There's a big shift in Tony's personality before and after he meets Maria," said Ellison. "Before, he has a chip on his shoulder but believes he's destined for something better than a gang, so he leaves the Jets. After, he realizes she was the void in his life. He becomes more energetic and vibrant and is really passionate about their relationship."
Ellison enjoys singing Tony's solos where he gets to be in the spotlight and show off his personality and life goals. "And playing the lead lets me have opportunities to take more risks with my acting and singing," he said. However, Ellison especially likes the ensemble number, "Gee, Officer Krupke," because "It's a happy break from all the chaos going on and provides some comic relief. It's a catchy tune and it's fun to watch the actors sing and dance to it."
As for the show, he said, "There are lots of talented dancers and actors. And it plays with lots of emotions, from happiness to tragedy."
Westfield junior Alejandro Cahoon portrays Bernardo, the leader of the Sharks and Maria's brother. "He grew up in a place where boys have to be men quickly, so he's tough on the people he loves," explained Cahoon. "He wants them to be safe and not go through what he went through as a child. There were gangs where he lived, so he was in that life at an early age. But he also has a gentle, caring side, where he's protective of Maria so she won't get sucked into gang life."
Cahoon loves his role because "Bernardo always makes his presence known and commands attention from the people around him. And I get to do street fighting and boxing. I also box in real life, so it's great to put my own boxing skills into the character." His favorite song is "Maria," sung by Ellison, because "It's interesting to see the emotions Tony goes through in a short span of time, and he wants to be able to tell her how he feels."
Cahoon said audiences will love this show because "There's something for everyone – humor, drama. Everyone will feel something, and it'll get those emotions going. And I truly believe the cast has put in every ounce of effort they can to make the characters seem so real and make the audience engaged in everything that's going on."
Playing Anita – Bernardo's girlfriend and Maria's best friend – is Ava Botros. "I'm a junior in high school, but I'm homeschooled, so I don't get to do theater at a school, so this is a fantastic opportunity," she said. "Once I did a play here, I was hooked.
"Anita has a big personality with a huge, emotional range, and she loves very deeply. At first, she's spunky, sassy and energetic. But after a tragic event, she's mourning a loss and is hurt, angry and distraught. So my challenge is to portray all these ranges of emotions."
Botros is "thoroughly enjoying" her role because "There's no holding back with this character, so I completely embrace Anita and let it all out. And I also like being able to infuse her with my own zest for life." 
Botros especially likes the song, "America," because "Of all the dance numbers I'm in, it's the most energetic, and I like all the skirt-swishing. It's catchy and taught me how to really belt out a song." Overall, she said this musical is "dynamic, with lots of emotion and heart. And the audience will connect with and care about the characters as they evolve throughout the show."
Added Producer LeKang: "Our four leads have college-level voices. Audiences will think they saw something professional and will be surprised at the caliber of talent."
***
Not Just Dance teaches students musical and regular theatre, dance and music, so they may perform onstage, regardless of prior experience. It also offers several advanced programs and workshops – including theater tech, private coaching and dance classes for all ages. For more information, go to 
www.NotJustDance.net
, call 571-392-3209 or email 
contact_us@NotJustDance.net
.