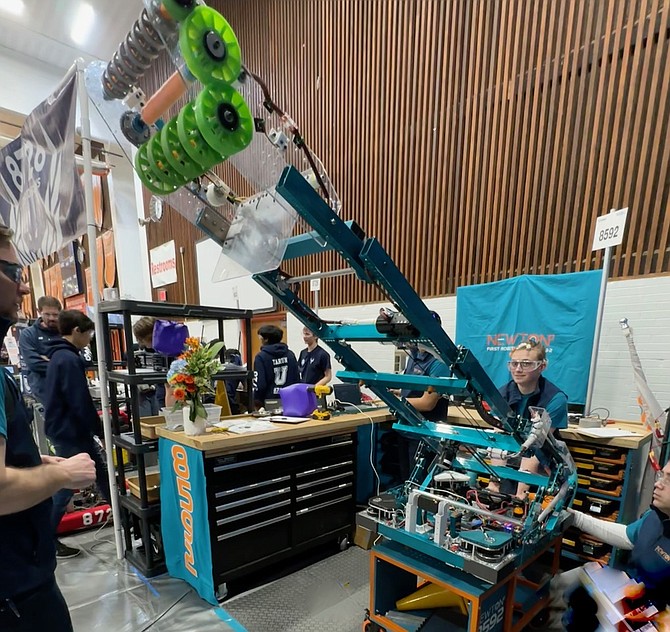 They have team names like Bovine Intervention, Jabots, Dogs of Steel, Ursa Major and Vae  Victis. They come from high schools in D.C., Maryland, and Virginia or represent their family and communities like Burke, Fairfax, Woodbridge, VA and Churchville MD. They share an inspiration to create usable science. That's why 40 robotics teams met at Hayfield Secondary School for two days of regional competition on March 18 and 19th. As teams advance through this regional and others around the country, their goal is to compete for the international FIRST Championship in Houston Texas April 19-22.
Described as a sport for the mind, FIRST Robotics combines the fun and thrill of competition with the need for the mental dexterity of science and technology. Hayfield's gymnasium was packed with cheering families and friends in matching team colors that would rival European soccer or a top ten American college football team event. FIRST, a non-profit organization, seeks to help young people discover and develop a passion for STEM: science, technology, engineering, and math. It seems to be working if the number of teams and their fan base is any indication. 
This year, more than 110 high school teams in the FIRST Chesapeake district are expected to compete in the FIRST Robotics Competition Challenge, CHARGED UP. Local events and district championships are supported by thousands of volunteers and local, district, and national sponsors. The Hayfield event was sponsored by the Gene Haas Foundation and the U.S. Department of Energy. The competitions seek to build tomorrow's technology leaders while fostering a future technical workforce.
It's not a sport for shallow pockets. A robot with all its components can cost about $5,000. Competition entrance fees and travel to regional competitions add to the expense. The world championship level entrance fee can be as much as $4,000. Many high schools fund their robotics teams. Corporate sponsors, such as Amazon, Andworx and Booz Allen Hamilton, NASA, local businesses, and individual sponsors and parent groups, as well as student fundraisers, help offset the costs of participation. A team that goes all the way to the championship can expect to invest about $30,000 for equipment and a year of events.
Matches throughout the two day CHARGED UP event pitted six teams per run in red and blue 'alliances' of three teams. Robots start the run with preloaded maneuvering instructions, without a human driver. For the first 15 seconds the robots act on their own, attempting to score points by moving cones or cubes onto a receiving framework. For the rest of the two minute run, drivers control their robots, continuing to collect pieces from the run area and delivering them to their 'community.' Robots also earn points by aligning with their allies on the team charge stations. A referee monitors the action and may issue penalties. Fans in the stands cheer successful game piece captures, creating a high level of excitement.
As the action played out, Falls Church Meridian High School's team, Vae  Victis, entered the pit area with enthusiasm but suffered an early setback when their robot tipped on its side, effectively sidelining them for that run. Team member Mya Taheri explained the tip was caused by a combination of raising the robot arm at speed with an abrupt stop. Their allied team robots for the match did not have sufficient battery power to aid, nor was it worth risking damage to two robots in an attempt at recovery. Life learning moments often are found in sport, and Taheri recognized, "It was one match. We have many more to go." She was correct, as the team would reach the semi-finals and be recognized with the "Gracious Professionalism Award." With points earned at the event the team ranks 64th of 139 teams in the Chesapeake District.
A community team from Burke, RTR Robotics, includes brothers Andrew and Jonathan Evans whose older brother got them started in robotics. RTR pulls team members from several area schools and their local church. Springfield Car Care sponsors them, alongside Boeing and DoD stem, plus their parent group. It gives the team a hometown heroes feel. The team has won 12 awards in 16 seasons and won four events. At this event they advanced to the final round and shared the winning "red alliance" with the event winner. Their points for this season place them 29th of 139 in the Chesapeake District ranking.
Ryan Schaum, a junior on Newton2, a community team from Nova Labs. said his interest in participating came from a fascination with robots. His siblings liked engineering and he followed their involvement and developed his own curiosity. He sees himself going into engineering, as they did. Teammate Nathan Stuart shares that fascination and finds great promise for robots in medicine and in space exploration. He also appreciates the dog-size robots that help firefighters and police. Newton2 team member, Reba-Grace Lee talked of the popularity of local robotic programs and camps for youth, citing the new Nova Labs community makerspace that debuted with their grand opening the same weekend as this Chesapeake District event. Fun versions of STEM learning begin there for ages 6 to 12 years old with LEGO Leagues and advance to robotics for youth ages 12 - 18 years old. Nova Labs is a Newton2 team sponsor.
The final event of the match pitted blue alliance teams Bovine Intervention of Thurmont, Md., SuperNOVA of Woodbridge, and Ragnarok of Ellicott City Md., against red alliance teams Rex of Timonium Md., RTR of Burke, and Newton2 of Fairfax. At the end of the excitement, and a commanding red alliance lead which included the favored three robot charging station position alignment, in the final seconds, Newton2 scored the most points within their winning red alliance to earn the event win. 
The Fairfax community team now stands high in the District ranking, at 4th of 139 teams. Along with their March event win, they also won the Quality Award, and the Excellence in Engineering Award earlier this season.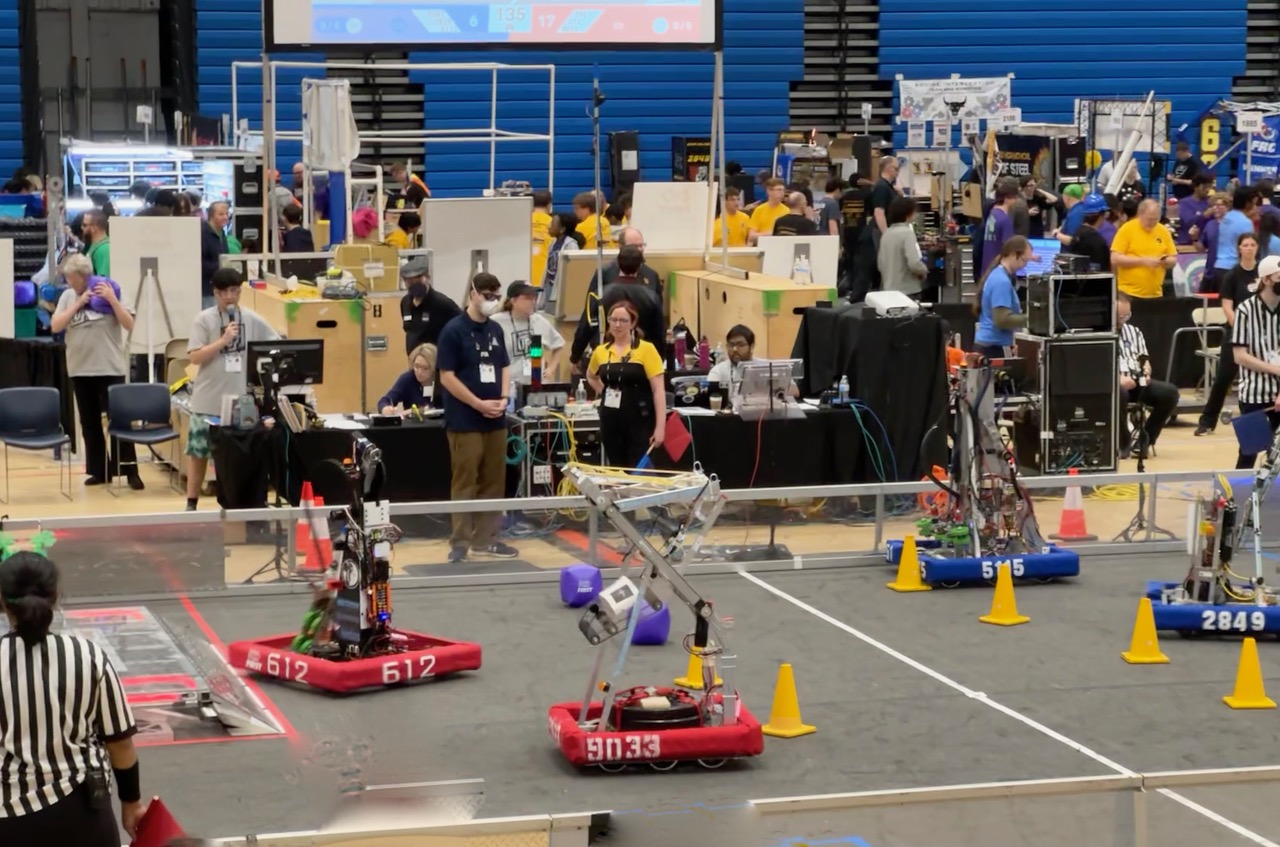 The first use of robots was by General Motors in 1961. Today with advances in software, sensors and electronics, robots often perform in unpredictable or hazardous settings, searching for gas leaks or doing bomb disposal; filling pharmaceutical prescriptions and preparing IVs; performing complex medical surgeries; and piloting military drones. They may greet guests in hotels in Japan or entertain, such as the recently introduced Judy Hopps robot by Disney. Judy is a character from the movie "Zootopia" who somersaulted out of her box on rollerblades and made ginger moves common to a new skater at her introduction at a recent technology conference. 
FIRST Chesapeake operates under the umbrella of VirginiaFIRST, with programs directly impacting 7,000+ middle and high school students. Each year, 60,000+ individuals attend 20+ robotics competitions in the FIRST Chesapeake District. 
For more information on upcoming robotic competition events, including the Chesapeake District Championship at George Mason's Eagle Bank Arena April 6-8, see https://frc-events.firstinspires.org/2023/CHCMP.