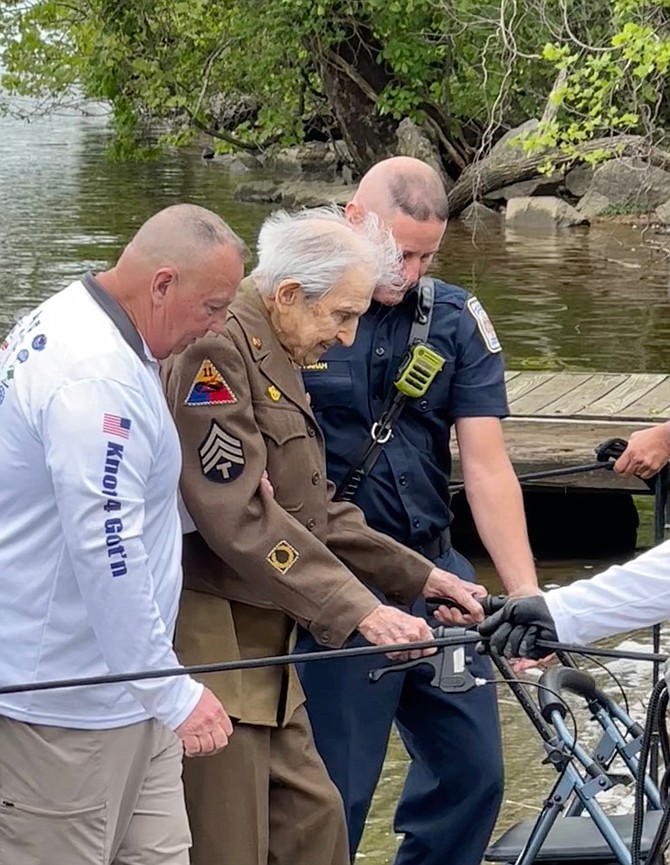 Veterans Fishing Adventure rechristened two boats in its fleet on April 29th at Pohick Bay Regional Park's marina. But it's hard to tell if the story starts there or somewhere else. Does it start dockside at Pohick Bay, with a bottle broken on the bow, or on the battlefield in a foreign land, or in a retired Marine's living room as he talks with his daughter over popcorn and a movie? For this telling, we will make a start in the small town of Milton, population 4,482, located along the Salmon Falls River in southeast New Hampshire, and home to the Eastern Boat Works.
Volunteers from Veterans Fishing Adventures in Lorton traveled to the New England town recently to reunite with two of the boats from their fleet after about six months in retrofit. Then they escorted the boats back to Virginia for continued service providing veterans and their families fishing and boating trips on the Potomac and Occoquan rivers. The non-profit organization has offered such trips, without charge, for four years, operating on donations and volunteer help. Although open to all veterans and their families, Veterans Fishing Adventures offers those with physical limitations an opportunity to participate and take their children fishing. With four specially fitted boats in the fleet, Veterans Fishing Adventures makes as many as three trips per week, allowing Veterans with disabilities to enjoy a pastime that most can enjoy without much thought for the logistics. 
Veterans Fishing Adventures volunteers, many themselves veterans, were greeted warmly in New Hampshire by Milton residents. First responders with lights flashing gave escort along streets lined by waving town residents on their way to the "reveal" of the two retrofitted boats, including "4 Freedom," a 248 Explorer. Smiles and applause greeted the trailered boat as it moved from behind Eastern Boat Works large manufacturing building for its first viewing after upgrades. Addressing the crowd of well-wishers, boat works owner Greg Hopkins said, "It's not about what you have; it's what you do, and what you do for others, to make every day special. We have our own challenges, but these people [VFA] showed me that there is no challenge you can't overcome." 
He listed the refitting tasks done by Eastern Boat Works crew on "4 Freedom" to include the impressive flag wrapping and new sponsorship decals; a lot of sanding, buffing, painting and waxing; a new motor and impressive electronics, redone interior cabins, and the handicap accessible door for wheelchairs. He added "it's kinda tough when you cut a hole in a boat."
Hopkins joined VFA's founder Ed Moore, Tim Majewski and other volunteers in returning the boats, overland, to Pohick Bay for the rechristening event. 
Also on hand were Iraq War veteran Chris Walker, a triple amputee as a result of an IED detonation injury, and World War II veterans Val Dadamio and Henry Miller. During the Iraq War, from 2003-2011, IEDs were used extensively by insurgents against U.S.-led forces causing significant injuries and deaths. 
Dadamio and Miller served at the five week long Battle of the Bulge in December 1944 to January 1945. It was Germany's last offensive on the Western Front in World War II; described as the largest and bloodiest single battle fought by the U.S. in that war. 
A bagpiper, gathering of first responders, veterans, and others saw the three veterans and some family members on a short cruise on the Pohick Bay near the docks. The flotilla included the VFA fleet, Fairfax County Marine Police boat, and county and private rescue boats, including Fairfax County's newly acquired air boat. Two boats equipped with water cannons provided a red-white-&-blue water arch in celebration of the flotilla parade, fit for a New York Harbor celebration, albeit on a smaller scale. 
Returning to dock, well-wishers formed a long line to thank the three veterans for their service. Miller was asked if he will return for a fishing trip to go for the enormous Blue catfish that inhabit the rivers. He said he is awaiting completion of a rod and reel set accommodated for his prosthetics, "so the fish don't take these arms back to sea with them." 
To see The Connection's award winning story on VFA's support of Ukrainian veterans, see 
http://www.connectionnewspapers.com/news/2022/nov/29/injured-ukrainian-soldiers-enjoy-fishing-adventure. For a link to VFA organization, see veteransfishingadventure.org.