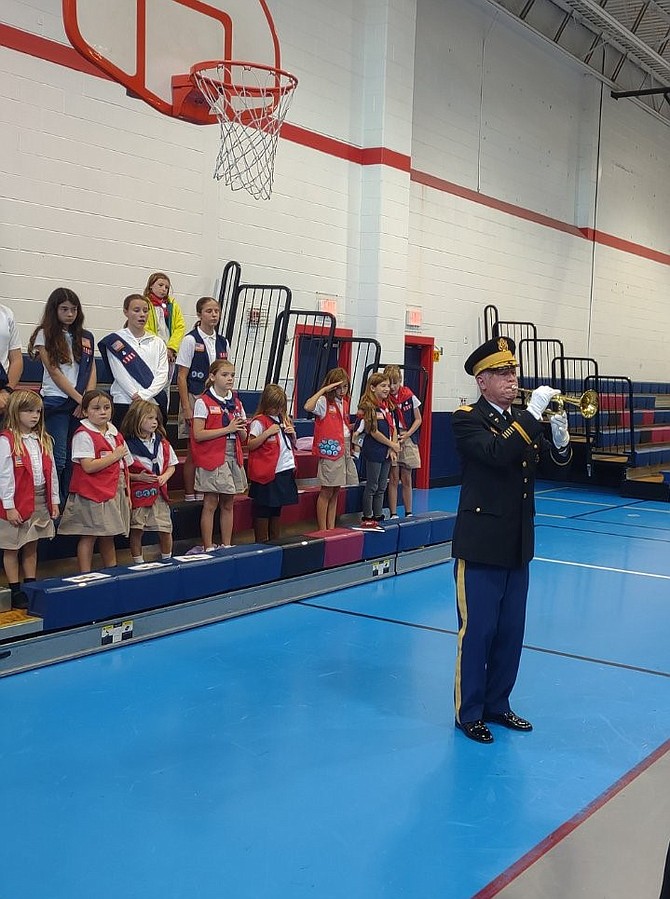 It was the war to end all wars. After four years of fighting, hostilities formally ended between the Allies and Germany at the "11th hour of the 11th day of the 11th month" in 1918. On Nov. 11, the Friends of Rocky Versace commemorated the 105th anniversary of the armistice to end World War I with a Veterans Day ceremony featuring Lt. Gen. Dan Christman (ret.), a 1965 graduate of the United States Military Academy and former superintendent of West Point.
Christman, a decorated combat veteran and current senior vice president of international affairs for the U.S. Chamber of Commerce, served as the guest speaker at the event held annually at Mount Vernon Recreation Center, home to the Capt. Rocky Versace Plaza and Vietnam Veterans Memorial in Del Ray.
Humbert Roque "Rocky" Versace, an Alexandria resident, was a 1959 graduate of the U.S. Military Academy at West Point and several of his classmates were in attendance.
The ceremony included a reading of the 68 names of Alexandrians who were killed or reported missing in action during the Vietnam War.  Versace, along with six other Alexandria veterans, are among those who remain missing in action in Southeast Asia.
On Oct. 29, 1963, with less than two weeks before the end of his tour, Versace was ambushed and taken prisoner in South Vietnam. On Sept. 26, 1965, Vietnam's Liberation Radio reported that Versace had been executed. His remains have never been recovered. In 2002, Versace was posthumously awarded the Medal of Honor.
Several of Versace's West Point classmates were in attendance to present a wreath in his honor as were members of Special Forces Association Chapter XI. Versace was a member of the Special Forces unit.
Following the formal portion of the ceremony, Christman presented Vietnam Veteran Lapel Pins to Vietnam veterans in attendance.
Gold Star family members in attendance at the ceremony included Earl Valentine, whose brother Jeron Valentine was killed May 7, 1968, while serving in South Vietnam.
In addition to Valentine, Gold Star family members included Susan Lilly Harvey, Gold Star Sister of MIA 1st Lt. Lawrence Lilly; Reba Bayliss and Patrick Bayliss, Gold Star widow and son of USAF Capt. Paul M. Bayliss; James Spengler, Gold Star brother of Capt. Henry M. Spengler; and Helen Curtis Versace, sister-in-law of POW/MIA Rocky Versace.
Participating in the ceremony were members of the St. Rita American Heritage Girls Troop 1381, who opened the ceremony with the Pledge of Allegiance. Deacon Steve Dixon, also of St. Rita's Parish, delivered the invocation.
Alayshia Spears, a member of the Bishop O'Connell High School choir, performed the National Anthem, America the Beautiful and God Bless America during the ceremony and Lt. Col. Stephen Tracy of Bugles Across America concluded the event with the playing of Taps.
Attending the event were Mayor Justin Wilson, Council members Kirk McPike and Canuk Aguirre and former Mayor Allison Silberberg. Former Council member David Speck, who was the driving force behind establishing the Capt. Rocky Versace Plaza and Vietnam Veterans Memorial, was also in attendance.
For more information or to become a member of the Capt. Versace Memorial Association, contact the Friends of Rocky Versace at FoRV59@gmail.com.