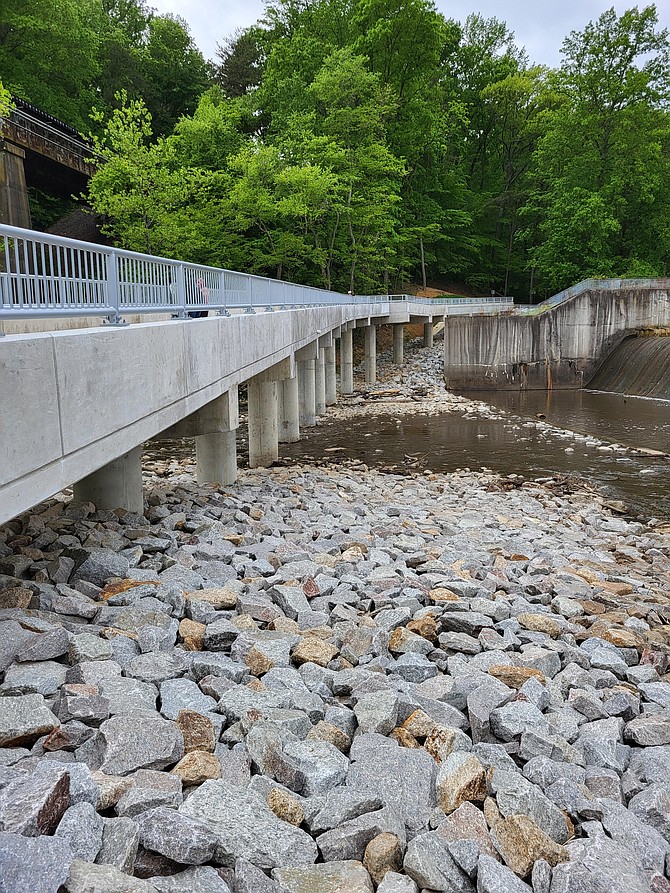 Cyclists, joggers and walkers are now able to get around Lake Accotink without fording the spillway below the dam with the completion of a new bridge that has been under construction for a few years.
"The causeway was falling apart," said one frequent crosser, part of a local group of women who use the trail often. They even joked about having to take their shoes off and tip toe through the water. But not any more with the new pedestrian bridge.
Another woman with her dog "sweetheart," enjoyed staying out of the water. "It's nice," she said.
The Lake Accotink Loop Trail system is currently one of the most heavily used trails in the Park Authority serving communities around Lake Accotink and park visitors from throughout the region. The previous pedestrian and vehicular crossing at the outfall of the Lake Accotink dam flooded frequently, often stranding trail users and tempting them to wade through swiftly running water. In the last five years, major storms required a total reconstruction of the trail twice, so this project will resolve these issues, enhancing safety and accessibility for park users.
The project consists of approximately 300 linear feet of asphalt trail improvements and 325 feet on an elevated concrete pedestrian crossing over the dam outfall in Lake Accotink Park.
On the southern side of the bridge, the new trail improvements went about 20 feet into the woods before linking with the existing trail which goes around the lake.
The FCPA is planning a formal ribbon cutting for the project in the next few weeks.
Supervisor James Walkinshaw (D-Braddock) recently highlighted it on his social media feed. "The crossing at the Lake Accotink dam is now open to pedestrian traffic. The ADA accessible crossing now completes the full loop of the Lake Accotink trail, check it out!" he wrote.
In August 2022, the Lake Accotink Park celebrated its 60
th
 anniversary. Since then, there have been debates on dredging the lake to maintain its status as a lake or possibly allowing it to fill in as a wetlands park, but that issue has not been finalized.