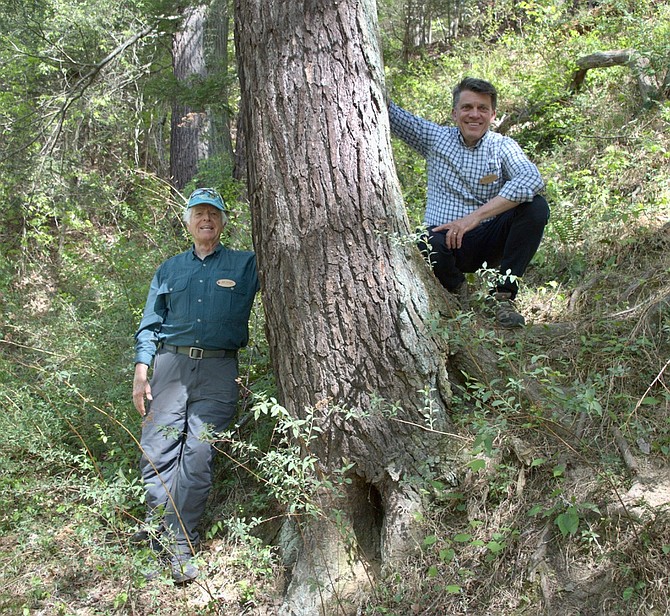 Called "treasures in our backyard" by Fairfax County Board Chairman Jeff McKay, the old growth forest at Hemlock Overlook Regional Park was inducted into the Old-Growth Forest Network on April 17th during a brief ceremony in the forest. The Hemlock Overlook includes the first trees in Fairfax County to be included in the network, raising Virginia's count to eleven recognized old-growth forests. 
The Old-Growth Forest Network (OGFN) is the only national network in the United States of protected, old-growth, native forests, where people can experience biodiversity and the beauty of nature. OGFN aims to preserve at least one forest in every county in the U.S. that can sustain a forest. OGFN works to identify forests for the Network, ensure their protection from logging, and inform people of the forest locations. Founded in 2012 by Dr. Joan Maloof, "The national count is 190, across 32 states, and is rapidly growing," said Jeffrey Wright, Old-Growth Forest Network Board President.
The Hemlock Overlook induction ceremony included unveiling of a permanent sign marking the forest's location and importance. Additional signs will be added to educate visitors on the history and importance of these ancient forests. McKay said, "Parks are so important for conservation and the protection [of the environment]. Equally important to me, is becoming a strong source of education. We must educate our people not only on the importance of preserving nature, but also our history, how we got to where we are now, and things people can do to stand up for and protect our environment. These things are worth fighting for."
Old-growth trees like the Eastern hemlocks growing on the banks of Bull Run in Hemlock Overlook Regional Park are exceptionally rare; less than one percent of these original forests are thought to remain in the eastern United States. The trees offer exceptional ecological value, such as providing valuable canopy layers that shelter hundreds of species of birds, insects, and mammals. Old-growth trees also retain more pollution-causing carbon and nitrogen than younger trees, and slow growing hemlocks are especially good at absorbing carbon from the air and holding stream banks in place. 
Hemlocks Overlook is a 400 acre woodland along Bull Run in southern Fairfax County, which was acquired by NOVA Parks in 1962. There are stands of old-growth eastern hemlocks along steep slopes adjacent to Bull Run, some as old as 250 years. In addition, there are old-growth sycamore and several old-growth stands of tulip poplars. A large canopy of American beech, white oak, red oak, and mountain laurel predominate. Well maintained trails through the steep topography allow visitors access to the old-growth forest areas (13220 Yates Ford Road, Clifton).
"We are thrilled to be recognizing one of the few old-growth forests in Northern Virginia," said Cate Magennis Wyatt, Chair of the NOVA Parks Board. "NOVA Parks has been a conservation leader for 64 years. One of the properties saved in its early days was this remarkable stand of hemlock trees that is several hundred years old." 
Another forest in the OGFN is Glencarlyn Park. Although located in a highly urbanized area, it includes examples of mature, old age natural forests, unique water resources, and a great diversity of native flora. In addition to high native plant diversity, the park includes a number of Champion and Significant Tree specimens. The active floodplain and lower slopes are documented as Mesic Mixed Hardwood Forest, with Oak Hickory and Oak Heath forests occupying the drier slopes. The estimated age of the community is 100+ years. It is most likely the second oldest extant growth of natural forest remaining in Arlington, and appears to pre-date the large-scale forest removal associated with the Civil War. The oldest forest remnant is most likely Arlington Woods within Arlington Cemetery. ( 301 S Harrison St, Arlington, VA 22204
The celebration of the Hemlock Overlook trees came at a time of year when our nation celebrates Arbor Day; the last Friday in April. The first American Arbor Day occurred on April 10, 1872, in Nebraska City, Nebraska, when individuals and groups were encouraged to plant trees. On that day an estimated one million plus trees were planted in Nebraska. Planting trees has grown in importance as their benefit in helping to reduce the effects of climate change has become better understood. By absorbing carbon dioxide (CO2), removing and storing the carbon and then releasing the oxygen back into the air, they are helping to deter climate change. For more information on OGFN, see https://www.oldgrowthforest.net/