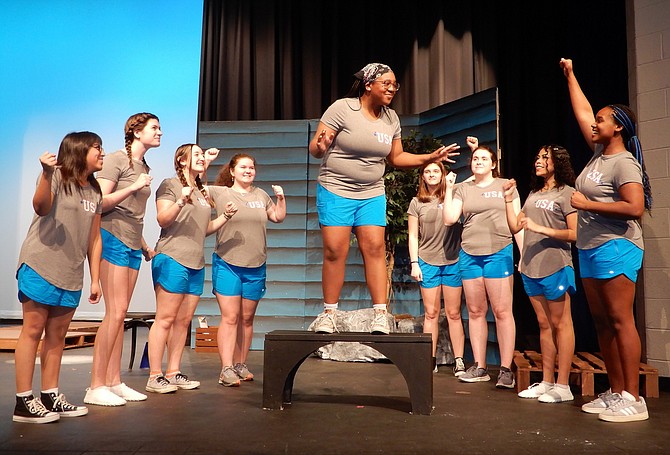 Centreville High's upcoming play, "Girls in the Boat," tells the stories of the U.S. women's Olympic rowing team as it breaks down barriers for women in sports and eventually wins its first gold medal. Battling prejudice, discrimination and even differences among themselves, the women work together to achieve greatness.
The curtain rises Friday-Saturday, Nov. 17-18, at 7 p.m., and Sunday, Nov. 19, at 2 p.m. Tickets are $10, adults, and $8, students, at the door or via theatrecentreville.com. Groups of 10 or more may email pgmcgee@fcps.edu for $5 tickets.
Attendees will see glimpses of the team throughout history, as early as 1892, until 1984 when it wins its first gold medal in the Los Angeles Olympics. They'll also learn about the characters' lives and dreams and what led them to become rowers. The play has a cast and crew of 30, and a boat will always be onstage but will also become other set pieces, as called for by the various scenes.
"When I read the script, it resonated with me because I did my master's thesis based on using interviews to create theater productions," said Director Patrick McGee. "And this show, like 'The Laramie Project,' uses that technique to tell what happened."
The girls in the boat are onstage nearly all the time, and because they're in a variety of locations and time periods, they also play multiple characters. Each person is named according to their position in the boat, with the actors portraying different people as the team members change over time.
"This show is about finding your place on a team, in your family, community and in the world," explained McGee. "As Girl #4 says, 'It takes hard work, discipline, drive, focus and a competitive spirit.'" 
He said he's been impressed with his cast members' ability to work together in this new style of theater and to develop their characters in an innovative way. "This year's theater-season theme is Dare to Dream," said McGee. "And in this play, audiences are going to like our creative staging, life moments we all can relate to, and the fact that we all have dreams we want to accomplish."
Sophomore Madelyn Regan portrays Girl #3. "She's optimistic and a great collaborator with her teammates to lift everyone up," said Regan. "But she's still competitive against the other teams. She never gives up and always perseveres; she loves to win and see her teammates succeed – and that drives her."
Enjoying her role, Regan said, "I can relate to her myself in wanting to do well but also wanting others around me to succeed too. And oftentimes, she's the glue holding everyone together. In the hard times, she's in the background cheering everyone on. It's also been interesting learning about a sport that, before this production, I knew absolutely nothing about."
"The girls each have unique stories, so every audience member will be able to see themselves in at least one of their journeys," continued Regan. "And they'll also be rooting for the girls as a whole because their spirit is infectious."
Playing Girl #7 is senior Noora Seidou. "She's determined, strong and kind, but definitely not afraid to voice her opinion and fight for what she thinks is right," said Seidou. "She's part of the stern pair closest to the front of the boat and has to be able to follow the front rowers' pace. She also has a strong moral compass and is very confident in her abilities."
Seidou has lots of lines to speak and has worked hard to learn them all. But she likes playing her part because, she said, "It lets me tap into her confidence because I'm not always quick to speak up. So she's the way I want to be."
She said the actors often talk about what's happening in the story, rather than show it. "Women's rowing wasn't even a thing until the '70s," said Seidou. "And they struggled, but eventually made it to the Olympics and won. The lesson is that, if you keep on trying, you'll achieve what you want to."
Junior Hannah Crawford portrays Girl #6. "She's competitive and wants to be the best in the world of rowing, so she puts her heart and soul into doing that," said Crawford. "She has a temper and likes things to go the way she wants them to. But ultimately, she's able to do whatever's needed to make the team successful. After the death of her brother, she uses rowing as a coping mechanism. Both he and her dad were rowers; so after he dies, her dad steers her into rowing – but she also enjoys it."
"It's the first time I haven't played a person all bubbly and nice," continued Crawford. "So it's a different dynamic for me, and I like playing her. My character interacts with and tolerates the other girls, so they'll win."
She said this play shows that "Even if there are major differences between you and someone else, you can come together to make something meaningful happen. And the audience members can see themselves in at least one member of the show because of all their different personalities and back stories."
As the coxswain – who doesn't row but gives orders from the front of the boat – junior Breanna Zazzara is stern, confident and loud. "She's determined, hardworking, self-confident and pretty social," said Zazzara. "She doesn't always get along with the others, but she encourages the rowers to keep moving and is the spirit on the boat."
She's enjoying her role because it's so different from herself. "I'm a quiet person, so it's refreshing to play someone who's loud and bold," said Zazzara. "And I've made lots of friends with my castmates and have many scenes with them, so that's made the process more fun."
She said audiences will like this play because "It's inspiring to see these girls overcome the discrimination against them and other women in society. And people will watch them build on their confidence over their journey to see who they really are."