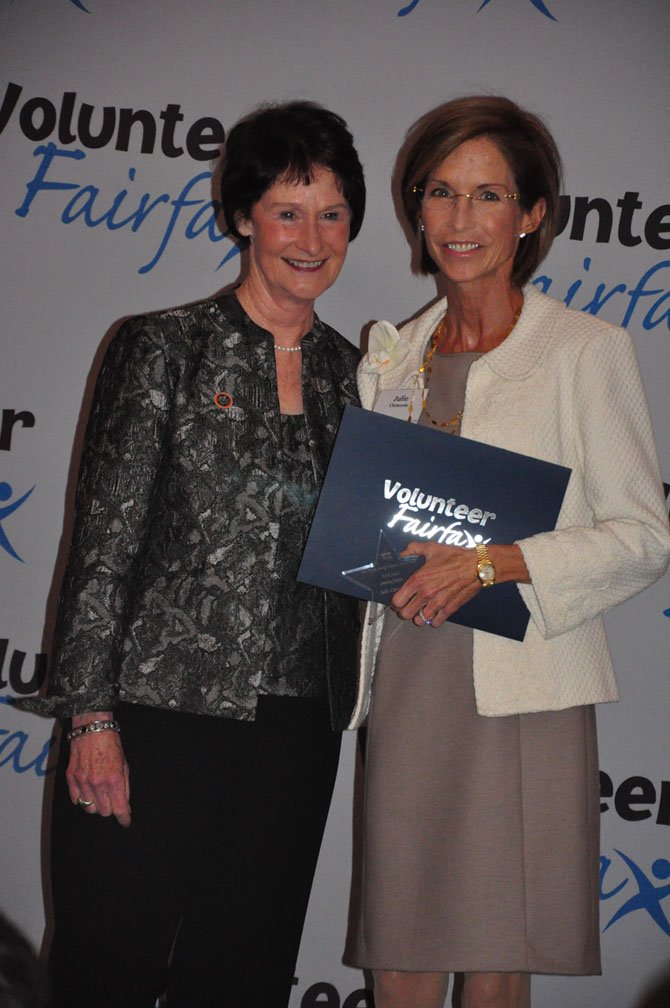 Fairfax County Board of Supervisors Chair Sharon Bulova awards Julie Clemente of McLean the at large Community Champion award at the 20th annual Fairfax County Volunteer Service Awards Friday, April 27.
Stories this photo appears in:

Julie Clemente founded Friends of Clemyjontri Inc. in 2006 to raise money for park improvements. In 2011, Clemente organized and headed the effort to create the Friends of Clemyjontri website; worked with CapitalOne to create a credit card with a photo of Clemyjontri on the front to help raise funds for the park, and has created opportunities to raise additional funds.
Fateh Nasir, Julie Clemente awarded at annual Volunteer Service Awards.
Two McLean residents were recognized for their efforts going above and beyond with their time Friday, April 27 at the 20th annual Volunteer Fairfax Service Awards. Fateh Nasir, a senior at McLean High School and Julie Clemente, president of the board of the Friends of Clemyjontri Park were both spotlighted during the ceremony.