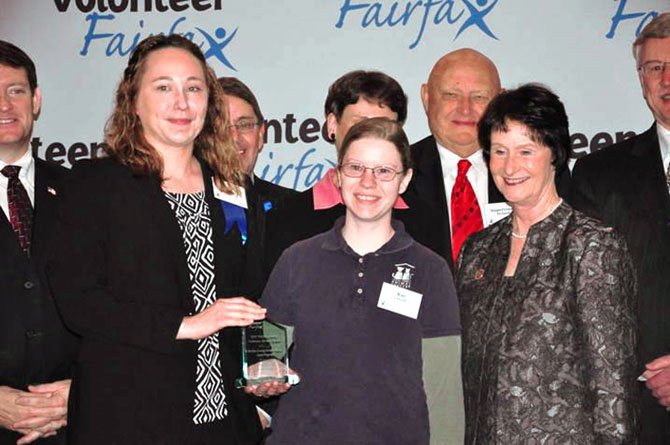 Julie Clemente - nominated by Chairman Sharon Bulova (D-At-large)
Julie Clemente founded Friends of Clemyjontri Inc. in 2006 to raise money for park improvements. In 2011, Clemente organized and headed the effort to create the Friends of Clemyjontri website; worked with CapitalOne to create a credit card with a photo of Clemyjontri on the front to help raise funds for the park, and has created opportunities to raise additional funds. She raised nearly $100,000 with the 2010 Concert in the Park (the 2nd Concert in the Park had been rescheduled from 2011 to April 21, 2012). The funds raised in 2010 and 2011 have allowed the park to purchase new equipment including a Liberty Swing (a wheelchair accessible swing), a new picnic structure, shade canopies, a new bike rack, musical drum circle, and other improvements. Her volunteer service has impacted many people, including local civic groups, local Boy Scouts earning badges and completing Eagle Scout projects, returning veterans known as 'wounded warriors,' and parents who have physically-disabled children.
The success of Clemyjontri Park has inspired the creation of the Family Recreation area at Lee District Park, including the Our Special Harbor playground and Chessie's BIG Backyard playground and accessible tree house
"Julie Clemente has touched many lives in Fairfax County," said Bulova. "Thanks to Julie's energy, dedication, generosity and compassion people of all abilities have the opportunity to share in recreational activities and enjoy the beauty of our community."
Greg Sykes – nominated by Supervisor John Cook (R-Braddock)
Always wanting to learn more about nature, Greg Sykes has been a prominent face of Royal Lake Park as a volunteer leader for more than five years with the Invasive Management Area Volunteer Program. An environmentalist in both his personal and professional life, Sykes is involved with additional causes such as habitat restoration, sustainability, natural resource protection, and Chesapeake Bay watershed clean-up efforts. His work as a volunteer leader has received recognition through the 2008 Volunteer Excellence Award and the Elly Doyle Special Recognition Award in 2010.
"Greg Sykes is the kind of engaged citizen we hold up in Braddock as a great example to his neighbors. He has a passion for the environment and he's not afraid to get his hands dirty working on projects to make our community more in concert with Mother Earth," Cook said.
Don Hakenson – nominated by Supervisor Jeff McKay (D-Lee)
It has been said that you can't know where you're going, if you don't know where you've been. As a founding member of the Franconia Museum, Hakenson currently serves as the organization's Vice President of History. Particularly known for his "Both Sides" Civil War bus tours, he has utilized his passion of the past to educate others by presenting to numerous historical and civic organizations throughout the region. We are lucky to have Don Hackenson—his thorough and precise historical scholarship AND his ability to make our history come alive is a wonderful asset," McKay said.
Ned Foster – nominated by Supervisor Pat Herrity (R-Springfield)
Whether removing numerous tires, a truck cab, or various sized mattresses, Foster's work with the Friends of Little Rocky Run has had a positive effect on all residents of Fairfax County. His clean-up efforts have removed more than 3,000 garbage bags— that's more than 50 tons of discarded waste being cleared from Little Rocky Run's watershed, providing the community with cleaner water and a beautiful landscape.
Adult Over 250 hours - Terri Baker of Fairfax
To volunteer in the Fairfax County Animal Shelter, it is a given that the person should love animals. However, it is important to enjoy working with people as well. To ensure a match, Baker spends as much time as necessary so that each animal has created a strong bond with their potential adopter. Along with her volunteering on site, she also takes her work home. In 2011 alone, she fostered 15 pit bull pups; more than any other dog foster at the shelter. Baker's impact has been, and continues to be far-reaching. New volunteers benefit from her years of experience and thorough knowledge of the shelter. Members of the public receive top-notch customer service and detailed advice on shelter dogs. Each dog receives the kind and caring attention of a tireless canine advocate.
"Terri's passionate advocacy for shelter dogs is tempered by the realities of the challenges we face. She has wisdom and grace, and I have found myself admiring her more and more with each interaction," said Rebecca Jewell, Volunteer Coordinator at the shelter.
Fairfax Volunteer Program - Fairfax County Animal Shelter Foster Program
Whether bottle-feeding neonatal animals, training puppies, or caring for turtles, the Fairfax County Animal Shelter can always depend on their Foster Program volunteers. In 2011, 410 animals were loved and cared for by dedicated foster volunteers in their own homes, many whose health would have been challenged had they stayed at the shelter until they reached adoption age. Because of the foster program, the shelter is no longer constrained to helping animals just within its four walls. Through their efforts, these animals are returned to the shelter and adopted into loving homes. Residents of Fairfax County who adopt a fostered animal benefit from the labor of love that is foster care.
"I see all the wonderful things that volunteers do for the animals in our care. For four and a half years, I managed the foster program and truly believe that each foster volunteer is a personal hero to the animals in their care. At times, I find it almost unbelievable that our organization is so lucky to benefit from such truly compassionate, selfless and giving individuals. The lives saved through their efforts number in the hundreds," said Rebecca Jewel, Volunteer Coordinator of the Fairfax County Animal Shelter.