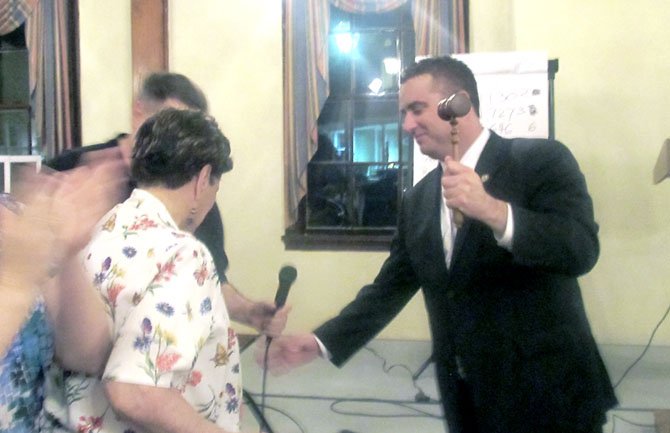 Scott Silverthorne received a surprise gift from his mother, Bette, 87, the former first lady of the City of Fairfax: his father's gavel. "I almost lost it," Silverthorne said in a shaky voice, accepting the gift. Silverthorne's father, Frederick, was elected Mayor in 1978, and re-elected in 1980. He took the position at a time when the City of Fairfax was feuding with Fairfax County over the City's independence and was elected on a platform of preserving ties with Fairfax County including its school system. At the time, the 1978 Mayoral election had the largest municipal turnout in City history with more than 4,000 people
Stories this photo appears in:

City of Fairfax elects incumbents, DeMarco for council seats; Silverthorne, longtime council member, elected Mayor.
Cheers, tears, hugs and a standing ovation greeted City of Fairfax Mayor-elect R. Scott Silverthorne as he took the stage at Old Town Hall Tuesday night after winning the seat his father, former Mayor Frederick W. Silverthorne, occupied in 1978.