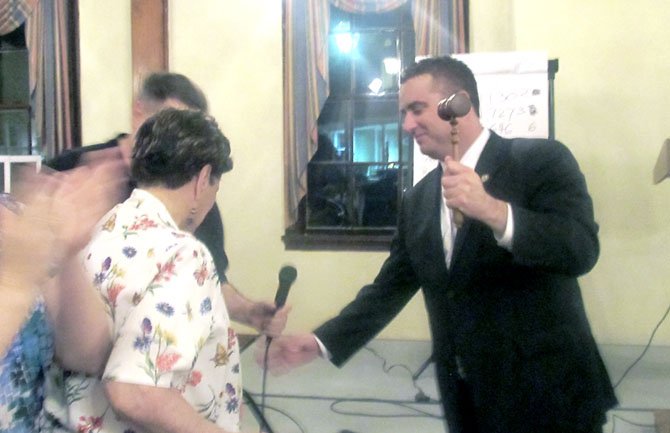 City of Fairfax Mayor and City Council Results
Precincts reporting: 7 of 7
Unofficial results provided by City of Fairfax and Virginia State Board of Elections. In alphabetical order.
*Mayor
R. Scott Silverthorne - 2,146; 85.73 percent
Gerald T. "Jerry" O'Dell – 321 votes; 12.82 percent
City Council
*Michael DeMarco - 1,730 votes; 13.93 percent
*Daniel Drummond - 1,727 votes; 13.90 percent
*Jeff Greenfield: 1,646 votes; 13.25 percent
*David Meyer - 1,835 votes; 14.77 percent
*Gary Perryman – 728 votes; 5.86 percent
*Catherine Read – 1,287 votes; 10.36 percent
*Ellie Schmidt -1,723 votes; 13.87 percent
*Steve Stombres - 1,709 votes; 13.76 percent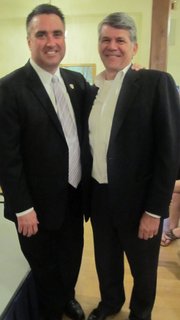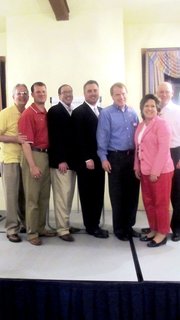 Fairfax — Cheers, tears, hugs and a standing ovation greeted City of Fairfax Mayor-elect R. Scott Silverthorne as he took the stage at Old Town Hall Tuesday night after winning the seat his father, former Mayor Frederick W. Silverthorne, occupied in 1978.
"I am so honored tonight," Silverthorne said. He gave an emotional thank you to his 87-year-old mother, Bette, the former first lady of Fairfax, who traveled from Arizona to support her youngest son. He also thanks his "spirited team" of nieces, and his "mentor," outgoing Mayor Robert Lederer. "I am going to be calling on you for your advice. You have been a gifted leader," he said to Lederer.
After a brief victory speech, Silverthorne, who easily swept past challenger Gerald T. "Jerry" O'Dell with 85.73 percent of the vote, told the packed room that he was going to do something "a little un-mayoral."
"I'm going to sing 'Happy Birthday' to Joanne DeMarco, wife of our newest member, Mike DeMarco. But, I promise, it won't be like Marilyn Monroe," Silverthorne said, as he serenaded Joanne DeMarco from the stage.
Lederer, who served as the unofficial emcee of the evening, was praised by candidates and incumbents alike for his "leadership, skills, civility and pride of place." He said he was willing to step down after serving five terms only "when I knew Scott was willing to step up to the plate."
"Scott is passionate about the community. Knowing the quality of leadership Scott will bring made the decision easier for me," Lederer said.
When incumbent David Meyer spoke, he drew applause when he said he wanted to remember the "least among us."
"We live in a wonderful city with great economic development and low taxes and a great quality of life," Meyer said. "But we need to remember the most vulnerable. I want to represent everyone, whether they receive free and reduced lunches or are sitting on a curb in Fairfax Circle."
After all seven precincts were reported, Lederer called each winner, as well as challengers, to the stage. Catherine Read, who received loud applause, said that although she lost her bid for a council seat, she was proud that the City of Fairfax fielded challengers. "Vienna Town Council did not have any challengers," Read said. "Remember, Gandhi changed the world and he never held a council seat."
Councilmember Dan Drummond choked up when spoke about growing up without a father for 20 years, and called Lederer his surrogate father.
"We made a bet of who will cry first, me or Scott," Lederer said, "I guess we lost to Dan."
"I've lived here all my life," Lederer told the crowd, "and there's a good reason we were listed as the third best place to live in America by Forbes," Lederer said. "We have a sense of place here that's second to none. We have a something special, a sense of pride and civility."
That civility was tested briefly when O'Dell , Silverthorne's challenger, took the stage and launched into a rant about impropriety in city politics. "I don't believe in political correctness, but moral principles," O'Dell said. Amid loud "boos," and chants of "We want Scott. We want Scott," O'Dell left the stage.
Silverthorne, a former 18-year council member, retired in 2008 after serving nine terms. In 2011, he was appointed to serve out the term of council member Joan Cross, 68, who stepped down on June 28 for health reasons. She died one month later at age 68.
As mayor, Silverthorne, presides over council meetings, has veto power that may be overridden by a two-thirds vote of the council, represents the city for ceremonial purposes and votes only to resolve ties. The City Council determines policy, enacts ordinances; levies taxes, adopts the budget, borrows money; provides for organizational conduct and operation of all departments, bureaus, boards, commissions, offices and agencies of the city; appoints the city manager and members of advisory boards and commissions.