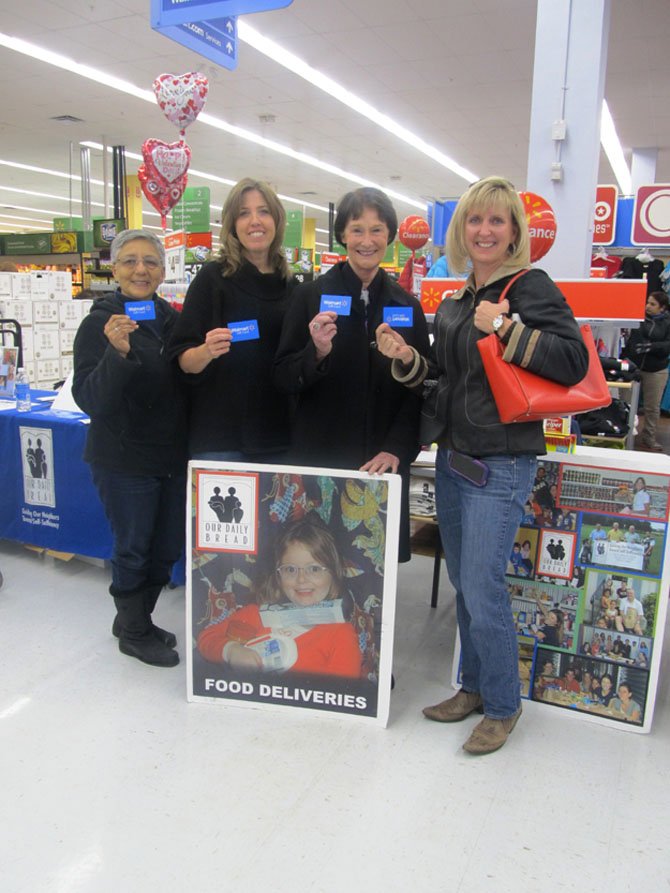 (From left) Angie Carrera of Op3; Chris Garris, Our Daily Bread's food program manager and volunteer coordinator; Sharon Bulova, chairman of the Fairfax County Board of Supervisors and Wendy Lemieux of OP3 encourage shoppers to purchase gift cards.
Stories this photo appears in:

Donations continue to increase as campaign enters third year.
Local grocery stores were packed this weekend with shoppers stocking up on Super Bowl snacks for the annual football fan party. At the Wal-Mart in Fairfax, shoppers were greeted with colorful displays of chips, dips and other party favorites. They were also greeted by volunteers from Our Daily Bread (ODB), who were handing out flyers and encouraging shoppers to donate gift cards or specific items to restock ODB's pantry shelves. A Fairfax nonprofit for nearly 30 years, ODB provides food and other critical services to the working poor, the elderly and the disabled. More than half of ODB's clients are local children.