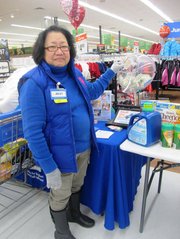 Local grocery stores were packed this weekend with shoppers stocking up on Super Bowl snacks for the annual football fan party. At the Wal-Mart in Fairfax, shoppers were greeted with colorful displays of chips, dips and other party favorites.
Facts About hunger in Fairfax County
In 2010, one out of five county students reported going hungry at least some of the time in the past 30 days.
Since 2008, the number of food stamp participants in Fairfax County increased by more than 115 percent, which equals more than 4.5 percent of the population accessing the food stamp program.
Want to know more about hunger in Fairfax? Check out the report "Putting Food on the Table—Food Security and Access to Affordable and Nutritious Food in The Fairfax-Falls Church Area" at www.fairfaxcounty.g….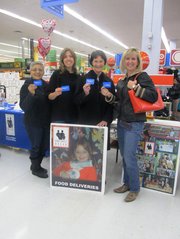 They were also greeted by volunteers from Our Daily Bread (ODB), who were handing out flyers and encouraging shoppers to donate gift cards or specific items to restock ODB's pantry shelves. A Fairfax nonprofit for nearly 30 years, ODB provides food and other critical services to the working poor, the elderly and the disabled. More than half of ODB's clients are local children.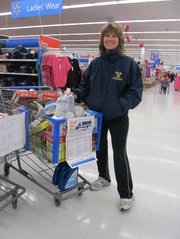 Dianne Hon, a Vienna resident, said "Stuff the Bus" makes it easy to donate. "I am already here for groceries and other items, especially since it's the day before the Super Bowl, so it's very convenient to pick up a few extra items for a worthy cause," Hon said.
"Stuff the Bus is an important component in restocking pantries after the holidays. The need for healthy food is ever growing and the interest for Fairfax County residents to help is there, so we are happily providing the bridge to bring them together."
—Sharon Bulova, chairman, Fairfax County Board of Supervisors
"Thank you for doing this," Hon said to the volunteers. "You made this so easy."
Jonathan and Roxanne Daley of Fairfax donated a gift card to the campaign. "It's too easy to forget that there are people in Fairfax County who go hungry," Roxanne Daley said. "I love the gift card idea. It's easy and you know you're helping someone get what they want."
FAIRFAX BOARD OF SUPERVISORS CHAIRMAN Sharon Bulova, who greeted shoppers and encouraged them to donate on Saturday, Feb. 2, said gift cards are especially helpful for a number of reasons.
"There's a dignity about it," Bulova said. "You don't stand out from other shoppers with a gift card, and you can purchase what you want for a special recipe, or if you have specific dietary needs."
Chris Garris, ODB's food program manager and volunteer coordinator, said they are encouraging more people to donate gift cards, particularly because they help clients purchase fresh food. "A $20 gift card helps families supplement our pantry's non-perishable food with milk and meat."
Garris said the timing of the Stuff the Bus campaign—which is intentionally scheduled between Martin Luther King Day in January and Presidents Day in February—is important for local pantries because it occurs after the seasonal dose of good will.
Where and When
Each week a Fastran bus staffed by MV Transportation personnel will park at a different location and collect food donations. The campaign kicked off Monday, Jan. 21, the Martin Luther King Day of Service, and will run each weekend until President's Day, Monday, Feb. 18.
All donation hours are from 9:30 a.m. to 4:30 p.m. The next Stuff the Bus locations:
Saturday, Feb. 9
Loehmann's Plaza Giant, 7235 Arlington Blvd., Falls Church, VA 22042
Benefiting Falls Church Community Service Council
Fair City Mall Shoppers, 9622 Main St., Fairfax, VA 22031
Benefiting Food for Others
Saturday, Feb. 16
McLean Giant, 1454 Chain Bridge Road, McLean, VA 22101
Benefiting Share, Inc.
Clifton Giant, 5740 Union Mill Road, Clifton, VA 20124
Benefiting James Mott Community Assistance Program
Monday, Feb. 18
Huntsman Square Giant, 7501 Huntsman Blvd., Springfield, VA 22153
Benefiting Ecumenical Community Helping Others
"During the fall and holiday season, Our Daily Bread's food pantry is overwhelmed with donations from the community," she said. "But by February, our supplies are often running low even though the need for food is greater than ever."
"Stuff the Bus is an important component in restocking pantries after the holidays," Bulova said. "The need for healthy food is ever growing and the interest for Fairfax County residents to help is there, so we are happily providing the bridge to bring them together."
THE CAMPAIGN, now in its third year, is a partnership between Fairfax County Office of Public Private Partnerships (OP3); MV Transportation Inc., which operates the FASTRAN buses and provides volunteers; local nonprofits; and grocery store chains. All donations go directly to local nonprofit organizations that help feed needy families and individuals in the Fairfax-Falls Church Community.
"The residents of Fairfax and our partners, like MV Transportation and Frank & Co., have really come out in support of Stuff the Bus this year. Each year, we get more donations," said Michael Artson, chief planner with the county's Neighborhood and Community Services (NCS) Department, one of the food drive's organizers.
"Food pantries address a critical need which is especially acute after the holidays, the Stuff the Bus campaign helps us help our community. Its importance to helping stock the shelves can't be overstated," said Roxanne Rice, executive director, Food for Others.
Last year, more than 25,000 lbs. of food was collected for local pantries, all benefiting local nonprofits that help feed needy families in the Fairfax community.
At the end of Saturday's Stuff the Bus campaign, Juliet Reyes of Herndon, a Wal-Mart employee, who was in the middle of her shift as a cashier, asked ODB volunteers if she could donate cash. "I've been listening to people talk about this, and I want to help too. People here shouldn't go hungry."