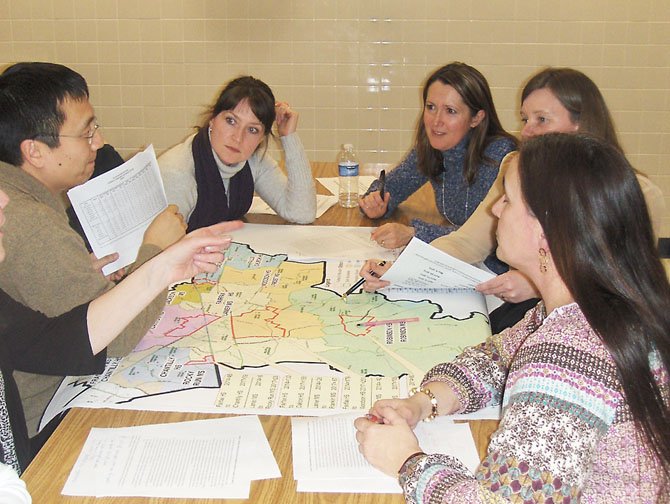 Parents discuss the various boundary-change options.

Stories this photo appears in:

Fairfax High has a building capacity of 2,412 students and a current enrollment of 2,659—meaning a 110-percent building utilization. But if nothing changes, it's projected to have 3,011 student bodies by the 2017-18 school year and a 125-percent building utilization. Lanier's capacity is 1,307 students, and it presently has a 1,239 student population using 95 percent of its building. But if left as is, it's projected to have an enrollment of 1,421 by 2017-18 for a 109-percent building utilization.

Parents discuss three school-boundary scenarios.
The goal of the Fairfax High/Lanier Middle School boundary study is to remove 300 students from Fairfax and 150 from Lanier and send them elsewhere to relieve overcrowding at those two schools. But how best to do it has not yet been decided. So more than 200 people came to Lanier's cafeteria last Wednesday, Feb. 20, to learn more about the three boundary scenarios proposed and express their opinions about them. Centreville and Chantilly residents also attended, because the changes will affect many of their children, too.