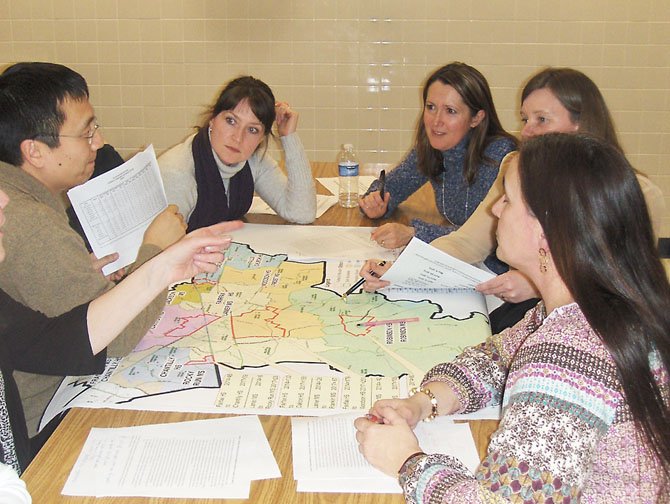 Fairfax High has a building capacity of 2,412 students and a current enrollment of 2,659—meaning a 110-percent building utilization. But if nothing changes, it's projected to have 3,011 student bodies by the 2017-18 school year and a 125-percent building utilization.
Lanier's capacity is 1,307 students, and it presently has a 1,239 student population using 95 percent of its building. But if left as is, it's projected to have an enrollment of 1,421 by 2017-18 for a 109-percent building utilization.
Fairfax and Lanier are owned and operated by the City of Fairfax. But 65 percent of the students currently attending Fairfax High are county residents. So it's not surprising that the focus is on eliminating many of the students who aren't city residents.
Besides receiving all the students from the four City of Fairfax elementary schools—Daniels Run, Eagle View, Fairfax Villa and Providence—Lanier Middle and Fairfax High also receive all of Willow Springs Elementary's students. That translates into 157 students currently at Lanier and 364 students at Fairfax just from Willow Springs.
Additionally, some of Greenbriar East, Greenbriar West, Colin Powell and Waples Mill elementary school graduates also feed into Lanier and Fairfax. Consequently, the total number of these Fairfax County students currently attending Lanier and Fairfax High—just from these four schools alone——is 250 at Lanier and 512 at Fairfax.
Based on parents' comments from boundary meetings held Feb. 19, 20 and 26, FCPS will make a recommendation to the School Board on April 4. A public hearing on the most-favored scenario will be held April 17, followed by a School Board work session April 29, with a decision being made May 9.
The boundary changes won't go into effect until September 2014, but students wishing to move to their new schools a year earlier may be able to do so. That's the reason for the May 9 decision, said A.J. Rawat, FCPS coordinator of Facilities Planning Services. "It will allow principals to get the extra staffing they'll need if some students want to move in September 2013," he explained.
"The changes will not impact people living in the City of Fairfax city limits," said Rawat. "Regarding Fairfax High's AP program and Robinson's IB, Robinson offers seven AP classes." He also noted that middle-school students being moved "may ask to attend AP classes at the schools nearest their homes."