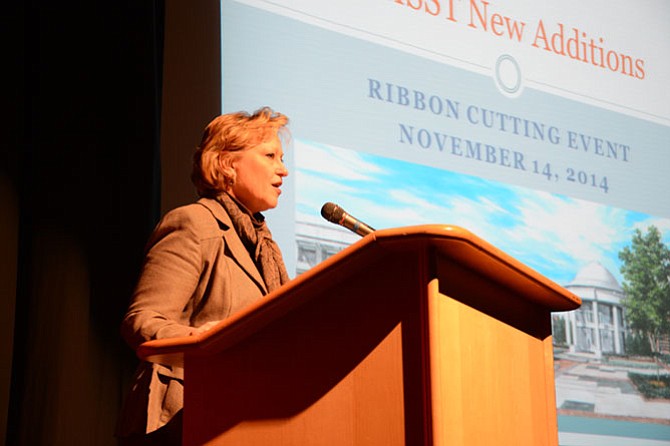 Fairfax County Public Schools Superintendent Karen Garza addressed students, parents, teachers and the Thomas Jefferson community after the ribbon was cut on the high school's new laboratory wing.
Stories this photo appears in:

Karen Garza is a good listener. And once she's listened, she is, admittedly, not very patient. "If there's a real issue, I don't think it has to be debated for 10 or 15 years," Garza said in an interview. "Either we're going to do something about it or not."

New wing showcased at Nov. 14 ribbon-cutting.
Thomas Jefferson senior Thomas Rogers is big on the laser cutter. "You can cut anything you want," said the McLean resident, "like exact designs on sheet metal." Rogers was enthusiastic about the device, but wouldn't fire it up during the Nov. 14 tour of the Science and Technology Governor's School's new two-story wing with 14 research spaces.