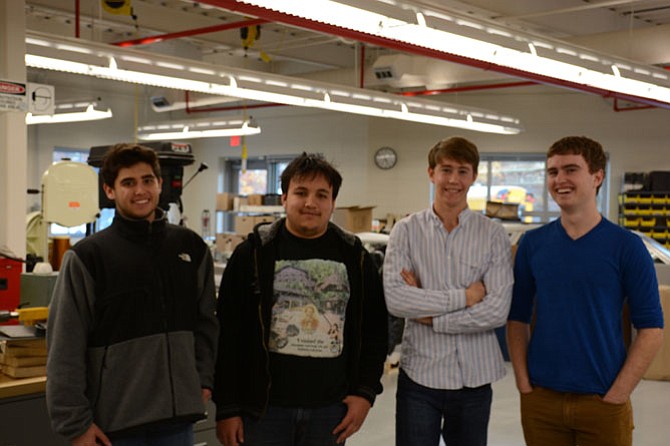 Thomas Jefferson senior Thomas Rogers is big on the laser cutter. "You can cut anything you want," said the McLean resident, "like exact designs on sheet metal." Rogers was enthusiastic about the device, but wouldn't fire it up during the Nov. 14 tour of the Science and Technology Governor's School's new two-story wing with 14 research spaces.
The transportation and robotics labs received numerous structural upgrades from their former facilities, including lighting and a more open floorplan with large garage doors.
"I'm extremely stoked about the new lab," said Rogers. "I could live in here. It smells better, the light is better and the garage doors between the labs give a sense of community. The last rooms were pretty cramped."
Jefferson has been undergoing a massive renovation since spring 2013, with an expected completion by fall 2016. Friday's ribbon-cutting marked being ten to 15 percent of the way there, according to Brandon Kosatka, director of student services at previous manager of the project.
Builders Henley Construction Company, Inc, working with Ballou Justice & Upton Architects, plan to double the size of the original building to 390,000 square feet.
"This renovation isn't about just putting paint on the walls, it's about restructuring the layout to support how learning has evolved over time," said Jefferson Principal Evan Glazer. "We need research spaces for more collaborative team teaching and inquiry-based projects that didn't exist in the '60s. This will support those spaces."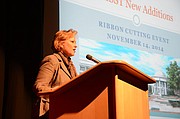 IN ADDITION to the new labs for neuroscience, quantum physics, optics and other scientific specialties, the full renovation plan includes internet cafes, three-dimensional art galleries, a black box theatre, a massive virtual collaborative research network and improved energy efficiency. And a great dome reminiscent of President Thomas Jefferson's Monticello is up, but still under construction.
Glazer announced to the ribbon-cutting audience phase two should begin in about a month. "The whole center of the building will be excavated," he said. "Front and back, it'll look great, but there won't be anything in the middle. Students have really had to manage with the 64 different learning cottages we've had at multiple places on campus."
Shawn J. Frank is the Jefferson assistant principal currently managing the renovation. "The staff and students have been really flexible," he said. "You see this and it's just scratching the surface. It's amazing to see it come to fruition."
Fairfax County Public Schools Superintendent Karen Garza thanked the parents and community members at the ribbon-cutting for supporting bonds that help make renovations possible around the county.
"These are young people who could potentially solve some of the greatest challenges that we face in our world," she said, "so we're very excited about them having the kind of space to allow their learning to thrive and flourish."
GARZA was followed by School Board Chairman Tammy Derenak Kaufax. "I'm proud when I see any one of our 25 high schools get the upgrades that they so much deserve and the students need," she said. "We all know TJ needed a renovation and here we are, it's finally happening."
In addition to county funding, the renovation has benefitted from over $3 million raised by the TJ Partnership Fund, connecting with alumni, parents and the corporations Lockheed Martin, Northrop Grumman and Cisco.
Though many current Jefferson students won't see the finished project before they graduate, they're taking advantage of the upgrades as they come. "To see both sides of the construction is better than I'd imagined," said Rogers.