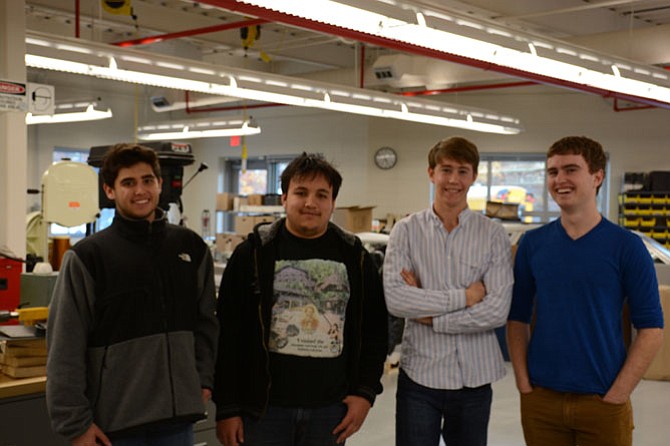 (From left) Thomas Jefferson seniors Andrew Haymaker of Falls Church, Justice Francis of Springfield, Nick Brady of Great Falls and Thomas Rogers of McLean enjoy the improved lighting, roominess and three-dimensional printers in the new transportation lab.

Stories this photo appears in:

Some say unbalanced admissions demographics at Northern Virginia's top high school speaks to system-wide equity problems.
Consider: 70.2 percent Asian, 20.7 percent White, 5.1 percent Multiracial/Other, 2.4 percent Hispanic, 1.6 percent Black: This is the ethnic breakdown of the 493 students admitted to the 2019 class of the Fairfax County Public Schools magnet institution Thomas Jefferson High School for Science and Technology.

New wing showcased at Nov. 14 ribbon-cutting.
Thomas Jefferson senior Thomas Rogers is big on the laser cutter. "You can cut anything you want," said the McLean resident, "like exact designs on sheet metal." Rogers was enthusiastic about the device, but wouldn't fire it up during the Nov. 14 tour of the Science and Technology Governor's School's new two-story wing with 14 research spaces.