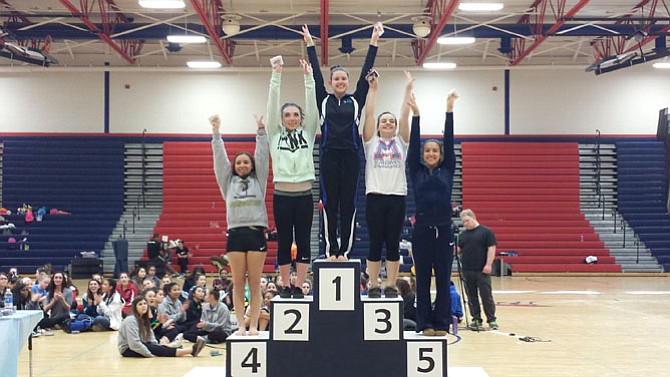 Fairfax gymnast Rachel Barborek won the all-around championship at the VHSL individual state meet on March 8 at Patriot High School. Hickory's Haley Cole finished runner-up, followed by Marshall's Morgan Stahl, Cox's Mary Munitz and Washington-Lee's Sophie Hatcher. Stahl finished second on floor (9.625) and beam (9.6), ninth on vault (9.575) and tied for 20th on bars (8.825).
Stories this photo appears in:
Yorktown sophomore Mitrovich earns all-state on bars, beam, jump. Hatcher Places Fifth
In 2012, Washington-Lee gymnast Sophie Hatcher was a freshman in awe of teammate Mary Lynn Clark, who won state championships that year on bars and vault.
Senior takes advantage of second chance, wins as alternate.
Fairfax gymnast Rachel Barborek won the state all-around title.