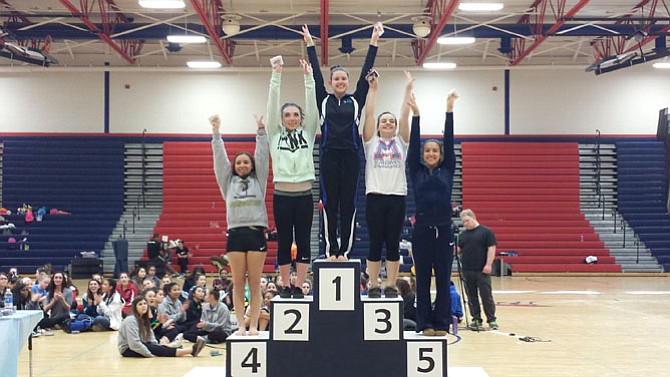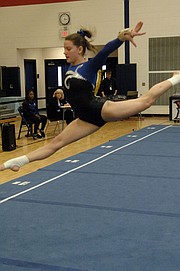 Fairfax gymnast Rachel Barborek thought her year-long dream of winning a state all-around championship was dead following the 6A North region meet on Feb. 11.
Barborek finished outside of the top four in the all-around standings and failed to earn a state berth. Nearly a month later, however, a text message from head coach Marissa Gaines informed Barborek she had received a second chance.
Barborek learned on Friday, March 6 that she would compete as an alternate in the state all-around competition. Two days later, the senior made the most of her opportunity.
Barborek won the all-around championship at the VHSL individual state meet on Sunday, March 8 at Patriot High School. She produced a score of 38.7, finishing ahead of Hickory's Haley Cole (38.3), Marshall's Morgan Stahl (37.625), Cox's Mary Munitz (37.35) and Washington-Lee's Sophie Hatcher (37.325).
Barborek became just the second Fairfax County gymnast to win the state all-around title since 2002, and the first since Herndon's Maria Hayden accomplished the feat in 2010.
Barborek's stellar performance included three event titles --- bars (9.825), floor (9.675) and beam (9.65).
"I was just so excited," Barborek said after the meet, "that I got a second chance."
Barborek's year-long journey to a state championship began at the 2014 state meet. After watching Great Bridge gymnast Courtney Adams step onto the medal stand and accept the all-around title, Barborek, then a junior, vowed to be No. 1 the following year.
"I remember last year watching the girl who won all-around at states," Barborek said, "just watching her go on the podium and I was saying, 'I want that to be me next year.'"
The thought of an all-around title kept Barborek motivated during training. When her senior season arrived, the former Level 10 club gymnast was impressive. She crushed the competition during the final home meet of her high school career, when she produced an all-around score of 38.325. She also finished first in the all-around at Washington-Lee's Barbara Reinwald Invitational.
At the Conference 6 meet on Feb. 2, Barborek won the beam championship and earned a regional all-around berth. But nine days later, with Barborek needing to qualify just once more to earn a trip to states, she stumbled during the 6A North region meet at Lake Braddock Secondary School.
Barborek fell during her beam routine and earned a less-than-stellar score of 8.475. Her bars routine went well until the end, when a "mental block" led to Barborek hanging on too long before her dismount. She finished with a score of 8.775.
At the end of the competition, Barborek had won a regional floor title and qualified for states in three events. However, she placed fifth in the all-around, and only the top four advanced to states.
Her year-long goal of winning an all-around state title had seemingly come to an end.
"She worked really hard and she was really, really disappointed after regionals," said Barborek's mother, Susan Barborek, a Fairfax assistant coach and former gymnast at the University of Michigan. "It was the worst meet of her life."
The individual state meet, originally scheduled for Feb. 21, was postponed three times due to inclement weather concerns. During the delay, Yorktown freshman Bella Kane, who placed second in the all-around at regionals and earned a state berth, suffered a knee injury during a club meet. The injury kept Kane from competing at states and opened the door for Barborek to compete in the all-around as an alternate.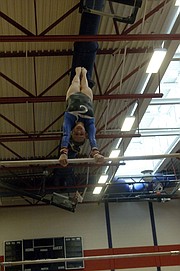 After Gaines was notified, she sent a text message to Barborek and her mother on Friday night, roughly 40 hours before the competition, to inform them of the senior's all-around opportunity. While Barborek was excited, she now faced the challenge of going through her beam routine, which she hadn't practiced for three weeks after failing to qualify at regionals. Barborek practiced on a balance beam for one hour on Saturday before competing at states the following day.
During warmups on Sunday, Barborek could sense the possibility of something special happening.
"I had a pretty good vault warmup --- it was OK --- and then I went to bars and I had a really good bar warmup and I was like, it's going to be a good day," Barborek said. "I could just tell from the beginning."
Gymnasts from the 6A North region started on vault, and Barborek produced a score of 9.55, which would place her in a tie for 10th.
After vault, it was on to bars, the event during which Barborek ran into a mental block at regionals and failed to let go when she was supposed to dismount. On this day, however, the Fairfax senior nailed her routine and produced the top score of the day in any event --- 9.825.
Susan Barborek celebrated by jumping in the air and hugging her daughter after Barborek landed her dismount.
"Were you at regionals?" Susan Barborek asked a reporter when talking about her celebration. "She didn't let go of the bar. So, yes, I was happy that she let go of the bar. ... I was just happy that she did what she is capable of doing."
From there, it was on to beam, the event Barborek had practiced once in three weeks. Lack of practice did not hinder her performance, however, as Barborek earned a 9.65, which held on as the event's top score.
At that point, with three strong performances in the bag and Barborek's best event --- floor --- remaining, a championship seemed like a possibility to Barborek and her mother.
"... I realized, you've hit three events and floor is your best," Susan Barborek said. "I was like, I know what you can do on floor, so I was feeling somewhat confident."
Barborek finished strong, scoring 9.675 on floor, which gave her three event championships and secured the all-around title.
"It's amazing, but it doesn't surprise me, just knowing how much of a hard worker she is and how dedicated [she is] and how much she wanted it," Gaines said. "I knew she would fight for it."
With the competition having ended, Barborek would make four trips to the top of the medal stand.
"I was very happy for Rachel," Hayfield gymnast Molly Overstreet wrote in an email. "I knew from the beginning that she deserved it and that she could win the all-around."
After receiving first-place medals for bars, beam and floor, Barborek's final trip to the top of the medal stand completed her year-long goal of winning the state all-around title.
It required a second chance, but Barborek made the most of her opportunity.
"I couldn't ask for a better state meet or a way to end the season," Barborek said. "... The whole year I was just training, thinking I want to win states [in the] all-around. When I won, it's just unreal. I was so happy."