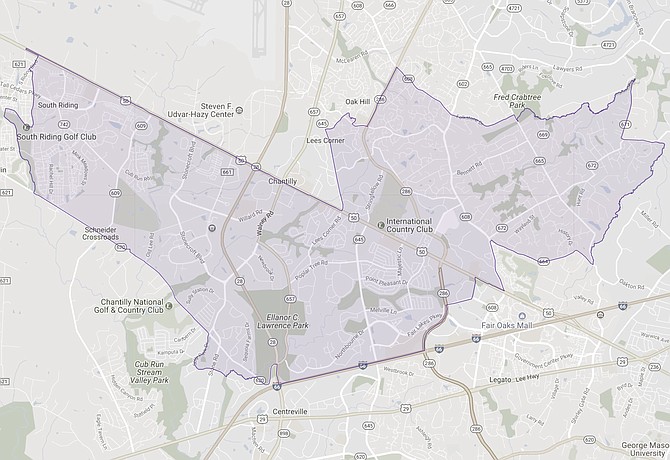 The 67th District stretches from South Riding through Sully Station and Penderwood. (map from the Virginia Public Access Project)
Stories this photo appears in:

Solid blue urban areas separated by political beltway from solid red exurbs.
Northern Virginia has more competitive seats than any other part of the commonwealth, a ring of districts that forms a beltway of sorts separating the inner solid blue in Arlington and Alexandria from the solid red in rural and exurban seats in Loudoun and Prince William. That puts Fairfax County squarely in the driver's seat this November, when Democrats hope to pick up seats in an election that has balanced local issues like schools and roads with the ongoing reaction to President Donald Trump.

House District 67 is one of the most hotly contested races of the year.
On paper, the 67th House District seems like solidly blue territory. Democrat Hillary Clinton won it with almost 60 percent of the vote. But Republican Del. Jim LeMunyon (R-67) has been in office for four terms, a time that this slice of Northern Virginia has been trending increasingly toward the Democratic Party. That puts this district in the spotlight as one of the most competitive House of Delegates races in Virginia, and it's one reason supporters of Democrat Karrie Delaney say she's got a shot at ousting LeMunyon.