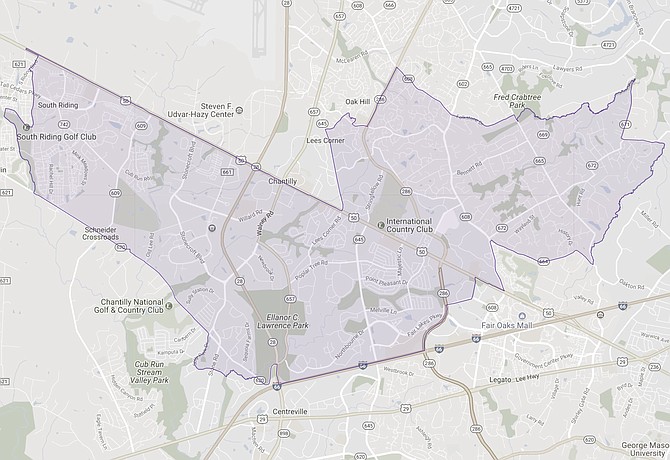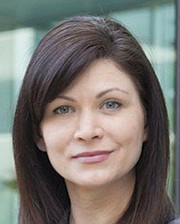 On paper, the 67th House District seems like solidly blue territory. Democrat Hillary Clinton won it with almost 60 percent of the vote. But Republican Del. Jim LeMunyon (R-67) has been in office for four terms, a time that has seen this slice of Northern Virginia trending increasingly toward the Democratic Party. That puts this district in the spotlight as one of the most competitive House of Delegates races in Virginia, and it's one reason supporters of Democrat Karrie Delaney say she's got a shot at ousting LeMunyon.
"In this particularly divisive time I believe that the people of the 67th District really need an advocate who will work for them, and Jim LeMunyon is not doing that," said Delaney. "He's voted against Medicaid expansion, which would have given access to affordable health care to an additional 400,000 Virginians as well as create an additional 30,000 jobs and brought $2.6 billion into our state economy every year."
LeMunyon has tried to walk a political tightrope as his district has swung to the left. During the last General Assembly session, for example, he voted in favor of allowing religious-based discrimination against gays. He also voted in favor of coal tax credits and education savings accounts. But he says he would also vote in favor of closing the gun show loophole, and he says he would vote in favor of allowing local governments the authority to remove Confederate statues. One of his mailers emphasizes his work with Democratic Gov. Terry McAuliffe. As to his opposition to expanding Medicaid, LeMunyon says the governor's budget amendment never spelled out what the cost would be.
"That's just unacceptable for any program, whether it's health care or schools or transportation," says LeMunyon. "You've got to know what that dollar amount is, and so I'm just not willing to vote for an amendment to the budget for a question mark on the cost."
THE 67TH DISTRICT stretches from South Riding through Sully Station and Penderwood. The average commute time is 33 minutes, and 81 percent of workers over the age of 16 drive alone to work — a set of statistics that crystalize the political influence transportation has on voters here. Republicans haven't had a successful statewide candidate here since Republican Bob McDonnell was elected governor in 2009. Hillary Clinton crushed Donald Trump among voters in the district, taking an overwhelming 58 percent of the vote. Trump took only 36 percent of the vote here, which has put this district on the map as one of the most competitive seats in Virginia.
"This is probably the best chance Democrats have of taking out a GOP incumbent," said Geoff Skelley at the University of Virginia Center for Politics. "Jim LeMunyon occupies the most Democratic seat held by a Republican in the House of Delegates."
Clinton's lopsided victory was somewhat an outlier for the district, which usually does not see Democrats performing with such overwhelming numbers. But a review of election statistics over the last decade show that voters here have been moving to the left consistently in the last few election cycles. President Obama was reelected with 53 percent of the vote in the district, and McAuliffe won a narrow victory against Republican Ken Cuccinelli here. On the fundraising circuit, LeMunyon has raised about $350,000 compared to Delaney's $300,000. But Delaney's got about three times as much cash on hand.
"Delaney must have continued to fundraise well because she's actually running an ad on television in the expensive Washington, D.C. market," said Skelley. "LeMunyon knows the lay of the land in his district, though. He's put out a campaign mailer tying himself to Terry McAuliffe in a bid to help his bipartisan bona fides."
"This is probably the best chance Democrats have of taking out a GOP incumbent."
— Geoff Skelley at the University of Virginia Center for Politics
DELANEY, 38, is a native of Tampa. She moved to Northern Virginia in 2006, eventually settling in Chantilly two years later. She has a bachelor's degree in psychology from the University of South Florida. Her professional background is in human service, including working as a counselor for children in foster care and as a sexual assault crisis counselor. She later became the director of communications for Shared Hope International, and she now does communications strategy for several nonprofits. She briefly served as a Republican member of the West Melbourne City Council in Florida, an experience she says has given her a bipartisan sensibility that would serve her well as a member of the General Assembly.
"When I had my first job working with children in foster care, I worked at a group home. And in that experience I met young people every day I saw examples of the system failing them," said Delaney. "So I saw that if we had leadership that really truly put people first, I think we could see a really positive impact in the lives of vulnerable people in our community."
If elected, Delaney says she would introduce a bill that would force local school boards of jurisdictions that do not offer full-day Kindergarten (including Loudoun) to create a plan to make that happen. She says she would also seek legislation to move development and approval for fire codes from housing boards to fire service boards. Her top priority would be to create a work group to create a trauma-informed system of care for children in Virginia who suffer from neglect, abuse, housing instability, domestic violence or divorce. Delaney says moving toward a trauma-informed system of care that would offer resilience training in the school system and at social service agencies.
When you see a child who is having behavior issues in school, the traditional question people might ask children is 'Why are you behaving this way?' or 'What's wrong with you?'" says Delaney. "But the real focus should be 'What happened to you?'"
LEMUNYON, 58, is a native of Elizabeth, N.J. He moved to Northern Virginia in 1983 to work for U.S. Rep. Ed Zschau (R-Calif.). He has a bachelor's degree in physics and math with a minor in computer science from Valparaiso University in Indiana. He also has a master of science in meteorology from the University of Wisconsin at Madison. He is the founder of a semiconductor materials company known as Sterling Semiconductor, which was sold to Dow Corning in 2003. In 2009, he defeated incumbent Democrat Chuck Capito after waging a campaign challenging him on the lack of improvements to transportation infrastructure.
"My commitment during that campaign and ever since was to do what I can do to get that problem addressed, and not just addressed but really get things fixed," said LeMunyon. "And in the time since I think we've accomplished a lot."
When asked about his accomplishments in office, LeMunyon recalled a promise he made in his first campaign brochure back in 2009: that when money is spent on projects in Northern Virginia it can only be on projects that are rated by how much congestion they would reduce. He said he had to work at it for several sessions before it became law, but he now considers it a milestone of his service. If reelected, LeMunyon wants to create a class size limit of 29 students for grades 3 through 6. He also says he'll work to implement the transportation laws he helped craft. He also says he wants to make sure that when local governments have capacity to meet transportation needs when they increase density.
"The way it works right now is that any time VDOT determines that a road is over capacity, they have to specify that in a report and name the roads and the locations," said LeMunyon. "There's no requirement that the local government has to pay attention to that."