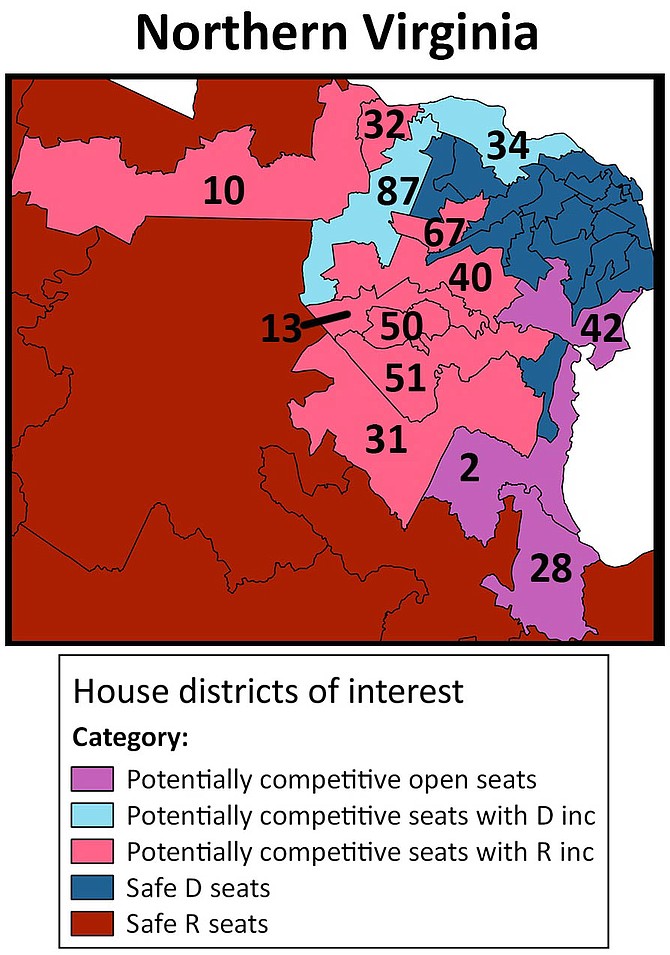 Northern Virginia has more competitive seats than any other part of the commonwealth, a ring of districts that forms a beltway of sorts separating the inner solid blue in Arlington and Alexandria from the solid red in rural and exurban seats in Loudoun and Prince William. That puts Fairfax County squarely in the driver's seat this November, when Democrats hope to pick up seats in an election that has balanced local issues like schools and roads with the ongoing reaction to President Donald Trump. That battle will be won or lost in suburban Northern Virginia, where the Washington suburbs are sprawling into areas that used to be farmland and orchards.
"We have a transportation beltway around D.C. in Northern Virginia, and we also have a competitive political beltway," said Quentin Kidd at Christopher Newport University. "It's the fault line between old Virginia and new Virginia, and it's the trenches of our current political battlefield."
The region has many incumbent delegates who are running unopposed, all Democrats: Mark Keam (D-35), Ken Plum (D-36); David Bulova (D-37); Vivian Watts (D-39); Eileen Filler-Corn (D-41); Mark Sickles (D-43); Paul Krizek (D-44); Mark Levine (D-45); Charniele Herring (D-46); Patrick Hope (D-47); and Rip Sullivan (D-48).
The decision of longtime Del. David Albo (R-42) to step down from public life after more than 20 years in office has created a vacuum that Democrats are eager to fill. Former Labor Department deputy administrator Kathy Tran emerged from a primary back in June, and she's been running hard against Republican Lolita Mancheno-Smoak ever since. Democrats have called attention to Mancheno-Smoak's early support of Donald Trump, whose candidacy she supported back in 2015 shortly after he declared his candidacy by calling Mexican immigrants rapists.
"Sometimes in order to generate change, in order to get new energy to actually feel passionate about a new beginning you need positive disruption," said Mancheno-Smoak in an interview with Connection Newspapers. "I see Trump as a positive disruptor."
Democrats pounced on that remark, issuing a press release in reaction.
"It's no surprise that she would call Donald Trump a positive disruptor as the most recent version of Trumpcare would disrupt access to affordable health care for 32 million people," said Virginia House Caucus spokeswoman Katie Baker in a written statement. "For Kathy Tran, on the other hand, health care is a moral issue."
ASIDE FROM HAVING three of the four open seats on the ballot this year, the region has more Republicans incumbents facing hotly contested races than any other part of the state. The Center for Politics at the University of Virginia identified eight Republicans facing competitive challenges and two Democrats. The incumbent who seems to be facing the strongest challenge is Del. Jim LeMunyon (R-67), who sent out mailers emphasizing his work with Democratic Gov. Terry McAuliffe.
"This is probably the best chance Democrats have of taking out a GOP incumbent," said Geoff Skelley, media relations coordinator at the Center for Politics. "Jim LeMunyon occupies the most Democratic seat held by a Republican in the House of Delegates." He is opposed by Karrie Delaney.
Another Republican incumbent facing a competitive race this year is Del. Tim Hugo (R-40). who serves as the Republican caucus chairman. He's facing Democrat Donte Tanner, who raised more than $350,000 to take on the popular Republican incumbent. That's a huge chunk of change, especially for a first-time candidate running against a longtime incumbent. But it's about half of what Hugo was able to raise. That's only part of the value of incumbency. Hugo, who calls himself the "pothole delegate" for his support of constituent issues, has spent the last decade building goodwill among voters in the district.
"Folks like Tim Hugo have established a name brand and an identity in their districts, and voters generally have a favorable view toward them," said Mark Rozell, at George Mason University. "Democrats are energized, and they are counting on a big anti-Trump vote. But I think you can count on some split ticket voting, and perhaps many of those voters who are going to vote against the Republican at the top of the ticket will still vote for their local guy in the House of Delegates."
REPUBLICAN INCUMBENTS aren't the only General Assembly members facing challenges, though. Del. Kathleen Murphy (D-34) is one of two Democratic incumbents facing a challenge the Center for Politics has ranked as competitive. The seat was held for more than 40 years by Republican Vince Callahan, although it has been held by Republicans and Democrats since he retired a decade ago. The Republican in the race is Cheryl Buford, who struggled to answer questions about her own campaign platform in an interview with Connection Newspapers. She says she wants to reduce regulations, for example, but she couldn't name any specific ones she would spike. She also says she wants to tackle the opioid crisis, although she couldn't name any specific proposals on that either.
"While it will be tough for the GOP to win any seats currently held by Democrats in 2017, this is one of the few such seats with a recent track record of competitiveness," says Skelley. "So I don't think we can entirely count out Buford."
One race that is contested but not necessarily competitive is House District 86, where incumbent freshman Democrat Jennifer Boysko is defending the seat against Republican challenger Linda Schulz.
Two years ago, Democrats were able to flip the seat after the retirement of longtime Republican Del. Tom Rust (R-86), a former mayor of Herndon. Since that time, Boysko has become one of the most outspoken critics of the Republican House leadership, even staging a press conference to denounce how bills with little chance of passing the Courts of Justice were being killed without so much as a hearing. Despite the fact that the seat was held by a Republican for decades, though, the Center for Politics did not race this as a competitive race.
"Tom Rust was a moderate Republican who managed to hold that seat even as it became bluer and bluer," says Geoff Skelley at the University of Virginia Center for Politics. "But now Jennifer Boysko controls it, and there's little reason to think she's in danger."
Republican Tim Hugo: $660,000
$26,000 from CommonSense VA
$15,000 from Check into Cash of Va
$15,000 from Dominion Energy
$12,500 from LoanMax
$12,500 from Va Beer Wholesalers Association
Democrat Donte Tanner: $355,000
$15,000 from Future Now
$15,000 from Only If You Run
$12,000 from stockbroker Edward Hart Rice of Vienna
$10,000 from Congressman Don Beyer's PAC
$10,000 from Donte Tanner
Republican Jim LeMunyon: $494,000
$62,000 from the House Republican Campaign Committee
$40,000 from Delegate Kirk Cox's PAC
$35,000 from Dominion Leadership Trust
$18,000 from Delegate Todd Gilbert's PAC
$15,000 from Majority Leader PAC
Democrat Karrie Delaney: $481,000
$19,000 from stockbroker Edward Hart Rice of Vienna
$15,000 from investment banker Michael Bills of Charlottesville
$15,000 from Sonjia Smith of Charlottesville
$10,000 from Congressman's Don Beyer's PAC
$10,000 from Future Now
Democrat Kathleen Murphy: $442,000
$13,000 from attorney Karen Schaufeld of Leesburg
$12,750 from public school teacher Kathleen Emmet Darman of McLean
$10,000 from Baltimore Washington Construction and Public Employees Laborers PAC
$10,000 from computer scientist Vint Cerf of McLean
$10,000 from stockbroker Edward Hart Rice of Vienna
Republican Cheryl Buford: $76,000
$21,500 from Charlyne Rotham of Vienna
$2,500 from Darian Downs of McLean
$2,500 from developer Jon Peterson of Fairfax
$2,000 from developer Giuseppe Cecchi of McLean
$1,500 from Republican operative David Hunt of McLean
Democrat Kathy Tran: $418,000
$15,000 from Flippable Va PAC
$10,000 from Congressman Don Beyer's PAC
$8,000 from Future Now
$5,000 from Mary Wilkie Ebrahimi of Corpus Christi, Texas
$4,500 from the Fairfax County Democratic Committee
Republican Lolita Mancheno-Smoak: $74,000
$15,500 from Dominion Leadership Trust
$3,000 from House Republican Campaign Committee
$1,400 from Clifton Republican Women's Club
$1,250 from Geraldine Davie
$1,200 from Cruz Mancheno of Fairfax Station
Democrat Jennifer Boysko: $189,000
$10,500 from stockbroker Edward Hart Rice of Vienna
$10,000 from Margaret Gupta of Reston
$10,000 from John Toups of McLean
$5,000 from Laura Drey of Durham, N.C.
$5,000 from Anne Taft of Binghamton, N.Y.
Republican Linda Schulz: $16,000
$1,000 from developer IDI Management Group
$1,000 from Va Federation of Republican Women
$500 from attorney Colleen Barney of Newport Beach, Calif.
$500 from Sidney Dewberry of Arlington
$500 from Greater McLean Republican Women's Club
Democrat Alfonso Lopez: $116,000
$12,500 from Va League of Conservation Voters
$5,000 from SEIU Local 32BJ
$3,000 from stockbroker Edward Hart Rice of Vienna
$2,500 from investment banker Mirza Baig of Great Falls
$2,500 from Realtor Thomson Hirst of Alexandria
Republican Adam Roosevelt: $10,000
$1,000 from author Edward Conrad of New York
$800 from Surveillance Equipment Group of Lorton
$500 from Ike Brannon, president of Capital Policy Analytics
$500 from Department of Commerce official Daniel Corrin of Washington, D.C.
$500 from Marcus Farris of Antioch, Tenn.
Democrat Marcus Simon: $90,000
$3,000 from Samuel Simon of McLean
$2,000 from Eleanor Burma Bochner of Vienna
$2,000 from Va AFL-CIO
$1,600 from Rosanna Crabtree of Midland
$1,500 from Northern Virginia Association of Realtors
Independent Mike Casey: $4,000
$500 from Mike Casey of Vienna
$500 from William Casey of Vienna
$200 from Douglas Warren Ferrer of Cambridge, Mass.
$200 from Dave Reese Wells of Troy, N.Y.
source: Virginia Public Access Project