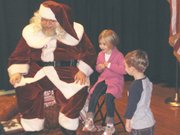 The Arcola/Pleasant Valley Volunteer Fire Department celebrated Breakfast with Santa Saturday, Dec. 1. Families from the area were invited to have their picture taken with Santa Claus, have breakfast and make arts and crafts.
The event took place at the Arcola Community Center. More than 200 children attended, most of who had their picture taken. The volunteers at the event provided a free photo for each participant.
Jim Finegan, who played the part of Santa, enjoyed bringing this tradition back to the community. "[Breakfast with Santa] hadn't been done in a while and we decided that this year was as good as any to bring it back," he said.
Children also made hand-painted ornaments and Christmas cards for their parents. The event was to raise funds for the volunteer fire department.