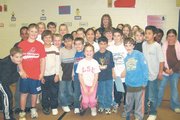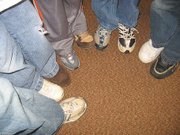 Students at West Springfield Elementary School marched into their monthly citizenship assembly with a little more enthusiasm and pointing than normal on Friday, Dec. 7, giggling and commenting on their classmates' shoes.
At the end of National Inclusive Schools Week, students were invited to participate in Different Shoe Day, an activity that involved wearing two shoes of the same size, but in different styles.
Pink tennis shoes were paired with black ones, gray sneakers with white mates, red and blue shoes were side by side.
"The idea for National Inclusive Schools week originated in the special education field, but in Fairfax County we open it up to mean all kinds of differences," said West Springfield principal Kathy Woodley. "We talk about valuing other people and differences and also noticing the ways that we're all alike."
Wearing the mismatched pairs of shoes may have felt a little funny, Woodley said, but it got the students talking.
A trophy was given to Shauna Johnson and her class of 27 fourth graders, all of whom participated in Different Shoe Day.
"We talk a lot about how we all serve a wonderful purpose, to better the school and each other every day," Johnson said. "We've talked about how boring things would be if we were all exactly the same. Putting on the shoes was an exciting and fun way to illustrate that."
FOR THE STUDENTS at West Springfield, accepting their peers who are different in some way is second nature, Johnson said.
"If you ask one of our students to describe their friends, what color their skin is is way down on the list," she said. "I often wonder if they even notice."
Her students, thrilled to have a small trophy to add to their Silver Plate award for good behavior during lunch, were eager to discuss their funny footwear.
"It feels like you're wearing two different shoes," said Elijah King. "Your feet feel different, like one's kind of different from the other."
Katline Barrows said she was not allowed to wear a ballet shoe and a sneaker because it was physical education day.
"But one of my shoes is bigger than the other, and one has laces and the other doesn't," she pointed out, alternating her feet.
While Different Shoe Day was part of Inclusive Schools Week, Daniel Sinisi had another reason for his shoe selection.
"It's our Spirit Day for this month and I wanted to win the trophy," he said. "It makes me feel like part of a group."
Rebecca Toskey said the mismatched shoes helped teach her class that "even though we're all different, we're all the same."
Some students did feel a little off-balance wearing their shoes.
"When I was walking, it seemed like one foot was taller than the other," said Emma Winters.