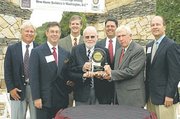 Send announcements, which are open to the public at no or minimal cost, to The Loudoun Connection, 7913 Westpark Drive, McLean, VA 22102 or e-mail to loudoun@connectionnewspapers.com. Deadline is Friday, two weeks before the event. Photos/artwork encouraged. For more information, call Jennifer Lesinski at 703-917-6454. For additional listings, visit www.connectionnewspapers.com.
Colleen Scully, Better Homes and Gardens magazine editor and stylist, will present a decorating seminar, "Mix-it-Up," at Belfort Furniture in Dulles, Saturday, Nov. 17, from 1-4 p.m. The general public is invited to attend this free seminar. The format will be an interactive presentation. Belfort is located at 22250 Shaw Road, Dulles; www.belfortfurniture.com.
Lerner Enterprises and The Tower Companies, will hold a ribbon-cutting Nov. 19th for the opening of Dulles 28 Centre, a new lifestyle retail center at the interchange of Route 28 and Waxpool Road (Route 625) at Pacific Boulevard. The ribbon-cutting ceremony will take place at 9:30 a.m. in the Center Pavilion.
Lola's Place, an infant/toddler Montessori environment is scheduled to open in January. An open house is scheduled for Saturday, Dec. 15, from 10 a.m.-2 p.m. Lola's Place is being developed in conjunction with The Boyd School Corporation and is locally owned and operated. Call 703-953-3490, e-mail info@lolas-place.com or visit www.lolas-place.com.
Local area vendors are invited to the 2007 Loudoun County Procurement's Buyer/Seller Information Exchange Sessions. The next session is Friday, Dec. 21, 2 p.m., in the Lovettsville Room on the first floor of the Loudoun County Government Center, 1 Harrison St., S.E., in Leesburg. The informal session is open to all vendors to discuss the county's processes, upcoming contracts and any vendor questions or concerns. To reserve a seat, call 703-771-5142 or send an e-mail to Jacqueline Miles-Veney at jacqueline.miles.veney@loudoun.gov.
Benchmark Hospitality International has appointed Mark Riddell as director of marketing for Lansdowne Resort near Leesburg.
The Dulles Regional Chamber of commerce is holding Chamber 101 for new and prospective members, Nov. 14, noon-1:30 p.m., at the chamber's Chantilly office, 3901 Centreview Drive, suite R. Bring business cards Lunch is provided by Costco, but pre registration online is required. Contact Vickie Walton, membership director, 571-323-5308.
The Dulles Regional Chamber of commerce is holding a monthly mixer, "B2B (business to business) Holiday Showcase," Thursday, Nov. 15, 5:30-7:30 p.m., at Hotel Sierra Washington Dulles, 45520 Dulles Plaza, Sterling. Contact the Chamber at 571-323-5304.
The winners of the Loudoun County Chamber of Commerce unveiled the winners in the 2007 Small Business Awards, which were held Nov. 7, were Dulles Golf & Sports Park, Small Business of the Year; Lighthouse Concepts Inc., Home Based Business of the Year; Fox Chase Farm, Agri/Equine Business of the Year; Let's Dish, Product of the Year; Flintstone Marble & Granite, Retail Business of the Year; TAH-DA! Inc., Service Business of the Year; Invisible Towers, Technology Business of the Year and Catherine Thomas/Kinetix Technology, Entrepreneur Business of the Year.
LodgeWorks L.P. announces the launch of Hotel Sierra, a newly-refreshed hotel brand, formerly Sierra Suites. The Wichita, Kansas-based hospitality development and management firm kicks off the new brand with the opening of the Hotel Sierra Washington Dulles in Sterling, just two miles north of Dulles Airport.
More like this story