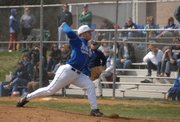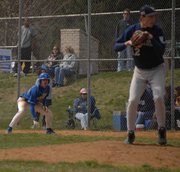 Bishop O'Connell's baseball team flexed their muscle against struggling Washington-Lee on Saturday, edging the Generals by a 4-1 margin. The Knights then dropped a 5-1 game at home to Washington Catholic Athletic Conference rival Gonzaga on Monday, giving O'Connell a 6-3 record and 1-1 mark within the WCAC.
After opening the season with three wins in four games during the West Potomac Invitational Tournament, the Knights split a double-header with Good Counsel. O'Connell also registered an 11-1 win over Potomac School last week, before upending the Generals.
The Knights played St. John's at home on Tuesday and will travel to both Paul IV and St. Mary's Ryken on Friday and Saturday.
Arlington's public school baseball teams, however, have struggled. Just last week, Yorktown, Washington-Lee and Wakefield were winless in a combined five games.
Yorktown, considered to be the National District favorite, was shutout 10-0 to top-ranked Oakton, and also lost to McLean, 11-4.
Against the Cougars, only two Yorktown runners reached base, and Oakton scored the majority of its runs in the opening two innings. Right-handed senior Danny Johnsen and junior Kyle Toulouse and were attributed the losses. Center fielder Steve Kouril is out with a knee injury.
Meanwhile, Wakefield dropped recent games to South Riding and Park View to remain winless on the year.
<b>IN SOFTBALL</b>, Washington-Lee earned a 7-5 win over South Lakes on Monday. The Generals had lost to Fairfax, 16-1, but had also trounced toothless T.C. Williams in an 11-5 rout, in their opening games.
Yorktown, considered to be the district favorites with two Division I signees, lost to Langley, 3-2, before rebounding with a 10-4 victory over Fairfax on Monday.
The Patriots scored in each of the first five innings and used two Lauren Wilson home runs. Wilson also walked twice and drove in four runs.
Hannah Bauman had two hits and two RBI's, while Emily Panyard recorded a double and Bree Hanifan, Kimmi Oldham, Sara Sims, Katie Sterling, and Kristin Soroka contributed singles.
Annie Blaine struck out eight Fairfax hitters in four innings. Blaine also got the win in relief against McLean. Meanwhile, Bauman, a junior retired 21 of the 22 batters she faced in a season-opening 2-0 victory over South County.
For O'Connell, the Knights have only played two games, but have yet to allow a run. Tommy Orndoff's girls earned a six-inning 11-0 win over McNamara to open the season, and a 4-0 victory over Oakton.
<b>IN SOCCER</b>, the Yorktown boys soccer team lost its first game of the season on Monday. The Patriots were upended 1-0 in double overtime by Jefferson, the defending state champions.
Yorktown, considered the district favorite behind junior midfielder Alex Herrera, had won previous games — both shutouts — over McLean and Hayfield during the past week.
Washington-Lee, however, is still searching for its first victory. The Generals have dropped one-goal games to Westfield and Marshall, and were also defeated 3-1 by Annandale.
<b>IN BASKETBALL</b>, the Liberty/National District All-Stars, led by Langley Coach Travis Hess, edged the Patriot/Concorde District All-Stars, led by T.C. Williams state champion Coach Ivan Thomas, 111-108, in double overtime at a basketball showcase hosted by Mount Vernon.
National District Offensive and Defensive Player of the Year Marquel De Lancey earned most valuable player honors by scoring all of his team-high 20 points after halftime.
South Lakes senior Curtis Keys defeated W.T. Woodson senior Coleman Bacon in the three-point competition, while Annandale's Erik Etherly edged South Lakes' Jay Bowman in the dunk competition.
Wakefield's Reggie Williams had six points in the all-senior all-star game, while Yorktown's David Grebb added two free throws.