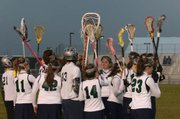 South County girls lacrosse head coach Barbara Mahony blinked and her Stallions were down 4-0 to Yorktown on a cold and wet Friday night. The Patriots did quite a bit of damage in the first 15 minutes and Mahony called a timeout to talk with her squad.
"They had to relax. It was like they were looking at this team as they were something that they could not beat," said Mahony. "You could see it in their faces, it was almost like they looked scared. They just had to hang in and take a breath. That is all that they needed to do."
That quick breath did the trick, as the Stallions (2-0) needed just 10 minutes to even the score against the defending National District champions.
Another breath at halftime led to five more unanswered goals en route to a 11-7 victory.
"Trust me, I've been beat faster and by more," Mahony told her girls during that initial timeout. "They didn't get their chin's down. They weren't looking at their feet. Once they relaxed, they played their game."
<b>FOLLOWING UP A </b>record-breaking eight-goal performance against Lee, sophomore Megan Wears led the way with four goals, including scoring the Stallions' third and fourth goal within seconds of each other to even the score.
"We just settled down and did our thing," said Wears, who was one of five different Stallions to score. "We were more energized. We just had to fix [our mindset]."
Sophomore goalkeeper Sally Jefferson gave the Stallions a boost in goal as well, contributing seven saves in relief of senior goalkeeper Ashland Husar.
"We just threw South County off and then they picked it up and became a totally different game," said Yorktown head coach Robin Steinberg.
The win gives the Stallions a wealth of confidence heading into the bulk of their Patriot District schedule, which continues on April 3 with West Potomac.
"I have a good feeling about this season," said Jefferson.
"We are going to be a top team in our district, so teams might want to be ready," said Wears.