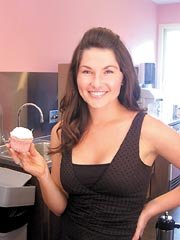 The cupcake is a fortunate combination: piled with frosting, a cupcake is small enough to be a midday snack but sweet enough to perk up a low blood sugar level. In recent years, the cupcake has received a boost of stylishness thanks to trendy pastry shops such as New York City's Magnolia Bakery; as a result, small businesses that specialize in or make cupcakes exclusively have popped up in the Fairfax County area as well. Here are some local ways to satisfy a cupcake craving.
* Desserts by Janis. 4630 Tapestry Drive, Fairfax. To order, call 703-425-3247 or e-mail sales@dessertsbyjanis.com. See http://dessertsbyjanis.com for information.
* Signature Cupcakes. This Fairfax bakery offers custom cupcake platters, gourmet stuffed cupcakes or miniature cupcakes. Delivery available with 72 hours notice. Call 703-203-6801 or e-mail anita@signaturecupcakes.com.
* Sweet Christina's. Bonnie McDaniel, whose bakery and café is located in the heart of Fairfax City, fashions cupcakes in flavors such as carrot and the popular red velvet. 10408D Main St., Fairfax. Call 703-934-2111 or see www.sweetchristinas.com.
* The Swiss Bakery. The authentic Swiss-style bakery has two locations and offers vanilla and chocolate cupcakes at both of them. Burke Town Plaza, 9536 Old Keene Mill Road, Burke; 703-569-3670. Ravensworth Shopping Center, 5224 Port Royal Road, Springfield; 703-321-3670. See www.theswissbakery.com for more.
* The Pink Pantry. 7144 Main St., Clifton. Call Danyelle at 703-830-2205.
— Lea Mae Rice