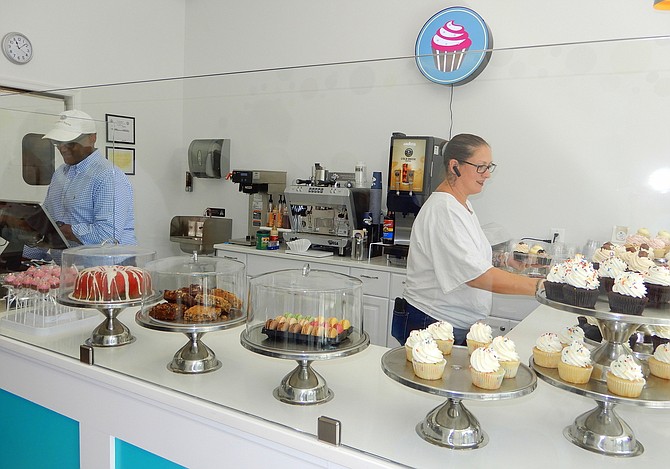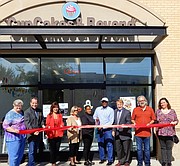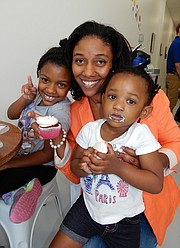 With help from family, friends and City of Fairfax dignitaries, Markeeta and Vada Smith recently cut the ribbon on their new bakery, CupCakes & Beyond. It's at 9540 Lee Hwy. in Fairfax, to one side of the Scout on the Circle development currently under construction.
"It takes a lot of courage to start a business, but you have the support of the City and its Economic Development Authority," said Fairfax Mayor David Meyer. "And we're glad to have you here."
Danette Nguyen, the City's assistant director of Economic Development, welcomed the crowd and said the Smiths designed and decorated the shop themselves. "It's their first storefront," said Nguyen. "And they chose Fairfax City as their first place of business because they've watched the City develop and wanted to be part of its future.
"Bakery cafes play an important role, not only in Fairfax City's business community, but also within the U.S. economy," she continued. "They provide employment and places to gather socially – and, let's be honest – who doesn't love the smell of fresh baked goods?
"We are proud to have CupCakes & Beyond in Fairfax City, as it gives our residents a great option for baked goods in small batches that use high-quality ingredients, as well as unique and seasonal twists on cupcakes, cakes and more. Markeeta and Vada, we welcome you to our business community."
VADA SMITH then thanked the friends and family who turned out for the official opening and ribbon-cutting of their bakery. "We started this journey nine months ago, and now, it's our baby," he said. "And we look forward to doing great business here in Fairfax."
Afterward, while attendees happily feasted on homemade cupcakes and cookies, his wife, Markeeta, explained how their bakery came to be. "I ran my own bakery and catering business, for eight years, making items such as wedding cakes," she said. "At first, I did it for free, but then people convinced me to open a business."
So she did, and was soon providing cupcakes for the Washington, D.C. Hyatt, the Springfield Marriott and the Hilton Garden Inn in Arlington. But, Fairfax residents since 2005, the Smiths also wanted to have a storefront in the City.
Gesturing at her cheerfully decorated shop, Markeeta Smith said, "This place was already sold to somebody else. But when we talked to the owner and showed him photos of what we bake, he gave the space to us instead."
Actually, Vada is the hotel, food and beverage director at the Hilton Garden Inn in Arlington, and Markeeta works full-time for the Social Security Administration. "So I bake after I get off from work, but I enjoy it," she said. "If you enjoy something, you'll do it with passion, and I like making people happy through cake."
The bakery offers several flavors cupcakes, as well as specialty cakes, cinnamon rolls, banana pudding, pies, chocolate-covered Oreos, and cupcakes and cookies with edible images on top. Especially popular are the Oreo and red velvet cakes. "Our cream-cheese frosting is lighter and creamier than usual," explained Markeeta Smith. "And our cupcakes have all-butter, Swiss meringue buttercream frosting."
THE STORE opened for business about eight weeks before the ribbon-cutting and is already a hit with the customers. Munching on a funfetti cookie, Audrey Hart said, "It was delicious – I love all their stuff. The cookie's not overly sweet, but good, and they did a beautiful job on the presentation. And the cupcakes are very moist."
Marie Carter brought her two young daughters, ages 8 and 2, to the event, where they enjoyed a red velvet cupcake, a cookie and a creampuff. "I liked the consistency and texture of the frosting and the moisture of the cupcake, itself," said Carter. "My older daughter is allergic to nuts, but Markeeta also makes nut-free cupcakes – and even sugar-free cupcakes – on request."
CupCakes & Beyond is closed Sundays and Mondays, but open Tuesday-Friday, 11 a.m.-7 p.m.; and Saturday, 8 a.m.-4 p.m. The menu is available at cupcakesandbeyondva.com, and people may simply walk into the bakery and make purchases or order via doordash.com or by calling 703-397-6400.
So what was it like for Markeeta Smith to see her bakery become a reality? "It feels really good," she said. "I'm excited."